*Despite sluggish global growth, China has navigated economic headwinds with an effective policy mix so far this year.

*The country has stepped up measures to boost confidence, ensure sustained recovery and promote high-quality development.

*Authorities are confident of sustaining the sound trend and achieving full-year development targets.

BEIJING, Aug. 14 (Xinhua) -- Despite sluggish global growth, China has navigated economic headwinds with an effective policy mix, which has facilitated an overall recovery so far this year and paved the way for sustained development in the long run.

As per experts, the Chinese economy maintained a consistent upward trajectory during the first half (H1) of this year, marked by improved structure and enhanced quality.

The gross domestic product increased 5.5 percent from a year ago in H1, quicker than the 3 percent expansion of 2022. Consumption, serving as a more forceful driving force, contributed 77.2 percent of the economic growth, and consumer prices returned to a month-on-month increase in July, indicating recovering demand.

"China's growth was significantly faster than that of the major developed economies across the world against the backdrop of an increasing risk of global recession, thereby demonstrating a great economic resilience," said Liu Xueyan, a researcher with the Chinese Academy of Macroeconomic Research.

Amidst aggravating global inflation, China has successfully ensured both price stability and economic advancement through its comprehensive industrial production system, secure energy and food supply, as well as targeted and effective policies, Liu added.

Yan Min, a research fellow with the State Information Center, pointed out that China's growth features high quality, guarantees people's well-being, and has the potential and vitality to withstand shocks and achieve long-term, sound development.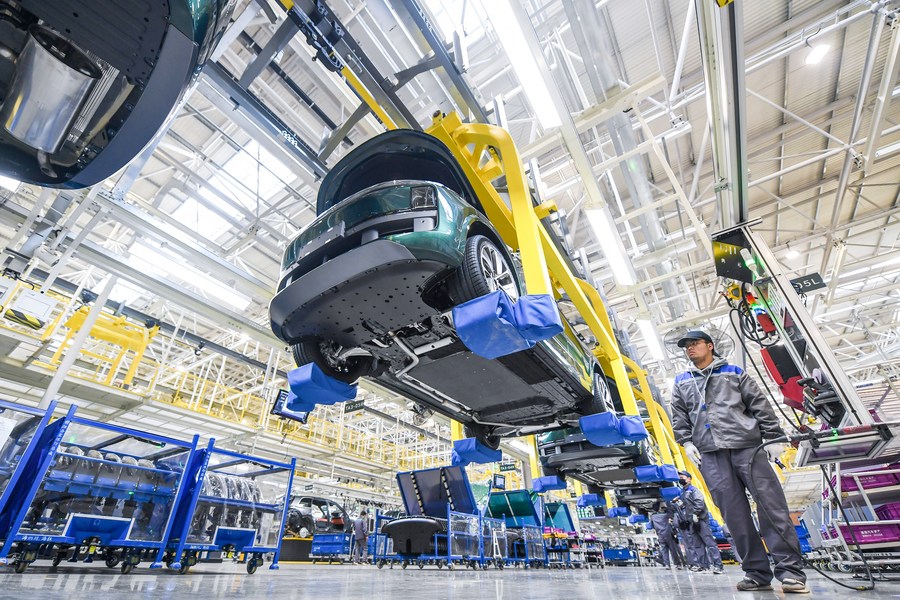 This photo taken on Feb. 15, 2023 shows a workshop of Chinese electric vehicle (EV) maker Li Auto Inc. in Changzhou, east China's Jiangsu Province. (Xinhua/Li Bo)

HIGHER QUALITY

China's economy made solid progress in high-quality development in the January-June period.

The service sector contributed 66.1 percent of the economic growth, higher than the secondary industry. High-tech investment climbed 12.5 percent year on year, faster than the growth rate of total investment. In a sign of improved innovation capacity, the output in the manufacturing of spacecraft equipment and lithium-ion batteries surged 22.9 percent and 29.7 percent, respectively.

The eastern regions of China continued to lead the way, while central regions strengthened their capabilities in grain production and advanced manufacturing, and the western regions continued to unlock their potential.

The Beijing-Tianjin-Hebei region, the Yangtze River Delta region, and the Guangdong-Hong Kong-Macao Greater Bay Area, which are the country's major regional drivers of growth, continued to enjoy robust growth momentum, according to Zhang Yan with a research center under the National Development and Reform Commission (NDRC).

As China is picking up pace in building a national unified market, strengthened regional coordination will expand effective investment and spur local economic powerhouses, thus promoting the economic recovery of the whole country, Zhang said.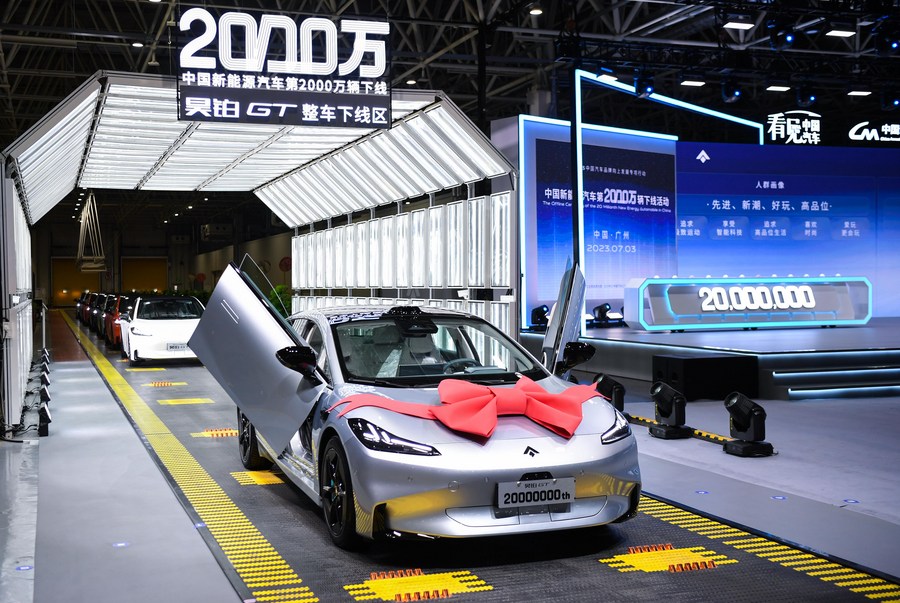 This photo taken on July 3, 2023 shows China's 20 millionth new energy vehicle (NEV) produced by GAC Aion New Energy Automobile Co., Ltd. in Guangzhou, south China's Guangdong Province. (Xinhua/Deng Hua)

INTENSIFIED EFFORTS

As the economy still faces challenges and the recovery foundation is not stable, China has stepped up measures to boost confidence, ensure sustained recovery and promote high-quality development.

Authorities have doubled down efforts to boost the development of private businesses.

A policy guideline was issued last month to address key concerns of private businesses, including market entry, fair competition, legal protection, financing support, intellectual property rights protection, and innovation input.

The policy effects have reverberated across the private economy. The development index of China's small and medium-sized enterprises rose for a second straight month in July, indicating an improvement in market expectations.

Alongside the focus on private enterprises, there has been a heightened emphasis on bolstering consumption, which plays a fundamental role in driving economic growth. Consumer spending has been encouraged on a wide range of goods and services, including new energy vehicles, home appliances, electronics, catering and tourism.

"Restoring and expanding consumption is the main focus and urgent task to promote the sustained improvement of China's economy," said Wang Changlin, vice president of the Chinese Academy of Social Sciences.

As there are still constraints on the recovery and expansion of consumption, "more measures should be adopted to raise people's incomes, boost social security benefits, improve public services and increase the supply of quality goods and services, to ensure that people can spend, dare to spend and are willing to spend," Wang said.

Benefitting from the efficacy of current policies and with additional measures in the pipeline, the Chinese economy is expected to maintain its steady trajectory during the rest of the year.

"We have the confidence, conditions and capability to ensure a better economic structure and a stronger growth momentum, sustain a sound development trend, and achieve the full-year economic and social development targets," said Li Hui, an NDRC official.

(Video reporters: Sun Qing, You Zhixin, Xie Zhao, Mu Xuyao, Ruan Shuai, Xu Jian, Li Shuai, Zheng Xin, Wang Pu, Hao Jie; Video editors: Jia Xiaotong, Mu Xuyao, Zheng Xin, Wei Yin)