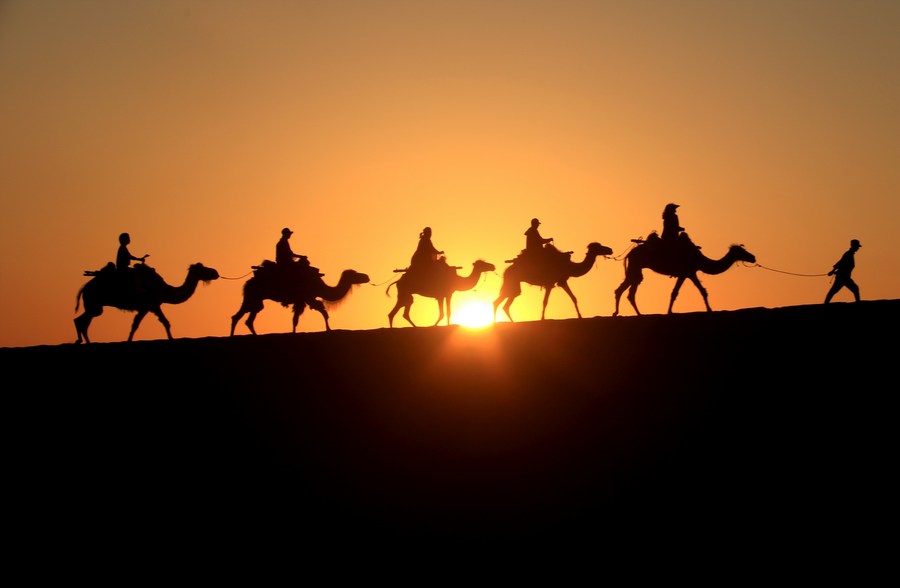 Visitors ride camels at the mingsha mountain and crescent spring scenic spot in Dunhuang, northwest China's Gansu Province, which was a key pass along the ancient Silk Road, June 7, 2023. (Photo by Zhang Xiaoliang/Xinhua)

LANZHOU, Aug. 23 (Xinhua) -- A conference on the evolution of Silk Road civilization, climate change and environmental change was held on Wednesday in Lanzhou, the capital of northwest China's Gansu Province, attracting over 200 experts from across the world.

Scholars from countries such as China, Germany, Russia, Iran, the United Kingdom, the United States, Spain and Mongolia gathered at the ANSO (Alliance of International Science Organizations) Silk Road Forum and the second ATES (Association for Trans-Eurasia Exchange and Silk-Road Civilization Development) Open Science Conference, exchanging the results of their interdisciplinary research.

They noted that the Silk Road has been a road of openness, integration and peace since ancient times. They said the scientific community should strengthen international scientific and technological cooperation with a spirit of open and integrated innovation, promote people-to-people exchanges, and work together to deal with the major challenges facing global sustainable development.

The conference aimed to strengthen scientific research cooperation and exchanges among countries and regions along the Silk Road, and promote the high-quality development of work related to the climate, the environment, the economy and society along the Silk Road, said Chen Fahu, director of the Institute of Tibetan Plateau Research under the Chinese Academy of Sciences, which initiated ATES.

"By focusing on relevant topics, we hope to understand the evolution of human-land relations along the Silk Road, work together to address the challenges brought by climate change, and serve the joint construction of the Belt and Road Initiative," Chen said.