The Ministry of Agriculture and Rural Affairs made public a list of 256 villages as 2023 China's Beautiful Leisure Countryside on August 25.

A total of 12 villages in Hunan Province were shortlisted, including:

-Yinlong Village, Huanghua Town, Changsha County, Changsha*;

-Mihua Village, Shidu Town, Yanling County, Zhuzhou;

-Qingting Village, Jiangshe Town, Yuhu District, Xiangtan;

-Meihua Village, Xidu Town, Hengyang County, Hengyang;

-Xintian Village, Wufengpu Town, Shaoyang County, Shaoyang;

-Qingshui Village, Xinqiang Town, Yueyang County, Yueyang;

-Yangjiaping Village, Xiehe Township, Wulingyuan District, Zhangjiajie;

-Bailang Village, Bailang Town, Zixing City, Chenzhou;

-Guitou Village, Meihua Town, Daoxian County, Yongzhou;

-Shanbei Village, Gezhuping Town, Xupu County, Huaihua*;

-Tieshan Village, Zhadu Town, Lengshuijiang City, Loudi; and,

-Changping Village, Gaoping Township, Yongshun County, Xiangxi Tujia and Miao Autonomous Prefecture.

Each of the 12 selected villages possesses unique characteristics. Yinlong Village is located in the northern part of Huanghua Town in Changsha County, which is a half-hour drive from Changsha. More than 40,000 hydrangea flowers bloom throughout the village. Alongside attractions like the Shishang International Equestrian and the Xinjiang Ecological Park, it has become a popular destination for many residents of Changsha to visit and take photos.

Shanbei Village in Gezhuping Town, Xupu County is situated in the hinterland of the Xuefeng Mountains. Over 1,000 layers of cascading rice terraces offer a breathtaking view. The village is infused with the rich culture of the Huayao people, which offers a captivating experience.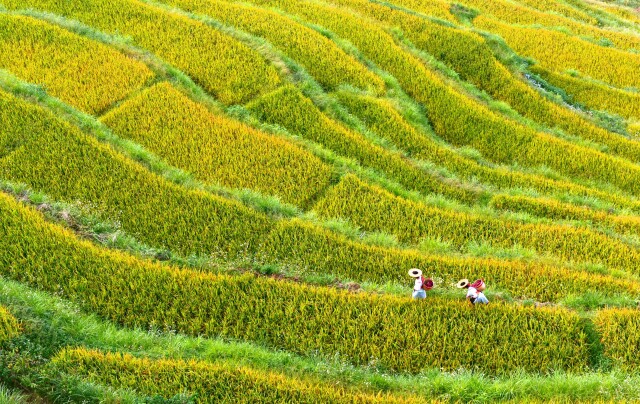 The photo show tourists and photography enthusiasts taking photos of rice terraces at Shanbei Village, Gezhuping Town, Xupu County. (Photo/He Guoxi)

The development of beautiful leisure countryside is an important way to enhance the ecological, production, and livelihood values of rural areas and increase farmers' income. It is also an important method to promote the integrated development of the primary, secondary, and tertiary industries in rural regions. In recent years, Hunan Province has made great strides in advancing the construction of beautiful countryside and developed a number of villages that boast distinct characteristics, excellent service facilities, positive rural customs, and prominent brand effects.

This article is from the Hunan Provincial Government www.enghunan.gov.cn.

Translator: Xiao Juan

Chinese source: Voice of Hunan