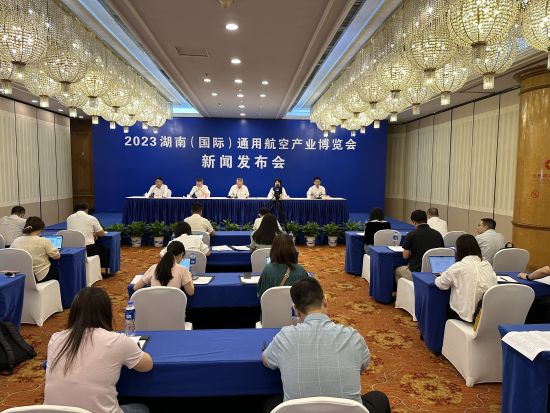 The press conference. (Photo/Liu Man)

With the theme of "General Navigation Ushers in a Better Life", the expo will include a static exhibition and a dynamic flight show. The total number of visitors is expected to exceed 200,000, including 20,000 professional visitors.

The static exhibition covers an area of more than 70,000 square meters. Special exhibition areas will be set up to display general navigation manufacturing, application, services, science popularization, and experience, as well as drones and BeiDou Navigation Satellite System (BDS) and 5G application.

Twenty-one provinces, regions and municipalities will organize delegations to participate in the expo. The number of exhibitors will exceed 300, including 22 central enterprises such as the China Aerospace Science and Technology Corporation (CASC), China Aerospace Science and Industry Corporation (CASIC), and Commercial Aircraft Corporation of China, Ltd. (COMAC), and 26 domestic and foreign industry-leading enterprises such as DJI, Huawei, Wanfeng Aviation, Bell, and Wright Brothers of the Netherlands.

The dynamic flight show will be held at Zhuzhou Lusong Airport. Test flights for the show have already begun. Various types of aircraft will be shown, including fixed-wing aircraft, helicopters, rotorcraft, powered parachutes, drones, and flying cars. Meanwhile, an online exhibition will be set up, providing online exhibition, business matchmaking, brand marketing and other services. An online and offline full service exhibition platform will be created.

This year, the number of participants, the lineup of guests and the level of merchants will see historic highs. More than 1,000 guests, including representatives of relevant units, enterprise senior managers, and heads of scientific research institutes and industry associations, will attend the expo.

Around the three themes of high-end forum, economic and trade matchmaking, and interactive experience, eighteen forum exchange activities will be organized during the expo, including industrial development path exploration, professional academic discussions, policy publicity, and project negotiations.

Other activities include the Hunan Youth Aerospace Model Open, Hunan Paragliding League, Hunan Aviation Carnival, and "Aviator" Youth Training Camp, enabling visitors to feel the charm of general navigation up close and immerse themselves in the general navigation culture.