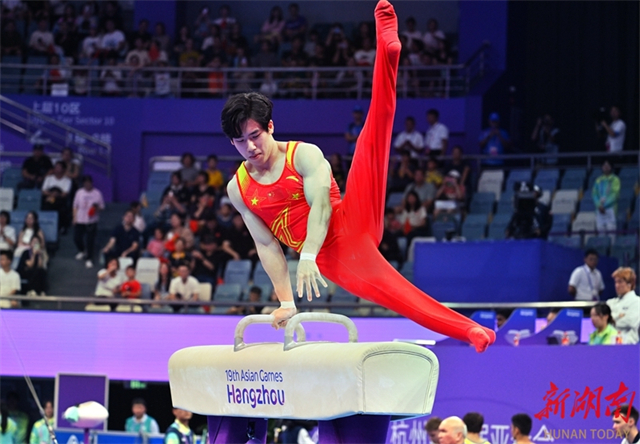 Zhang Boheng, a Changsha-based athlete of the Men's Gymnastics Team of China, competes in the pommel horse of artistic gymnastics at the 19th Asian Games in Hangzhou, east China's Zhejiang Province, on the evening of September 24, 2023. (Photo/Guo Liliang, Hunan Daily)

HANGZHOU, Sept. 24 (Xinhua) -- China clinched the men's gymnastics team gold medal with 262.025 points at the 19th Asian Games here on Sunday, beating Japan and Chinese Taipei to second and third places respectively.

China fielded a formidable team for the Asiad. In contrast, its arch-rival Japan sent its top athletes to the world championships, which overlapped with the Asian Games schedule.

Lan Xingyu started for China, notching 12.000 points on the pommel horse. Zhang Boheng and Xiao Ruoteng followed with scores of 14.466 and 14.333, respectively, while Lin Chaopan posted 13.266.

China dominated the men's rings, with Lan, Zou Jingyuan, and Zhang securing the top three spots. China tallied 44.466 points in the event, outscoring second-placed Japan by 2.967 points.

Olympic champion Zou shone in the parallel bars, finishing first with 15.933 points. Zhang trailed closely, scoring 15.466.

Despite not fielding their strongest lineup, Japan's athletes delivered impressive performances. Wataru Tanigawa and Kakeru Tanigawa clinched the top spots in the vault and horizontal bar qualifications, respectively. Their collective efforts earned Japan the silver with a total of 258.628 points.

"We performed very well and won the gold medal in a comfortable way. We will try harder in the next competition," said Zhang.

As the team event also served as the qualification for the individual apparatuses, the Chinese athletes have qualified for each of the seven individual events.