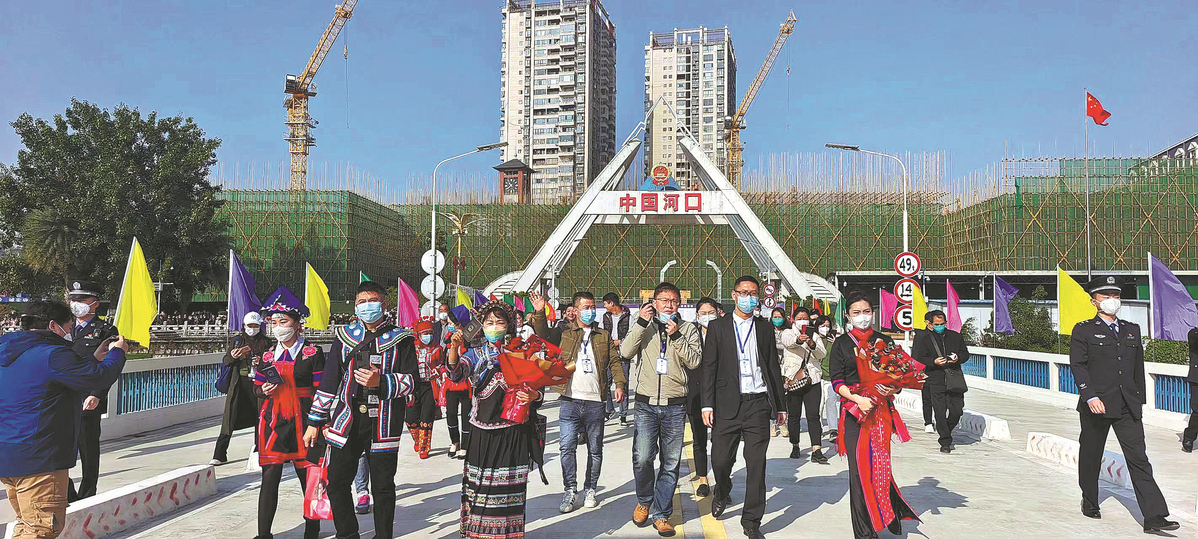 Inbound travelers cross the China-Vietnam Nanxi River Bridge at Hekou Port, Yunnan province, on Sunday. The port is the largest in Yunnan on the Vietnamese border.LI XIAOPEI/FOR CHINA DAILY

Officials, businesses welcome return of travelers and goods

At 8 am on Sunday, Yan Feng arrived at the land port of Manzhouli, Inner Mongolia autonomous region, on a cross-border bus from Russia. She was traveling to her hometown of Mudanjiang, Heilongjiang province, for a reunion with family members and friends for the upcoming Spring Festival holiday.

Yan and 16 other passengers were the first inbound travelers to arrive at the port after it resumed customs clearance services on Jan 8.

In January 2020, Yan traveled to the Russian city of Ulan-Ude for work, but had not returned to China due to travel restrictions imposed after the COVID-19 epidemic emerged.

"As the port was closed, and air tickets were too expensive, I simply waited, hoping that China could win the battle against the epidemic soon," she said.

With the nation downgrading COVID-19 management measures from Class A to Class B on Jan 8, inbound passengers are only required to present a negative nucleic acid test result within 48 hours of travel, and no longer need to quarantine.

Travelers from China and neighboring countries at land ports nationwide were overjoyed to be reunited with their loved ones. Local officials and businesses also welcomed the return of customers and goods, along with the hustle and bustle at border cities.

Yan said: "I am very excited. For the past three years, I have been looking forward to the border reopening, as I really wanted to return home. I have been so sad not to have been with my parents and children."

Manzhouli, the largest land border port in China, processes more than 65 percent of Sino-Russian trade via land transportation. In 2019, the port handled 32.59 million metric tons of cargo and 1.9 million trips by travelers, according to figures from the facility.

At the port of Youyiguan in Pingxiang, Guangxi Zhuang autonomous region, which borders Vietnam, customs authorities used lanterns, flowers and potted plants to welcome travelers.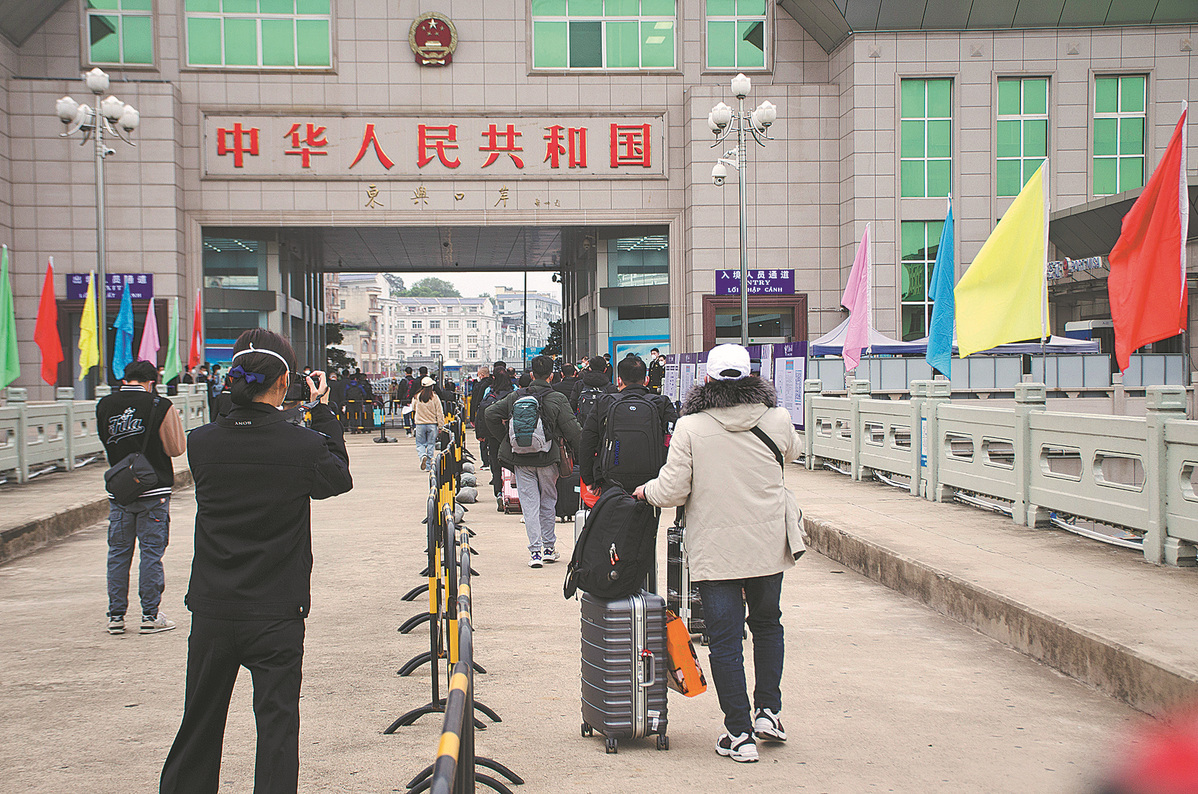 Passengers wait to enter China at Dongxing Port, Guangxi Zhuang autonomous region. [Photo provided to China Daily]

Some 2,800 passengers and 1,500 trucks passed through the port on Sunday, according to local authorities.

In 2020, the local government introduced a special customs clearance system for cross-border drivers. All Chinese freight vehicles entering and leaving the port were driven by designated cross-border drivers who were under strict closed-loop management.

Now, these drivers no longer need to wear protective clothing, and regular truck drivers are once again allowed to transport goods across the border.

Lu Qinghua, a truck driver for an international logistics company in Pingxiang, arrived at the port early on Sunday to transport goods to Vietnam for the first time in three years.

"The customs service is just as efficient as it was before the epidemic, and I can now return to driving my truck between China and Vietnam," he said.

Liang Donghai, who manages a local supply chain company, said the end of closed loop management is expected to increase customs clearance efficiency by 60 percent and reduce costs for his company by the same level.

"Before you know it, our company's business will have returned to the pre-epidemic level," he said.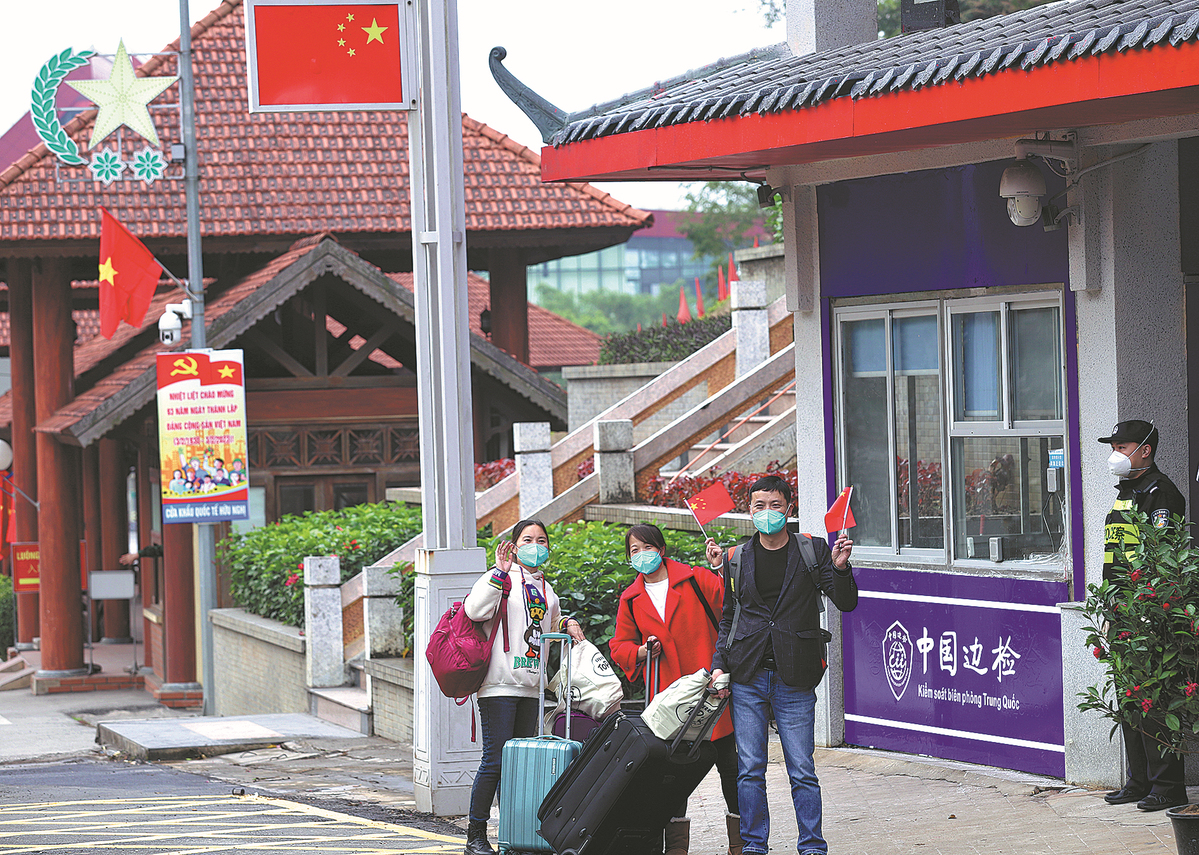 Arrivals wave after entering China through a fast-track process on the border with Vietnam.CHEN RONGJIA/FOR CHINA DAILY

Main channel

Youyiguan is an important exit and entry channel for travelers, and a main land channel from China to member countries of the Association of Southeast Asian Nations, with frequent exchanges of cross-border personnel and goods taking place at the port.

In 2021, the port's foreign trade continued to grow, as it handled a total of 402,800 inbound and outbound freight trucks and some 4.4 million tons of cargo imports and exports.

Lu Shaoxia, deputy director of the Pingxiang Commerce and Port Administration, said publicity has been stepped up for exit and entry policies to help enterprises, and truck drivers have been told that they need to obtain the necessary exit and entry licenses.

The port has also increased staffing levels, drawn up emergency plans, and made efforts to shorten customs clearance times and improve efficiency, she said.

Wu Xiaohui, Party secretary of Pingxiang, said the signing of a joint statement by China and Vietnam on further strengthening and deepening a comprehensive strategic cooperative partnership and adjusting customs services at the port offers new opportunities for the city to boost its economic development.

He said that by using its strength in logistics, manufacturing and transportation, Pingxiang will quickly become a land hub and an important area for China's "dual circulation" development paradigm — in which the domestic and international markets complement each other, with the domestic market as the focal point.

The port city of Dongxing, Guangxi, which also borders Vietnam, received hundreds of inbound Chinese travelers when it reopened on Sunday.

One of them, surnamed Liu, said: "I'm thrilled. Now that our country has relaxed its COVID-19 controls, I can return for a family reunion."

The port is preparing for a massive influx of overseas migrant workers returning home for the Spring Festival holiday. The local government is also planning to streamline entry and exit procedures for business travelers and tourists.

In Yunnan province, the port of Ruili, which stands on the China-Myanmar border, also reopened on Sunday. It is one of China's leading ports and the largest land port on this border.

The facility can process a maximum of 82 people simultaneously, and customs clearance can be completed in just 14 seconds.

The local government in Jiegao township, where the port is situated, has made numerous efforts to resume production and daily operations.

Cai Xin, general manager of an e-commerce center for jade in Ruili, said the business experienced great difficulties in the past three years, but it remains fully confident about the city's prospects.

He said the company spent 20 million yuan ($2.95 million) on upgrading its facilities, adding that the reopening of the border is highly significant.

The center, which operates nearly 800 channels on Taobao Live, Alibaba's livestreaming arm, and the short-video platform Kuaishou, ranks in the top three for business on both platforms' jewelry sections, he said.

"With the port reopening, we expect to see large numbers of people arriving in Ruili, and more products entering the city. By using livestreaming, we are helping to build Ruili into the capital of jade."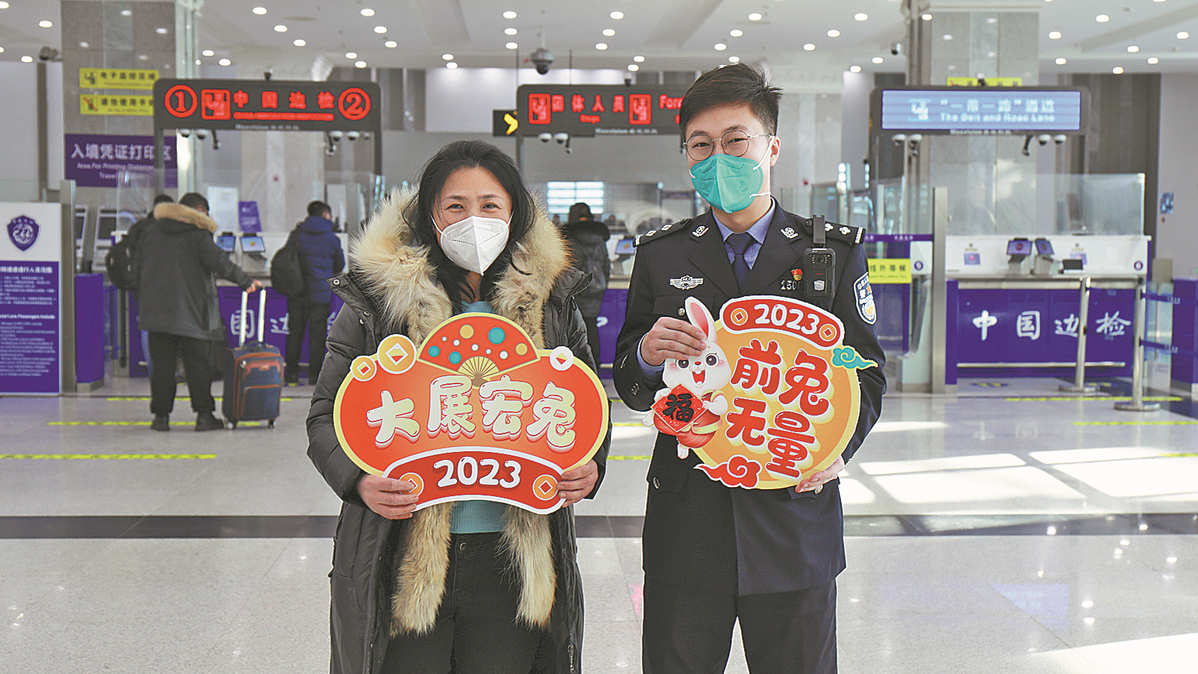 Customs officers welcome inbound travelers at Manzhouli Port, Inner Mongolia autonomous region.ANJILA/FOR CHINA DAILY

Right direction

Li Zhengjiang, general manager of a furniture company in Ruili, said that before the epidemic emerged, the business hired more than 200 workers from Myanmar, but for the past three years it experienced a shortage of employees.

"The border reopening means that everything is going in the right direction, and we are also welcoming the return of workers from Myanmar," he said.

Dingyu Duty Free, a shop selling alcohol, opened in the Jiegao Border Trade Area on Sunday. Total investment in the business is expected to reach 500 million yuan.

Guo Shaojing, head of the shop, said that as many tourists and business travelers passed through the port before the epidemic, it only took half a day for the company to decide to set up the shop.

"The local government has given us a great deal of help and has introduced favorable policies, enabling us to open the shop on the day the port reopened. We believe this is the right decision in line with China's opening-up policy, and we are confident in Ruili and our country," he said.

Hekou Port, the largest in Yunnan on the China-Vietnam border, resumed services on Sunday, with people from the two countries crossing the China-Vietnam Nanxi River Bridge and exchanging flowers to celebrate.

The port, which has reopened channels for pedestrians and vehicles, is connected to the Vietnamese province of Lao Cai by land and water. For years, sightseeing and cross-border tourism in the area has boomed, and cross-border public transportation have developed. In 2019, some 6.61 million inbound and outbound trips were made through Hekou Port.

Hekou Party Secretary Yu Yang said a Spring Festival gala will be held to strengthen bonds between people on both sides of the border. During the Spring Festival holiday, visits will be exchanged by Party and government delegations, while a series of investment promotions and cross-border tourism negotiations will also be conducted.

In Tibet autonomous region, Gyirong Port has reopened. Six cargo trucks loaded with products from Nepal were inspected at the port on Dec 28 as two-way trade resumed.

Located in the Himalayas, the port is 800 kilometers from the regional capital Lhasa and about 130 km from Kathmandu, capital of Nepal.

One of the biggest land ports between China and Nepal, it handles more than 60 percent of the two countries' trade.

The port went into full operation in 2014. Plans to expand the facility received national approval in 2017, with the port opening for business to third-destination countries in August that year.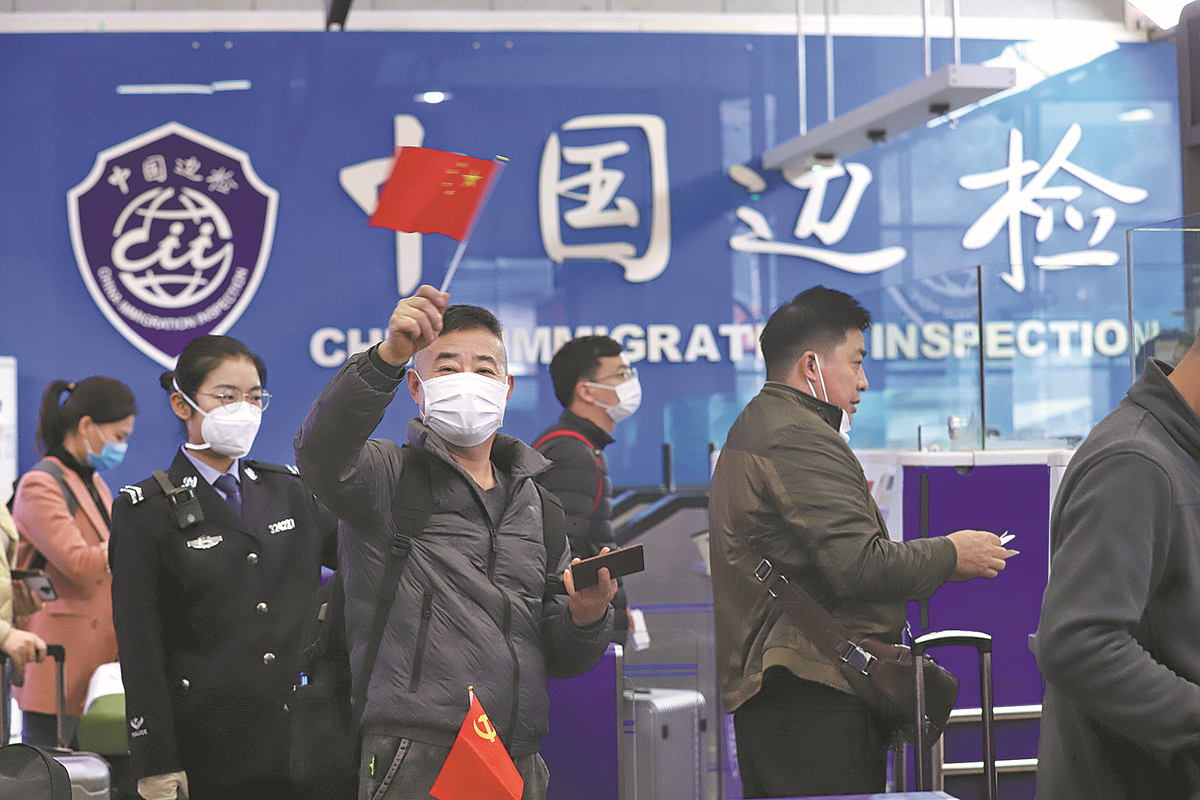 The national flag is waved by an arrival at Youyiguan Port, Guangxi.CHEN RONGJIA/FOR CHINA DAILY

Trade at the port was suspended in 2019 and 2020 due to the epidemic, but one-way freight services to Nepal resumed in July 2020 after cautious and strict measures were adopted to minimize any risks.

Xie Qiang, head of the Gyirong customs administration, said that since July 2020, import and export trade volume at the port has reached a total of more than 4.2 billion yuan, with total cargo throughput standing at 97,800 tons.

On Dec 28, imports at the port reached 38.7 tons and were valued at 825,800 yuan, he said.

Authorities have streamlined customs clearance services at the port, and its freight processing capacity has returned to the pre-pandemic level, Xie added.

Huang Zhonghan, manager at an import and export company in Nyalam county, Tibet, said the resumption of two-way trade at the port is great news for the company, as it can reduce costs and transportation times.

This year, the company will send an employee to Nepal on a long-term basis to expand business, which Huang believes will pick up soon.

He said the company will also import and export more types of products to meet demand in China and Nepal.

"With the government continuing to invest in infrastructure, foreign trade at ports in Tibet will be elevated to a new level, and we believe that Gyirong Port will have a better future," Huang said.

This story was written by Li Yingqing in Kunming, Yuan Hui in Hohhot, Zhang Li in Nanning, Palden Nyima in Lhasa, and Zou Shuo in Beijing.