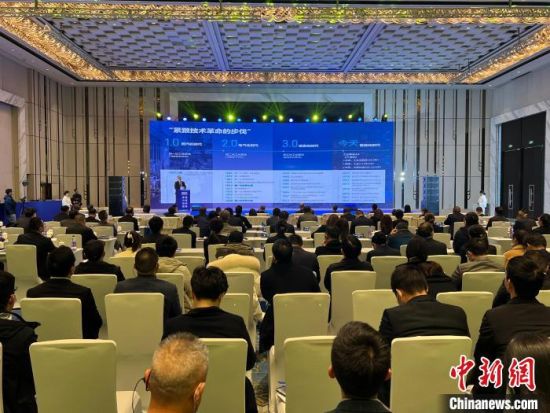 The "German Enterprises Visit Zhuzhou – a Leading Center of Advanced Manufacturing" event. (Photo/Liu Man)

A "German Enterprises Visit Zhuzhou – a Leading Center of Advanced Manufacturing" event was held on February 14 and 15. More than 60 representatives of German official economic authorities and offices of state governments in China, and German-funded enterprises gathered in Zhuzhou to discuss bilateral friendship, cooperation opportunities and future development.

This is the first foreign economic and trade delegation to Zhuzhou after China's three-year battle against the epidemic. Martin Klose, chief representative of Delegation of German Industry and Commerce Guangzhou and executive director and board member of German Chamber of Commerce in China - South & Southwest China, participated. The delegation members also included representatives of four Fortune Global 500 companies – Siemens, SAP, Bosch, and German Railway Corporation; 30 hidden champion companies in Germany; five German official economic authorities; and, offices of German state governments in China.
Chinese and German guests have a talk. (Photo/Liu Man)

Zhuzhou as an old industrial base boasts the most complete industrial categories in Hunan Province. The output value of its 13 emerging industrial chains hit 600 billion CNY. Its rail transit equipment and small and medium-sized aero-engine sectors are shortlisted for national advanced manufacturing industrial clusters.

Germany is the third largest trade partner of Zhuzhou City, while Zhuzhou is one of the initiators of the Sino-German Industrial City Alliance. In 2013, Zhuzhou and Nuremberg of Germany established friendship-city relations. Zhuzhou enterprises had participated in the Hannover Messe and the InnoTrans exhibitions for several times. The economic and trade cooperation between Zhuzhou and Germany have been deepened and expanded constantly.

"For the Western European railway market, the new rails and after-sale market values in Germany amount to about 10.9 billion euros, nearly the sum of that in Eastern Europe," said Martin Klose. Zhuzhou has the most complete rail transit equipment industrial chain system in China. He hoped German enterprises to learn more about Zhuzhou, explore more investment opportunities, and seek for more partners via the visit.

Xu Jun, executive chief representative of the North Rhine-Westphalia (NRW) Global Business China introduced that NRW is the largest foreign investment attractor among Germany's 16 states. The Zhuzhou Cemented Carbide Group and the SANY Group had been awarded by NRW's economic and international business agencies as the international enterprises that made remarkable contributions to NRW's economic development.

Xu expected that NRW and Zhuzhou's companies would advance cooperation in innovation and creation based on the solid collaboration between the two places in intelligent manufacturing, construction machinery, and commerce and trade as well as assistance and support of the two governments.

The event was guided by the Sino-German Industrial City Alliance, and hosted by the Zhuzhou Municipal People's Government and the German Chamber of Commerce in China - South & Southwest China. The Zhuzhou Municipal Commanding Office for "Three Hubs" Construction and the CCPIT Zhuzhou Sub-council organized the event. It aimed to facilitate exchanges and cooperation between German-funded enterprises and Zhuzhou-based companies, and inject new impetus to the efforts in building Zhuzhou into a manufacturing powerhouse and a happy city.