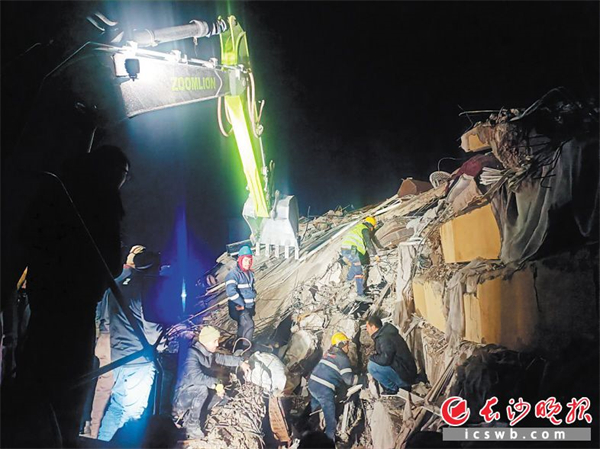 The Zoomlion rescue team helps rescue the trapped people. (Photo/Li Jiayu)

Two 7.8-magnitude earthquakes struck south-eastern Türkiye on February 6, which led to heavy casualties and property damage. Hunan enterprises – Zoomlion and SANY Group – made quick responses, participated in earthquake rescue efforts, and helped save several people trapped under the debris.

Upon hearing the earthquake news, the Zoomlion headquarters promptly deployed a transnational rescue squad. The Zoomlion's subsidiary in Türkiye arranged five excavators and sent a rescue team of engineers and drivers to quake-hit Hatay that night. The teamcarried emergency supplies, including electric blankets, drugs, and food urgently needed in the quake-hit areas.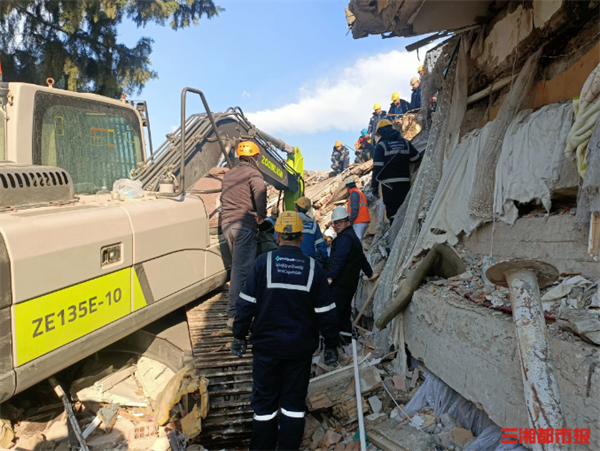 The Zoomlion rescue team was one of the earliest arrivals to the quake-hit areas. As soon as the rescuers arrived in Hatay, they threw themselves into saving the trapped people, removing obstacles on roads, and demolishing collapsed buildings. They had helped pull four people out of the debris and were trying to save two trapped girls as of press time.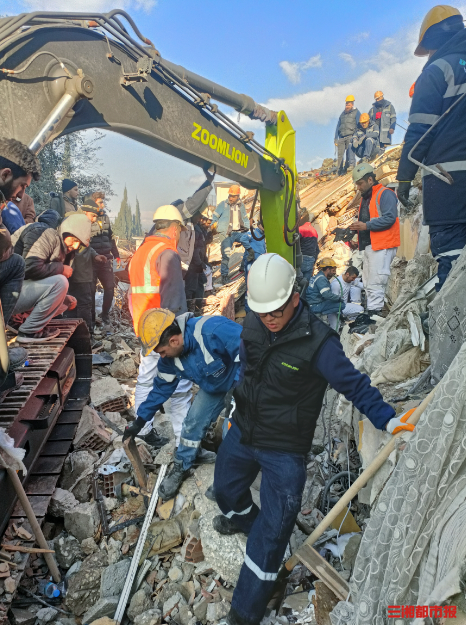 To solve the lack of rescue equipment, Zoomlion contacted local clients and collected 18 excavators to assist in disaster relief. Besides, the rescuers followed the local arrangement, participated in rescue activities and ensured rescue equipment service to help earthquake victims through this difficult time.

On the afternoon of February 7, 12 rescuers sent by the SANY Southeastern Europe arrived in Adana and Ankara of Türkiye to prepare for rescue work. SANY's Putzmeister and other business divisions urgently dispatched a crane and three excavators to the quake-hit areas. After 16-hour continuous search and rescue, they saved four people including a child.

On February 7, the Hunan Red Cross Blue Sky Rescue Center sent two rescuers and equipment for search and rescue to Wuhan, including searchlights, life detectors, helmets, and disinfection machines. On the evening of the following day, another five professional rescuers of the center arrived in Wuhan and flew to Türkiye together to participate in earthquake relief work.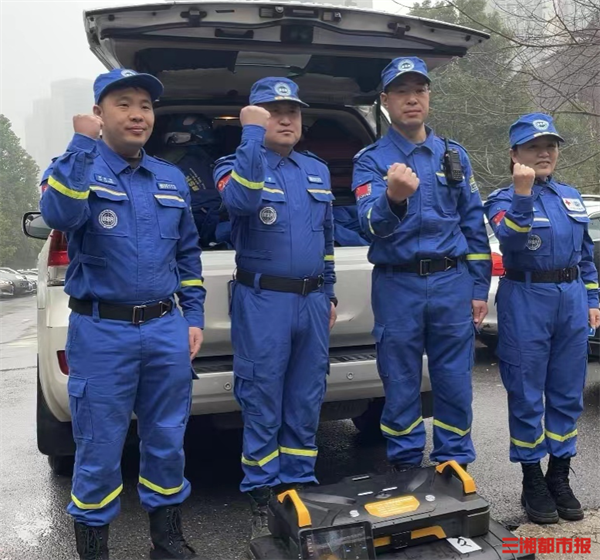 Four members of the Hunan Blue Sky Rescue Team.

The seven rescuers, five males and two females, are professional and experienced. They completed all preparation tasks within one day and would rush to the epicenter area after an over-10-hour flight of more than 7,400 kilometers.