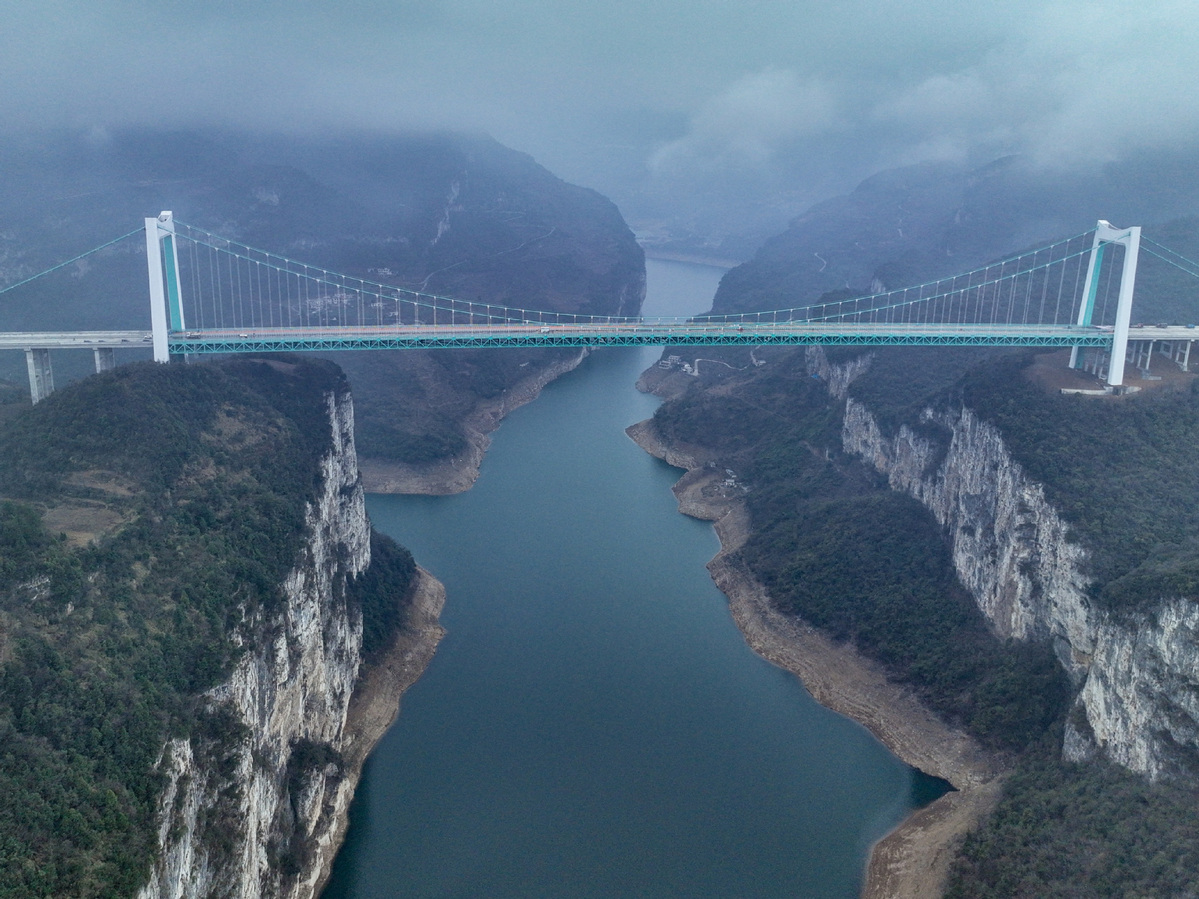 This aerial photo taken on Feb 3, 2023 shows the Jinfeng Wujiang River bridge in Southwest China's Guizhou province. [Photo/Xinhua]

Common purpose seen as underlying reason for infrastructure achievements

A virtuous cycle has been formed in China's infrastructure development, and China is rewriting the development blueprint on infrastructure, a US economic and trade expert said.

Sourabh Gupta, a senior fellow at the Washington-based Institute for China-America Studies, said that China is in a transition phase, from an emerging economy and a developing country to an advanced economy, but its infrastructure is "first-rate" and "the best infrastructure that there is in any advanced society".

Gupta said this is very thoughtful and forward thinking in terms of how to create the fundamental underpinnings to stimulate and invigorate growth in an economy. He mentioned "incredible bridges "and "high-speed rail", and referring to the "rail built all the way to Tibet "as a typical example.

At a news conference in September 2022, Zheng Jian, director of the Department of Infrastructure Development at the National Development and Reform Commission, said that China's overall infrastructure has improved by leaps and bounds in the past 10 years, and it has been powerfully supporting the nation's economic growth and social development.

Zheng also said that China would support the construction of major projects, focusing on implementing 102 key ones mapped out during the 14th Five-Year Plan (2021-25) and others in the five-year plan for transportation development.

Common purpose, Gupta said, is one underlying reason for China's achievements in infrastructure. "China knew it had to do this, and it went about… doing this."

In his recent State of the Union address, United States President Joe Biden announced that in the US, all construction materials used for federal infrastructure projects would be required to be "made in America". But the source of these materials apparently cannot solve the US' problems regarding infrastructure, which is too backward to match its level of economic development, according to Gupta.

He said the US did very well in the 1950s, but unfortunately the age when people came together as a society and trusted each other faded away in the 1970s.

"Starting from the 1970s and 1980s, a new mantra took over in the US that the private sector could do it all, and the private sector had these long horizons and would make these decisions," he said. "That's not what the private sector does. One needs patient capital to do that," he said.

Gupta mentioned that some developing countries in East Asia, including China, understood the value of this "patient capital "because they knew that the state needs "a bit of autonomy" from society to chart development paths and allow the economy to go on a high-growth trajectory at an early stage of development.

"China did that wisely. Infrastructure was critical and fundamental. There was a common purpose behind it," Gupta said.

He said a really strong push from the central government played a significant role in China's dealing with the remnants of poverty over the past 10 years. "And there is sort of a virtuous cycle to it, where people notice that infrastructure is the foundation for growth. It is showing how to deliver growth."

Gupta noted that China is rewriting "development literature" on its own through the concept of "social good", and it is also saying that there is value in creating high-quality public assets. "People will value it, people will protect it, people will help that asset grow and they will grow themselves — grow on that, on the strength of that asset."

He gave an example. In the initial stages, a road in a rural area that has been underserved may seem to be a loss-making project. "From a larger perspective, it creates not just economic growth and connectivity, but also social cohesion. People come together on that basis. These are the things that China has been able to facilitate in creating unity in a society," he added.