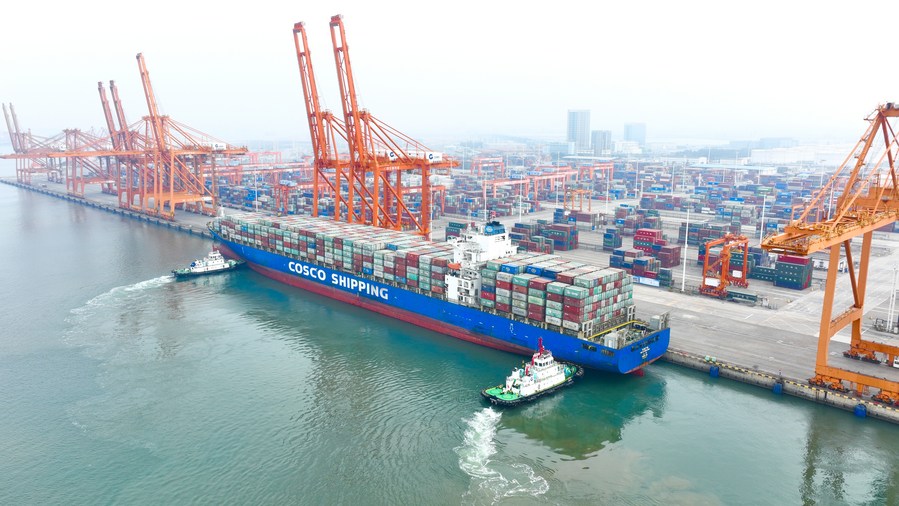 Photo taken on March 2, 2022 shows a container terminal of Qinzhou Port in south China's Guangxi Zhuang Autonomous Region. (Xinhua)

RCEP will generate innovation and new industries, and act as a catalyst for long-term trade and investment growth between the Philippines and China, said a Philippine official.

MANILA, Feb. 26 (Xinhua) -- The Philippines will embrace new opportunities to foster economic growth from the Regional Comprehensive Economic Partnership (RCEP) agreement as the country recovers from the COVID-19 pandemic, a Philippine envoy to China has said.

"It's like an opening of a door to competition. However, there will be challenges among players and business people. But as everybody says, there is also an opportunity every time there is a challenge," Benito Techico, Philippine President Ferdinand Romualdez Marcos' special envoy to China for trade, investments, and tourism told Xinhua in a recent interview.

The Philippine Senate ratified RCEP on Feb. 21, a massive free trade agreement involving Australia, China, Japan, South Korea, New Zealand, and the 10 members of the Association of Southeast Asian Nations.

It is the world's largest free trade area representing 30 percent of the global gross domestic product.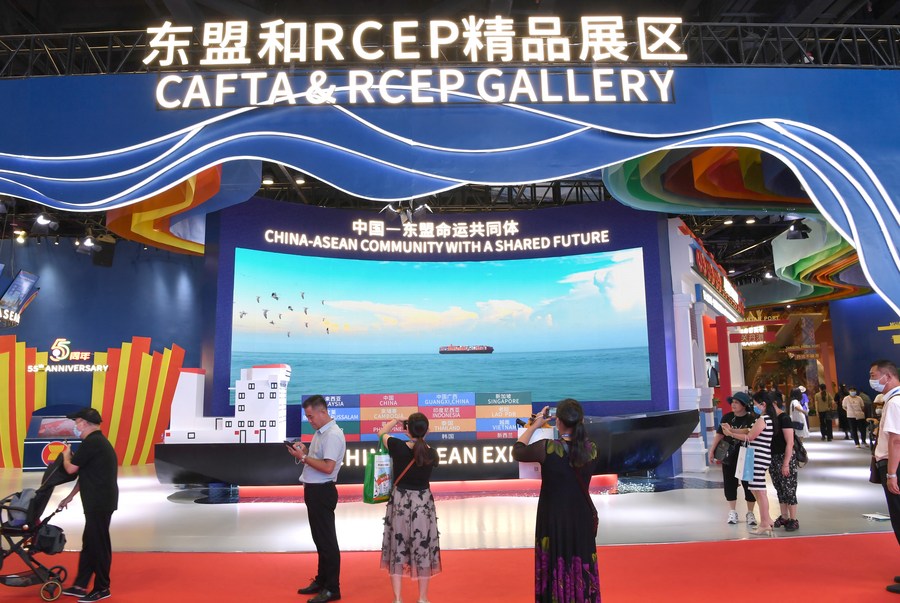 People visit the CAFTA &RCEP Gallery during the 19th China-ASEAN Expo in Nanning, south China's Guangxi Zhuang Autonomous Region, Sept. 19, 2022. (Xinhua/Zhou Hua)

Philippine officials said RCEP covers roughly 50.4 percent of the Philippines' export markets, 67.3 percent of the country's import sources, and 58 percent of foreign direct investment.

According to Techico, Philippine consumers will reap tangible benefits from competitions brought by the RCEP member countries. Preferential import tariffs for Philippine exports, such as agricultural and tourism products, would also give the Southeast Asian country more access to bigger markets.

"I think joining RCEP will encourage local businessmen to be more innovative. There will probably be new industries and innovations that would arise from the new generations," Techico said.

He stressed the need for the Philippines to fully use its geographic dividend as a strategic location in Asia to attract more foreign investment in manufacturing and logistics.

"Technically, we have more access in terms of logistics. We could have more opportunities because those factories or the regional investors might want to take advantage of the country's location and set up a regional logistic hub in Asia," Techico said.

As the newly-appointed special envoy to China for trade, investments, and tourism, he believed RCEP catalyzes long-term trade and investment growth between the Philippines and China.

"I would expect more guidance or support from China in terms of coming up with manufacturing facilities and investment. Moreover, if there are more partnerships between Philippine farmers and the Chinese technology provider, it will be great for agriculture," he said.

Economic and trade cooperation between the Philippines and China has yielded fruitful results in recent years.

According to the Chinese Ministry of Commerce, by the end of 2021, China had been the Philippines' largest trading partner for six consecutive years and had emerged as the Philippines' second-largest export destination.

For the first 11 months of 2022, the bilateral trade volume hit 80.41 billion U.S. dollars, up 8.3 percent year on year.■