On February 26, Hua Chunying, assistant minister, spokesperson and head of information department of the Ministry of Foreign Affairs, presented the beautiful scenery of Zhangjiajie National Forest Park to netizens around the world on her personal account of an overseas social media platform.

Foreign Ministry Spokesperson Hua shared a tweet featuring 10-second video displaying the bustling stone bridge of Zhangjiejie. Hua marveled at the stone bridge, saying, "The naturally formed stone bridge connecting two towering peaks in Zhangjiajie, Hunan Province, holds people in awe at the artistic creativity of nature."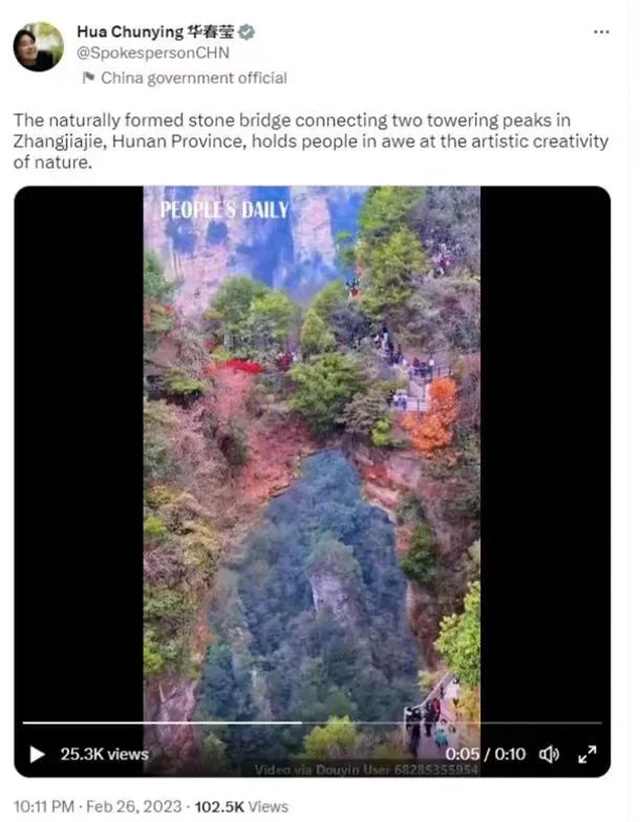 The stone bridge recommended by Hua Chunying is located at the Yuanjiajie Scenic Area in Zhangjiajie National Forest Park, with a bridge walkway width of about 2 meters, a length of more than 20 meters, and an absolute height of 350 meters. It is renowned as the world's number one bridge, boasting tall, straight pines and old vines dangling nearby. The depths beneath the bridge are largely unknown. Walking on the bridge is an exhilarating experience, and the sight of the bridge cave from afar is truly breathtaking. The bridge is a gorgeous and awe-inspiring sight when surrounded by clouds and mists. It is a one-of-a-kind view in Zhangjiajie and truly a natural marvel.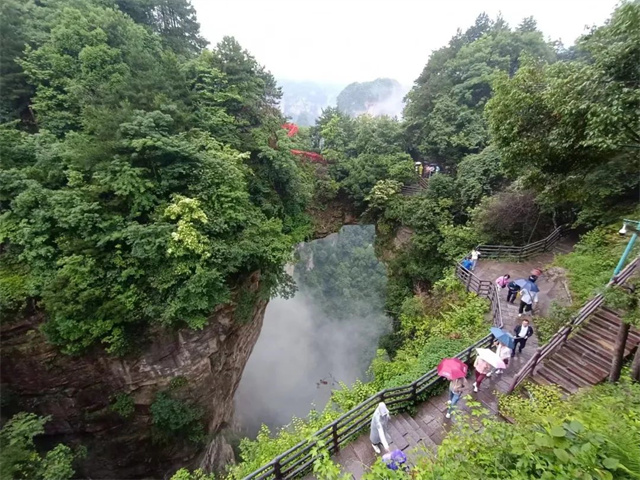 The stone bridge was shown on a stamp issued in China on September 25, 1994. The movie blockbuster Avatar was filmed in the same location, giving it worldwide recognition.