Since the beginning of the New Year, local authorities have made solid efforts to balance economic and social development, and epidemic prevention and control, bringing fresh and sustainable momentum to China's economy, which has set a steady course for a new journey.

Guangdong province

A high-profile provincial conference on high-quality development was held in Guangzhou on Jan 28, the first working day after the Spring Festival holiday.

High-quality development is an inevitable path Guangdong is on while heading toward modernization, Huang Kunming, Party secretary of Guangdong, said at the conference.

A series of major projects in Guangzhou, Shenzhen, Foshan and other cities also kicked off. In Shenzhen, a total of 266 new projects for 2023 were launched on Jan 29, with a total investment of 329.53 billion yuan.

To implement the spirit of high-quality development across the province, Guangdong entrepreneurs strive to be the front-runner in the field of high-quality development and are committed to transforming Guangdong's high-quality plan into a reality.

Guangdong's GDP was estimated at 12.8 trillion yuan in 2022, and the province has set a GDP growth target of more than 5 percent for 2023, according to provincial government data.

Hainan province

South China's island province of Hainan has launched plenty of promotional activities, further stimulating the vitality of duty-free consumption.

Statistics from Haikou Customs showed that it has supervised a total of 5.19 billion yuan in duty-free sales, from a total of 534,000 consumers when they left the island from Jan 1 to 28.

During this year's Spring Festival holiday, Hainan reported a total of 1.56 billion yuan ($234 million) in offshore duty-free sales, a year-on-year increase of 5.88 percent.

The province also received nearly 6.4 million tourists during the seven-day holiday, up 18.2 percent year-on-year, and raked in nearly 9.3 billion yuan in tourism revenue, according to the provincial tourism authority.

Hainan will focus on boosting consumer demand and strive to drive up the island's number of tourists and tourism revenue this year. It expects to see its offshore duty-free sales exceed 80 billion yuan in 2023, said Feng Fei, governor of Hainan, when delivering a government work report in early January.

Shanghai

The municipal government of Shanghai released a new action plan on Jan 29 to expand demand, stabilize growth and further improve the city's business environment.

According to the plan, three tasks — boosting confidence, expanding demand and seeking stable growth — are imperative, with the city aiming to achieve above 5.5 percent GDP growth in 2023.

At the same time, Shanghai will provide relief packages for enterprises to reduce employment costs. To restore and boost consumption, Shanghai will provide subsidies to consumers who buy green smart home appliances, as well as purchase tax exemptions for new energy vehicles and vouchers for sectors such as cultural tourism and catering.

Between Jan 1 and 29, Shanghai signed more than 160 key industrial projects, with a total investment of 100 billion yuan ($14.77 billion). During the same period, more than 60 key industrial projects began, with a total investment of more than 70 billion yuan.

The city set a target of having its fixed-asset investment grow 5 percent to reach the 1 trillion yuan mark in 2023. Specifically, 191 major projects with a combined investment value of 215 billion yuan have been planned, up 7.5 percent year-on-year.

Zhejiang province

East China's Zhejiang province adopted a newly revised set of regulations to foster the growth of its micro, small and medium enterprises at the annual session of the Zhejiang Provincial People's Congress in January.

The adoption of the new regulations marks the latest move for Zhejiang to further optimize its business environment by setting up a sounder institutional, legal and regulatory framework.

As one of the most vibrant places in China for the private economy, Zhejiang also organized recruitment fairs online and offline in other provincial-level regions to attract migrant workers, as companies expect rising factory orders and booming production after the holiday.

Zhejiang Provincial Department of Human Resources and Social Security said 106 recruitment trips and events to other provinces were organized in the first three weeks of January.

Zhejiang will achieve a minimum GDP growth rate of 5 percent in 2023, Wang Hao, the provincial governor, announced this target while delivering the government work report.

Beijing

The construction of infrastructure projects has sped up after the Spring Festival holiday. On Jan 31, the first batch of 50 major projects was launched in Beijing, with a total investment of 48.6 billion yuan ($7.24 billion).

To improve the commercial environment in the capital, the Beijing Municipal Commission Development and Reform Commission also released a document to remove certain barriers to business.

The Chinese capital pledged to cultivate consumption in digital, cultural and ice-and-snow industries and support spending on housing improvements, new energy vehicles and elderly care services to revive the economy, according to the government work report.

To leverage the role of investment in optimizing the supply-side structure, Beijing will further promote 100 infrastructure projects, 100 projects for improving people's livelihood, and 100 projects for scientific and technological innovation and hi-tech industries.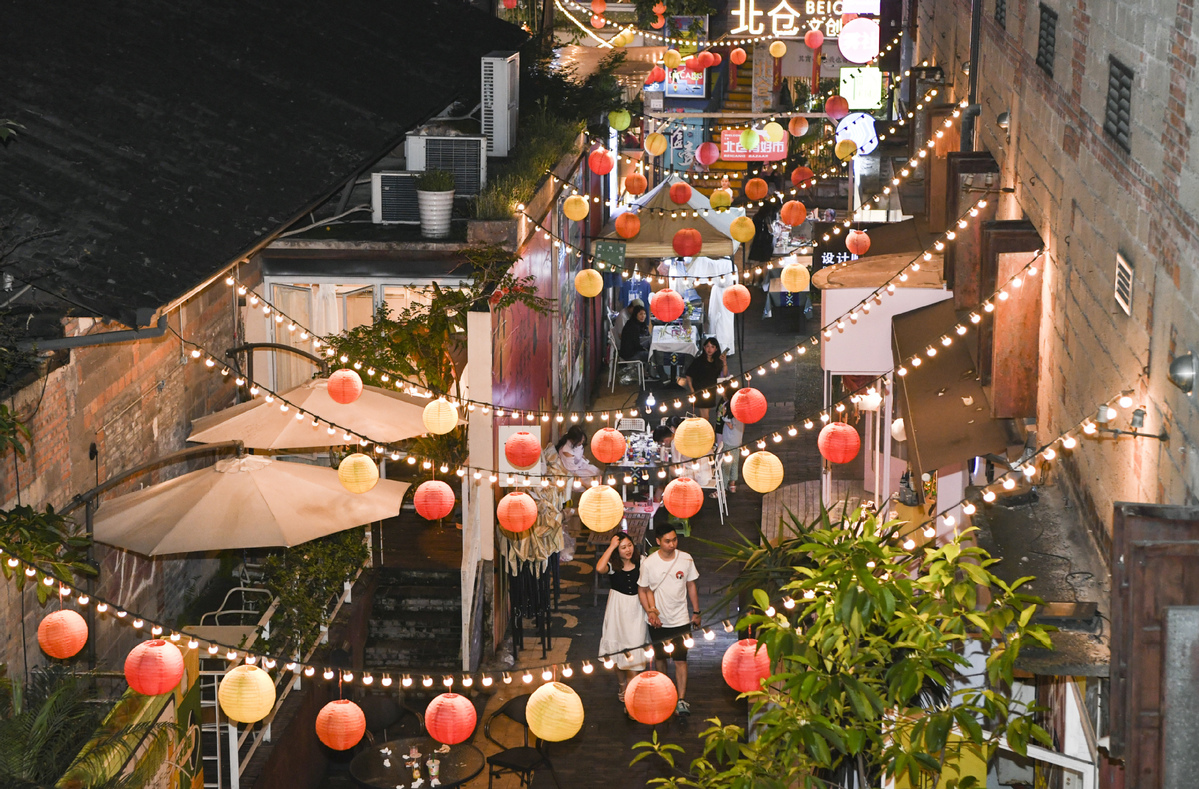 People visit the Beicang Cultural and Creative Block in Southwest China's Chongqing municipality, June 3, 2022. [Photo/Xinhua]

Chongqing

In the southwestern municipality of Chongqing, more than 60 rotary drilling rigs were in simultaneous operation, at a construction site for Changan Auto's new factory, in January.

"With an investment of 6.3 billion yuan ($938.7 million), the project will have an annual capacity of 280,000 new energy vehicles," project director Wu Kezhi told Xinhua.

Chongqing is planning to launch 1,123 major projects this year, with total investments up 18.5 percent from a year earlier. The city has set the GDP growth target at over 6 percent for 2023.

Also in January, Liangjiang New Area in Chongqing signed 28 projects totaling over 30 billion yuan at its global promotion conference, as it has sped up its efforts to attract more international investment.