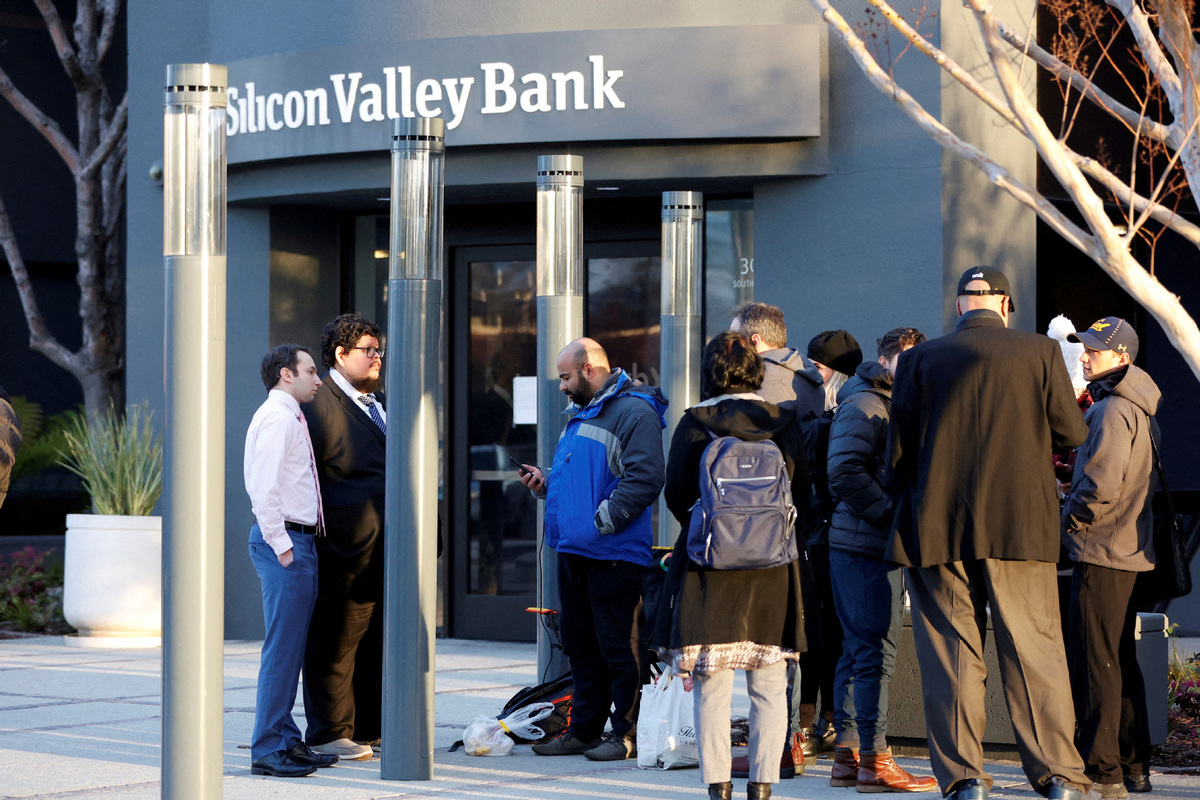 FDIC representatives Luis Mayorga and Igor Fayermark speak with customers outside of the Silicon Valley Bank headquarters in Santa Clara, California, US, March 13, 2023. [Photo/Agencies]

The collapse of Silicon Valley Bank in the United States last Friday has sent shock waves through the global financial markets as investors scramble to weigh the ramifications of the meltdown of the largest bank since the 2008 global financial crisis.

The closure of Signature Bank on Sunday further fueled panic over the financial health of the country's banking system, even after the Joe Biden administration took emergency measures to guarantee deposits at both banks, with major US banks losing around $90 billion in stock market value on Monday, bringing their loss over the past three trading sessions to nearly $190 billion. The fact that the US has again become a source of financial risks that pose a threat to the global economy will inevitably diminish its leadership credibility.

Experts have attributed SVB's crash to its own misjudgments and high inflation. SVB loaded up on long-term debt such as Treasury bonds betting on a prolonged period of low interest, only to see the value of the bonds decrease as the Federal Reserve kept raising interest rates to fight high inflation. News about the huge losses the bank had suffered eventually caused a run on the bank.

Yet rather than exploring ways to improve policy coordination and regulation related to the banking industry and plug loopholes to prevent a possible financial crisis in the future, politicians in Washington are now engaged in a polarized blame game, with Democrats and Republicans pointing an accusing finger at each other for the banking woes.

Democrats including Biden himself argued that a Donald Trump-era rollback on bank oversight rules undermined the stability of regional banks, while Trump blamed Biden for "a bigger economic collapse than the Great Depression". The deepening bipartisan division has prompted CNN to bemoan in an analysis that "America's biggest problem is its politics, not its banks".

The US' banking failures should serve as a wake-up call for Chinese regulators to tighten supervision of the country's financial sector and improve financial consumer protection, a task that has gained a sense of urgency after several small village banks in Henan and Anhui provinces were caught committing fraud last year, leaving the money of many depositors frozen for months.

In a first step toward that direction, a reform plan approved by the country's top legislature suggests a national financial regulatory administration is to be set up to strengthen oversight of the financial industry, with the exception of the securities sector. The new regulator will replace the banking and insurance sector watchdog and bring supervision of the industry into a body directly under the State Council, China's Cabinet. That is expected to help improve the supervision of financial institutions and strengthen consumer protection, paving the way for the country's high-quality development.