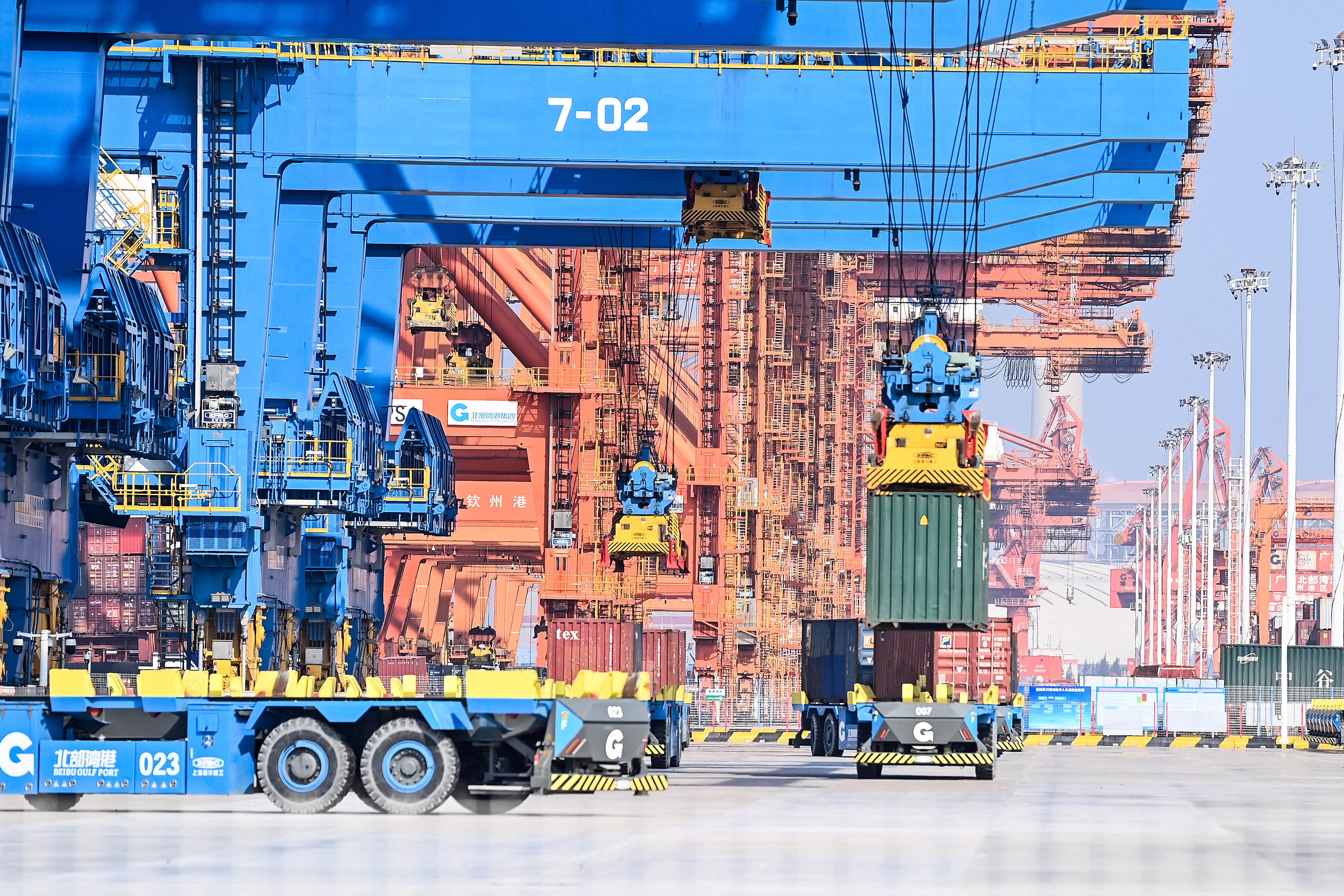 Unmanned vehicles transport containers at an automatic container terminal at Qinzhou Port in south China's Guangxi Zhuang Autonomous Region on Feb. 25, 2023. [Photo/Xinhua]

China is now more connected to the rest of the world than ever before, meaning that the fate of many nations is interconnected with that of China. The country has reached such a level of influence regarding global prosperity and stability that it is now the major trading partner of more than 140 countries. China is also the world's largest exporter, with the value of its total exports representing 14.7% of overall global exports.

After importing approximately $2.72 trillion worth of goods in 2022, China became the second-largest importer of the world. As a result of its reform and opening up, China's foreign trade accounted for 37% of its GDP in 2022, according to the World Bank.

Experts are of the view that deeper integration of China into the global economy offers important opportunities for promoting global growth across trade, investment, and international cooperation.

What we can see is that the relationship between China and the world is ever-deepening. China's technology value chains are highly integrated globally, and its rapidly expanding consumption offers significant opportunities to many countries.

As a result, policies and measures made in Beijing regarding domestic trade and the economy deeply influence the global economy. As such, the decisions made at the first session of the 14th National People's Congress (NPC) have brought about some new prospects for global growth.

To be more specific, during the session of its top legislature, China reiterated its commitment to further expanding market access, improving services for foreign-funded companies, and facilitating the launch of landmark foreign-funded projects. This, I believe, will help many countries to enter the world's second-largest consumer market in China more easily, facilitating diversification of their export items to the Chinese market.

On the other hand, China will also provide strategic guidance and policy support for Chinese multinational corporations to grow their footprint in many additional countries. In this way, China will continue to serve as a major growth engine for the world.

Moreover, according to the report submitted to thefirst session of the 14th NPC, China will take active steps to join the Comprehensive and Progressive Agreement for Trans-Pacific Partnership (CPTPP) and other high-standard economic and trade agreements. The CPTPP is a trading bloc representing 500 million consumers and 13.5% of the global GDP, one of the world's largest free-trade areas by GDP. With more than 18% of the global GDP, China is expected to boost the economy of the block.

Many think that as members of the block, Australia, Brunei, Canada, Chile, Japan, Malaysia, Mexico, New Zealand, Peru, Singapore, and Vietnam are major economies, and their cooperation with China will facilitate global growth according to their proportion to world GDP.

As China is open to inking high-standard economic and trade deals, many countries can benefit by signing Free Trade Agreements with it. For example, Bangladesh can tap the prospects of China's huge domestic market. Experts believe that if Bangladesh can achieve even a 1% share of the Chinese market, its export earnings from China alone could be in the range of $20-$25 billion, compared to the $1 billion that it currently earns.

In line with its commitment to facilitating global development reaffirmed during its NPC session, China will bolster the building of its Belt and Road Initiative (BRI). As a result, many more developing countries can receive more Chinese investments and reap other economic dividends under the BRI framework and its win-win cooperation initiatives.

China has set its growth target at 5% for 2023. The country will also focus on environmental issues, quality innovation, and technologies. These will also help to deepen win-win cooperation with developing nations, creating mutual benefits for all.

As China's growth has long fueled the prosperity of many countries through trade, investment, and financial and policy support, the decisions and policies made in its most important political meetings are similarly significant for the world.