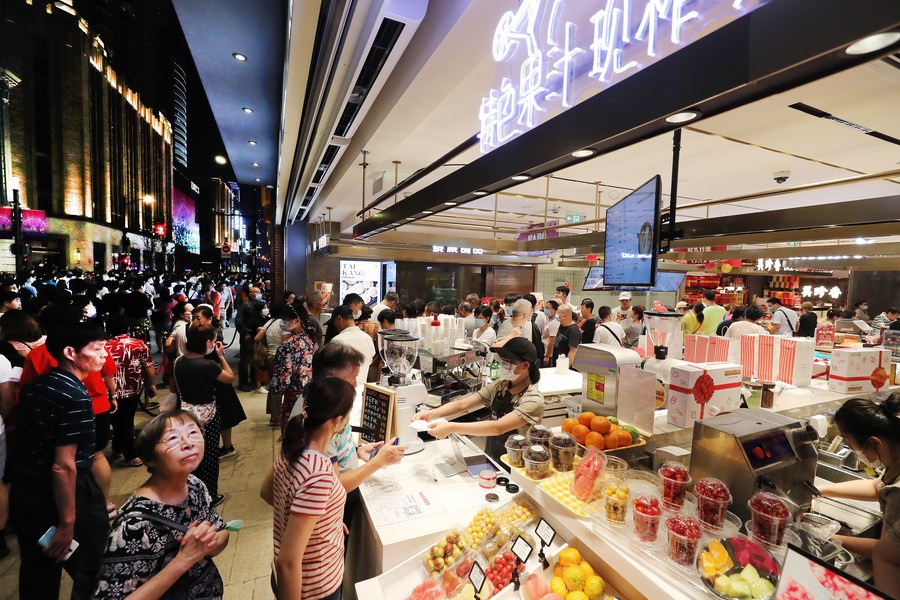 Customers shop along the renovated Nanjing East Road Walkway in Shanghai. [Photo/Xinhua]

Consumer demand continued to pick up steam as China ramped up efforts to boost buying sentiment, which experts said will help boost market confidence and promote the overall improvement of profitability.

Consumer demand saw a steady recovery as consumer goods manufacturers saw profits dip 6.5 percent in the first two months of 2023 from a year earlier, narrowing 13.4 percentage points from the figure in December, data from the National Bureau of Statistics showed on Monday.

Sun Xiao, a senior NBS statistician, said that market demand, despite an uptick in industrial output, has not yet fully recovered. Due to cost-related factors and a relatively high base in the same period last year, profits at industrial firms declined in the first two months.

Major industrial firms, each with business revenue of at least 20 million yuan ($2.9 million), saw their profits drop 22.9 percent year-on-year to 887.21 billion yuan in the combined figures of January and February, data showed.

Among the 41 industries surveyed, 10 registered a year-on-year profit growth in the first two months, while 28 saw their profits tumble.

Zhou Maohua, a macroeconomic analyst at China Everbright Bank, said the auto sector, which posted a 41.7 percent decline in profits according to NBS data, was a notable drag on manufacturing profits, due to such factors as dampening demand, rising production costs, subsidy phase-outs and price competition.

"Authorities have in response rolled out an array of policy measures to further unlock consumption potential lately, as well as to help enterprises tide over difficulties and maintain steady growth," Zhou said. "Such efforts will help industrial firms gain a solid footing in rapid recovery."

A number of major cities including Beijing and Shanghai have recently been issuing a new round of consumption vouchers to boost domestic demand with a special focus on automobiles and home appliances, in a bid to further shore up consumer confidence.

NBS statistician Sun Xiao said demand for electricity has been on the rise and power generation continued to grow from January to February as industrial production recovers, which contributed to a 53.1 percent year-on-year increase of profits in the power industry.

Profits of the electrical machinery sector sustained rapid growth and rose 41.5 percent year-on-year during the period. Transport equipment manufacturing saw profits increase 64.8 percent year-on-year, according to a breakdown of NBS data.

Going forward, as work and life return to normal and market demand rebounds, supply and demand will be better matched, and the profits of industrial enterprises will gradually pick up, Sun said.