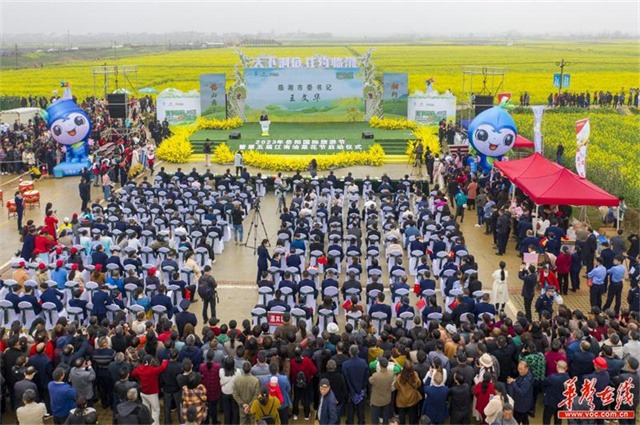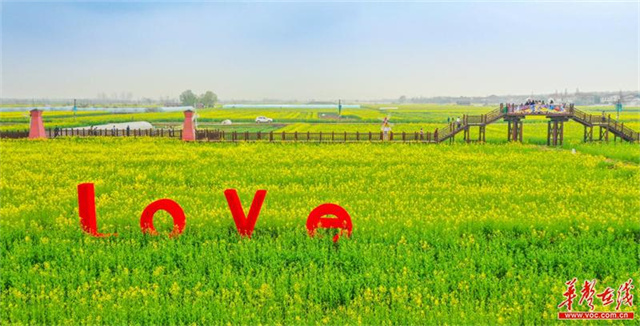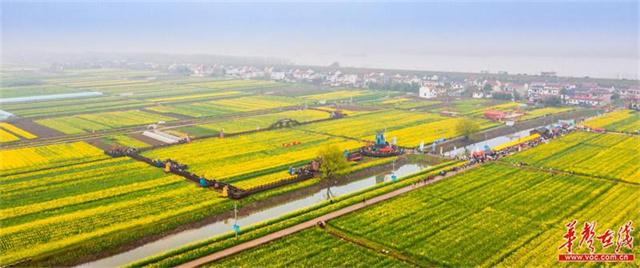 Photos/Yao Bin and Shu Xuehai

On the morning of March 8, the 2023 Yueyang International Tourism Festival and the fifth Jiangnan Canola Flowers Festival opened at Changjiang Village in Jiangnan Town, Linxiang City. More than 10,000 guests and tourists participated. They drunk Linxiang brick tea, went to a rural fair, tasted Jiangnan food, and admired a sea of canola flowers.

The village was crowded with visitors, which drove the development of neighboring homestay inns and rural restaurants. Song Yinzhong, Party branch secretary of Changjiang Village, said that currently the village has 15 farmhouses, four more than last year. Nearby the fields of canola flowers, there is one farmhouse within 100 paces.

In addition, local specialties became a hit. Local villagers set up market stalls to sell eggs, chickens, ducks, honey, spicy food, and dried fish. Neighboring vendors sold commodities such as cakes, fruits and toys. Blooming canola flowers make the village more attractive and become a cash cow to help villagers increase income.

The best viewing period of canola flowers this year will last till the end of March. Ten themed activities will be held during the festival, including taking spring outings to admire canola flowers; tasting Linxiang brick tea; Yueyang travel routes promoted by Hunan, Hubei, and Jiangxi Alliance; a blind date; a rural fair; and, a Jiangnan food festival. These events enable tourists to have an immersive experience of rural spring scenes.