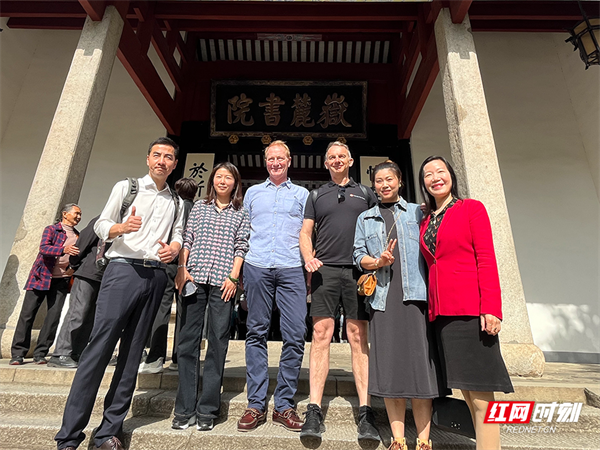 The Wendy Wu Tours delegates pose for a group photo at Yuelu Academy.

"Changsha City is full of vitality! It is amazing, far beyond our expectations, " said a member of the Wendy Wu Tours, the UK's largest travel agency for group tours to China. The Wendy Wu Tours delegation started their Hunan tour from Changsha and was stunned by this charming city.

China issued a notice on further adjustment of visa and entry policies for foreign nationals in mid-March this year, drawing attention from the UK's tourism industry. With the assistance of the China National Tourist Office in London and the Hainan Airlines, the Wendy Wu Tours sent a delegation to China on April 15. They planned to visit several important tourist destinations around China, including Beijing, Shanghai, Chongqing, Hunan, and Xi'an. This is the UK's first tourism delegation to China after the three-year pandemic. It is a significant bellwether for the resumption and recovery of the UK's tourism market to China.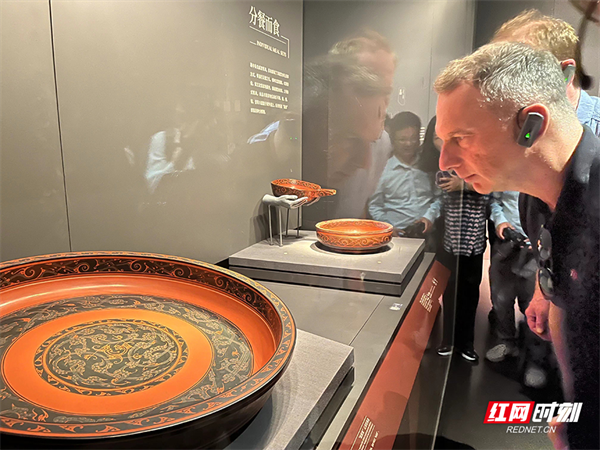 The delegation members explore Huxiang culture at the Hunan Museum.

"Hunan Province was shortlisted for our exploring tour destinations for the first time and chosen as the first stop this time. This would be of great significance for promoting Hunan's culture and tourism," said Hu Kaitie, a manager of the Make it China company, a media partner of the China National Tourist Office in London. The company will include Hunan's cultural tourism products and routes in its tourism products catalogue, based on the exploring tours of the Wendy Wu Tours and other influential international travel agencies. More and more foreign tourists from the UK, Australia, and New Zealand will thus better understand Hunan's cultural tourism market and products in the future.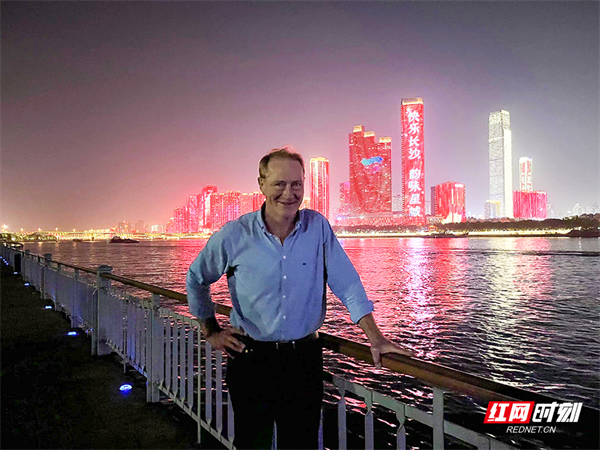 A delegation member appreciates the light shows along the Xiangjiang River on the Orange Isle.

During their stay in Changsha on April 15 and 16, the delegation members had a night tour around the Orange Isle, appreciating splendid light shows on both banks of the Xiangjiang River; walked along the Wuyi Avenue, experiencing Changsha's vitality; tasted Hunan snacks such as Kouwei crayfish and Tang You Baba (glutinous rice dumpling fried in sweet oil); enjoyed a "time travel" at Wenheyou Restaurant; and, visited the over 1,000-year-old Yuelu Academy and the Hunan Museum.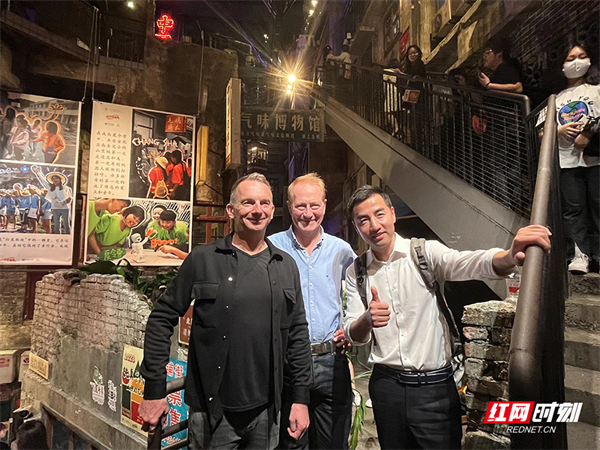 The delegation members enjoy a "time travel" at Wenheyou Restaurant.

Peter Crane, global product director of the Wendy Wu Tours, kept taking photos with his phone and raved "Amazing" repeatedly. "We will recommend the British tourists to feel Changsha – this city full of charm – from its food, history, culture, folk customs, sceneries, and all other aspects," he said.

Since the direct air route was opened between London and Changsha in 2018, the Hunan Department of Culture and Tourism has been to the UK several times for cultural and tourism promotion. Futhermore, over the past three years, Changsha and Zhangjiajie's cultural and tourism authorities organized online and offline promotion activities, which laid a solid foundation for cultural and tourism exchange and cooperation between Hunan and the UK.

During their tour in Hunan, the delegation would go to Zhangjiajie to experience the magnificent natural landscapes and various distinctive folk customs.

This article is from the Hunan Provincial Government www.enghunan.gov.cn.

Translator: Pang Yuehui

Chinese source: Rednet