The China (Rucheng) "Sanyuesan" Yao and She Cultural Tourism Festival and the Cultural Tourism Consumption Season were launched on April 22. Cultural tourism consumption coupons worth 170 million yuan were issued on site, aiming to invite people from across the country to visit Rucheng County, the capital of hot spring.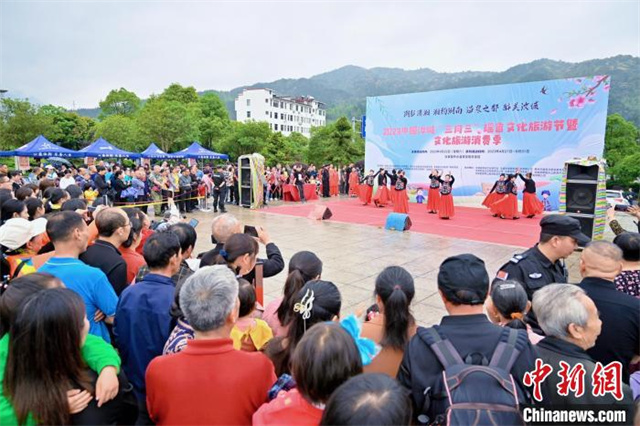 Cultural performances were staged on the Hot Spring Square of Reshui Town. (Photo provided by the Rucheng County Bureau of Culture, Tourism, Radio, and Sports)

At the launching ceremony, several cultural tourism products including two-day and one-night tours and three-day and two-night tours were promoted, involving scenic areas and hotels such as Jiulong River National Forest Park, Neo-Confucianism Ancient Town, Shazhou- a red or revolutionary site, Fuquan Hot Spring, Guanxi Villa, and Nuanshui Hot Spring.

The 170-milllion-yuan consumption coupons cover one million to 3.45 million yuan for popular scenic areas including Feishui Village, Deshou Mountain, and Jiulong River, 56.5 million yuan for hot spring resorts including Fuquan Hot Spring and Guanxi Hot Spring, and 1.5 million to 5 million yuan for hotels. The coupons are available at the official WeChat account of "Rucheng Tourism [汝城旅游]" and can help consumers offset their cost.

As a fixed festival, "Sanyuesan" has become one of the most representative festivals in Rucheng and is an important window to display the culture and tourism resources of the She ethnic group. The festival attracts an increasing number of tourists every year to experience the charm of She culture and enjoy the beautiful scenery of Rucheng.

During this year's cultural tourism consumption season, Rucheng will also successively carry out a series of festival activities such as 100,000 Hong Kong and Macao tourists visiting Rucheng, Reshui River whitewater drifting experience activity, and "Sanyuesan" celebrations in Jiulong River Scenic Area.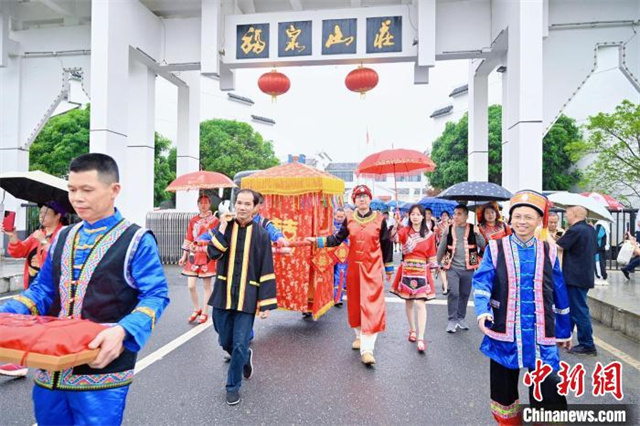 Tourists experienced the wedding ceremony of She ethnic group. (Photo provided by the Rucheng County Bureau of Culture, Tourism, Radio, and Sports)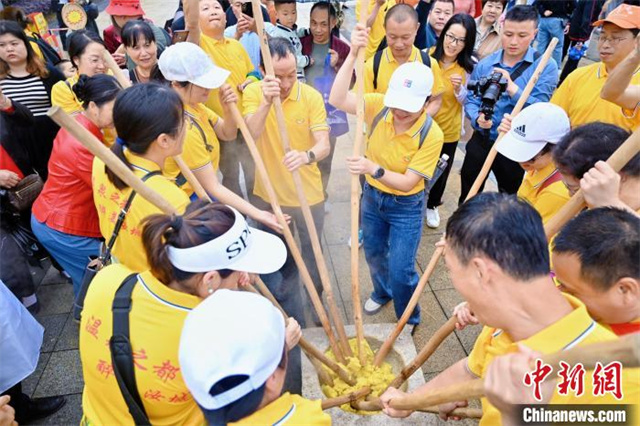 Tourists made Ciba, a traditional glutinous rice cake. (Photo provided by the Rucheng County Bureau of Culture, Tourism, Radio, and Sports)