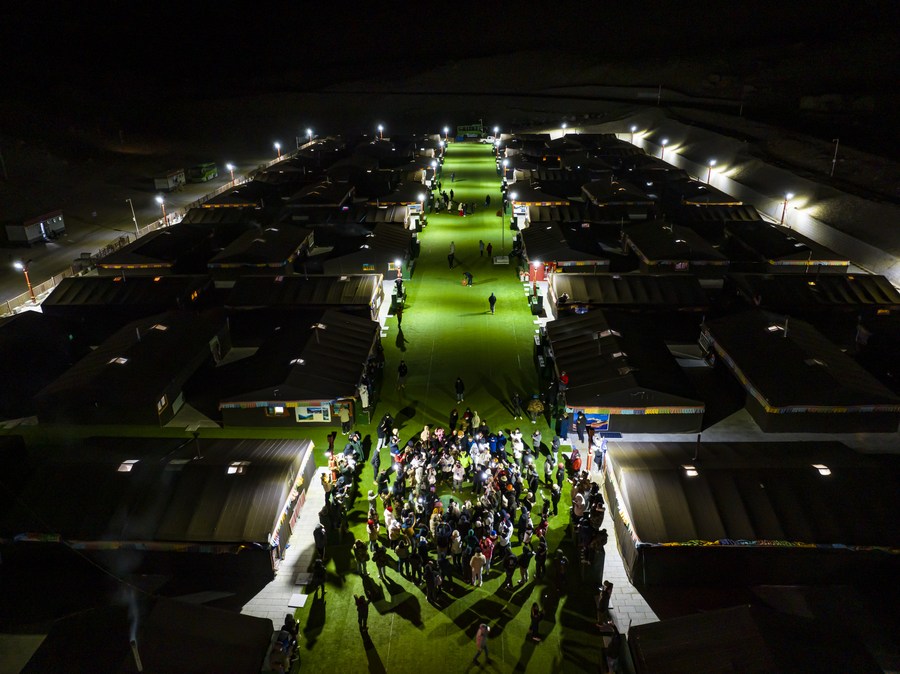 In this aerial photo, tourists sing and dance at the Mount Qomolangma base camp for tourists in Zhaxizom Township of Tingri County in Xigaze City, southwest China's Tibet Autonomous Region, May 16, 2023. (Xinhua/Sun Fei)

XIGAZE, May 21 (Xinhua) -- The Mount Qomolangma base camp for tourists is dotted with tent hotels that accommodate travelers from afar. The tents are made from black yak fur, a unique scene at the mountain foot.

Dainzin, a 27-year-old local has been running a tent hotel at the base camp for nearly a decade. He is a witness to the booming tourism growth here.

Access to running water, electricity, emergency vehicles and oxygen facilities has been realized. Convenience store, sweet tea house and post office are also available.

Farmers and herdsmen in the township manage the tent hotels at the base camp, which are set up in March and open until October every year.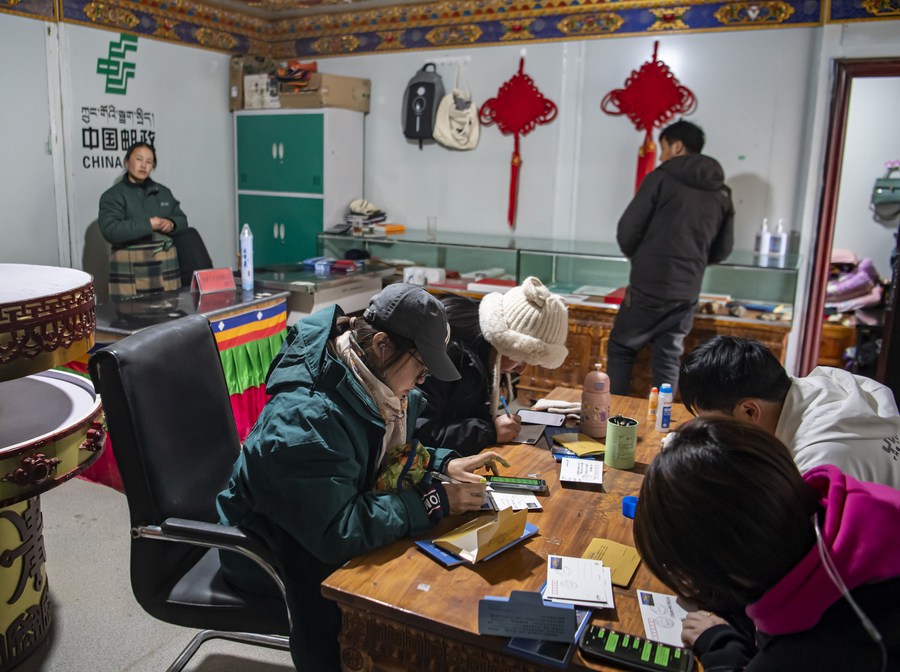 Tourists write postcards in a post office at the Mount Qomolangma base camp for tourists in Zhaxizom Township of Tingri County in Xigaze City, southwest China's Tibet Autonomous Region, May 13, 2023. (Xinhua/Sun Fei)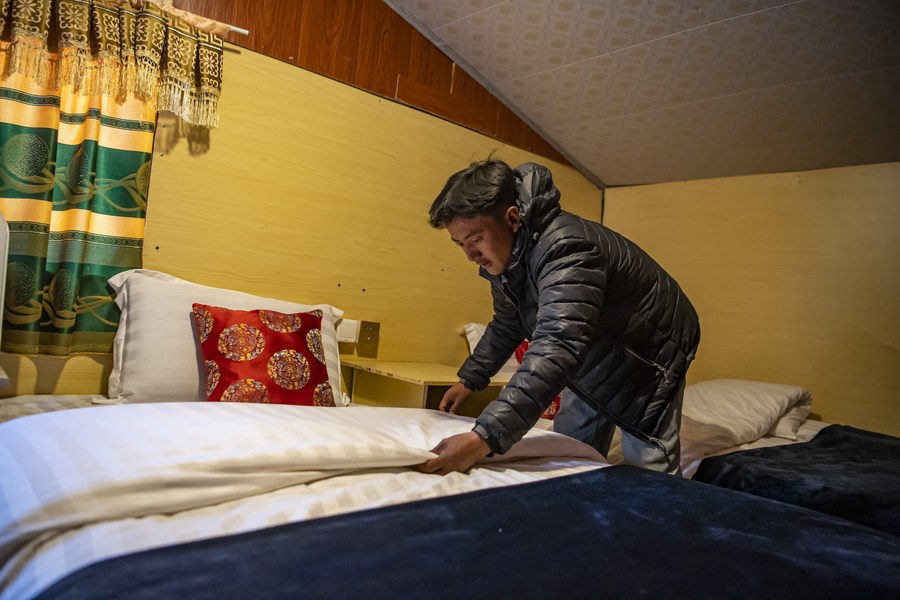 Dainzin makes the bed in a tent hotel at the Mount Qomolangma base camp for tourists in Zhaxizom Township of Tingri County in Xigaze City, southwest China's Tibet Autonomous Region, May 13, 2023. (Xinhua/Sun Fei)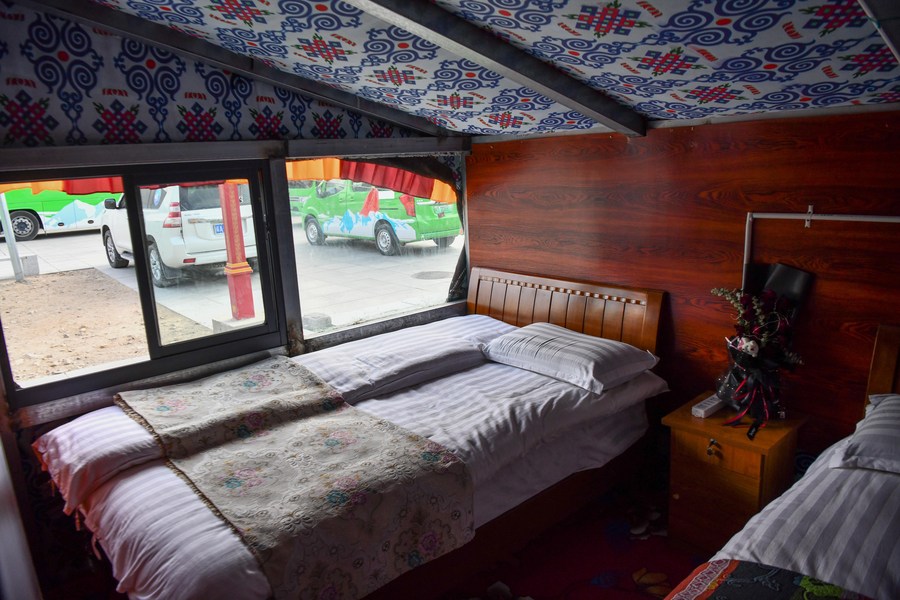 This photo taken on May 13, 2023 shows the interior of a tent hotel at the Mount Qomolangma base camp for tourists in Zhaxizom Township of Tingri County in Xigaze City, southwest China's Tibet Autonomous Region. (Xinhua/Jigme Dorje)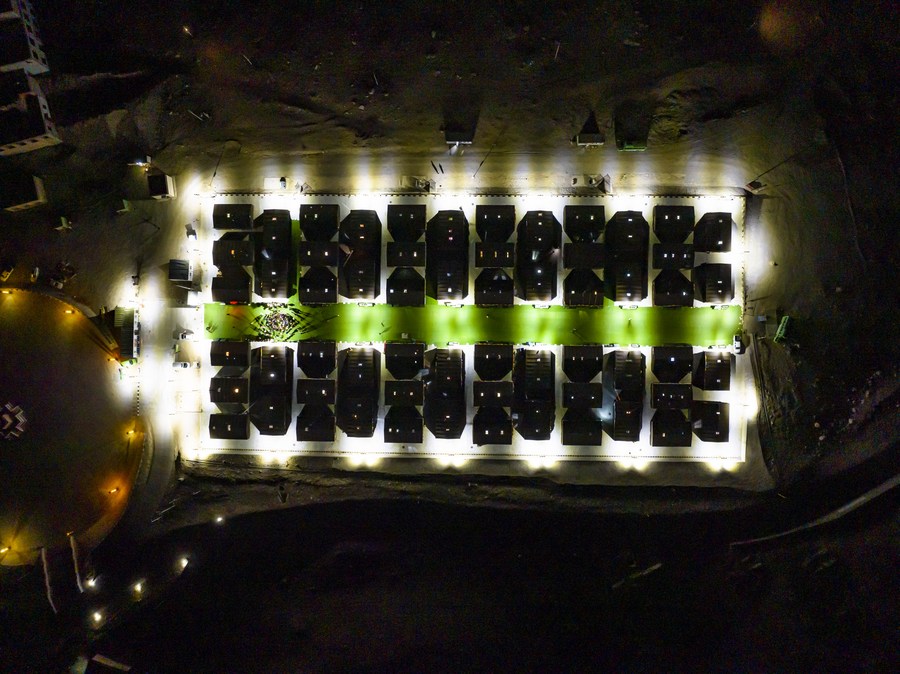 This aerial photo taken on May 16, 2023 shows tent hotels at the Mount Qomolangma base camp for tourists in Zhaxizom Township of Tingri County in Xigaze City, southwest China's Tibet Autonomous Region. (Xinhua/Sun Fei)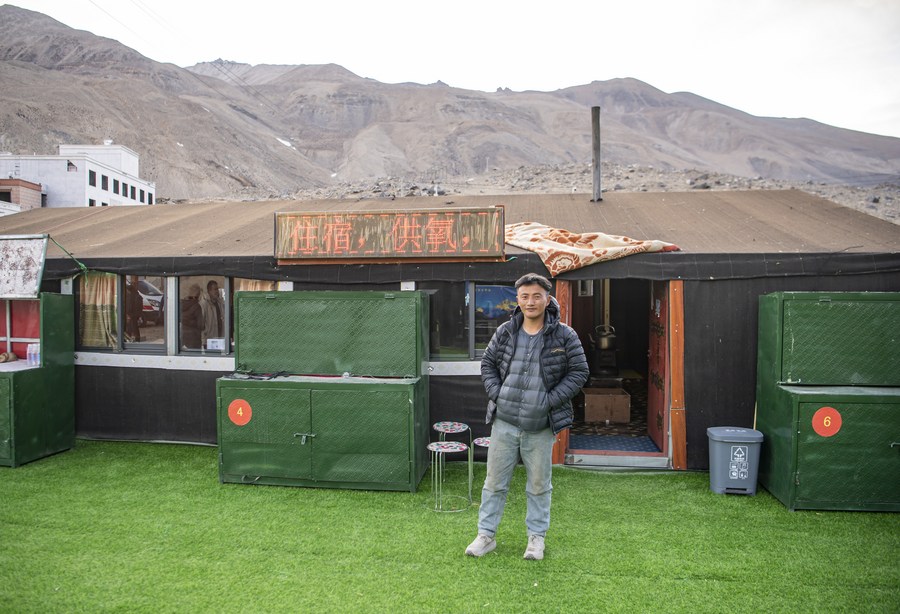 Dainzin poses for a photo in front of his tent hotel at the Mount Qomolangma base camp for tourists in Zhaxizom Township of Tingri County in Xigaze City, southwest China's Tibet Autonomous Region, May 13, 2023. (Xinhua/Sun Fei)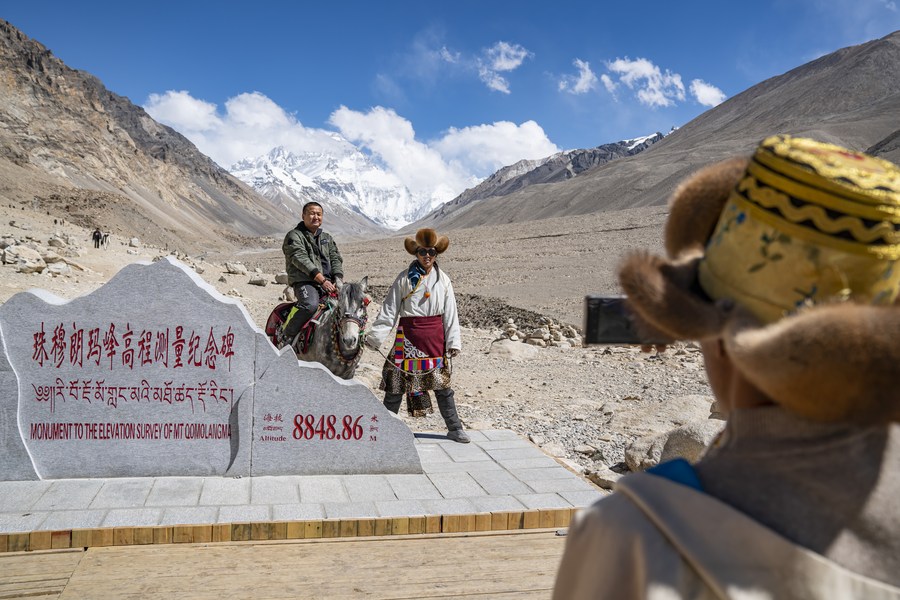 Tourists pose for photos beside the monument to the elevation survey of Mt. Qomolangma in Zhaxizom Township of Tingri County in Xigaze City, southwest China's Tibet Autonomous Region, May 20, 2023. (Xinhua/Sun Fei)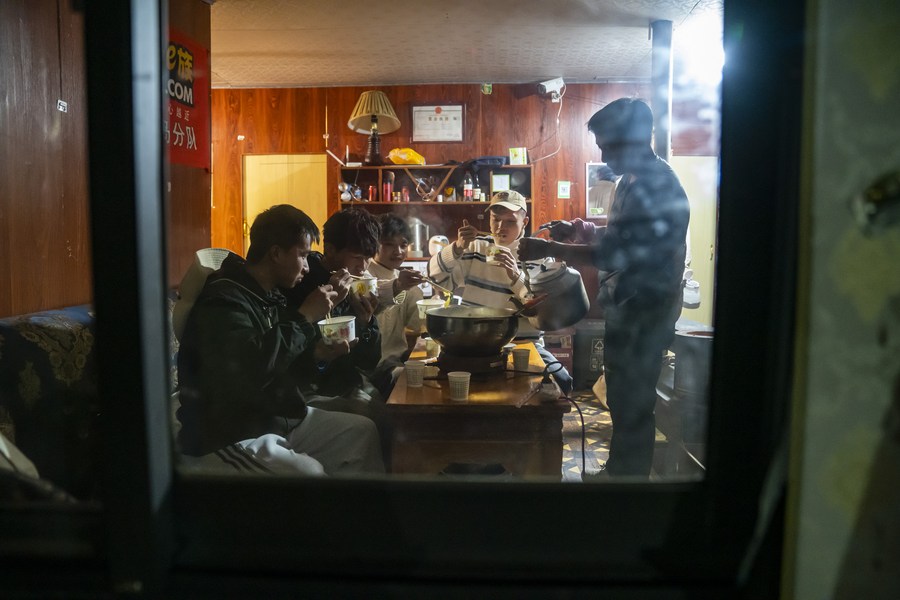 Dainzin (R) serves tourists in a tent hotel at the Mount Qomolangma base camp for tourists in Zhaxizom Township of Tingri County in Xigaze City, southwest China's Tibet Autonomous Region, May 16, 2023. (Xinhua/Sun Fei)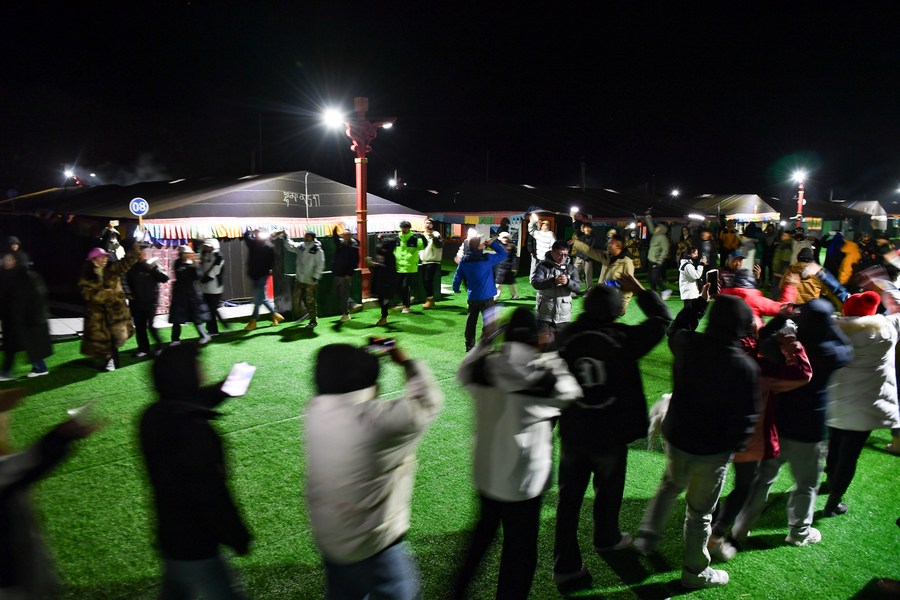 Tourists sing and dance at the Mount Qomolangma base camp for tourists in Zhaxizom Township of Tingri County in Xigaze City, southwest China's Tibet Autonomous Region, May 16, 2023. (Xinhua/Jigme Dorje)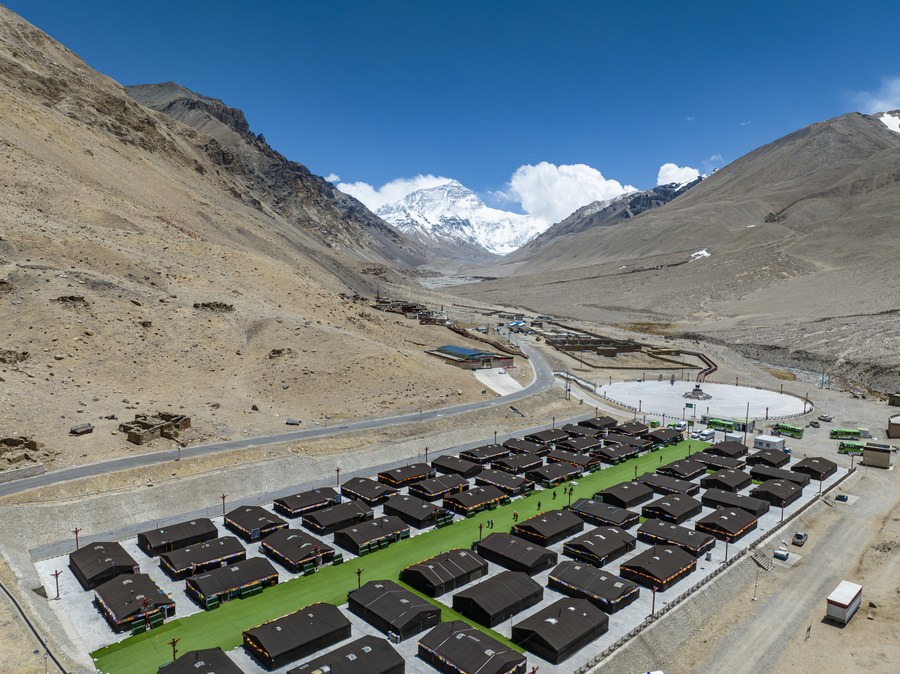 This aerial photo taken on May 20, 2023 shows tent hotels at the Mount Qomolangma base camp for tourists in Zhaxizom Township of Tingri County in Xigaze City, southwest China's Tibet Autonomous Region.(Xinhua/Sun Fei)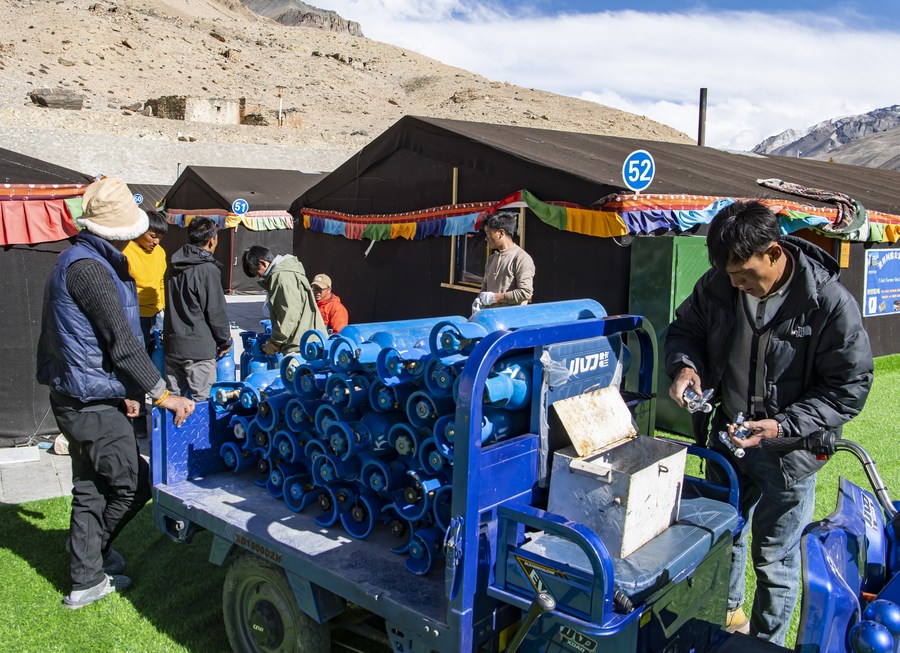 Staff members deliver oxygen supply equipment to tent hotels at the Mount Qomolangma base camp for tourists in Zhaxizom Township of Tingri County in Xigaze City, southwest China's Tibet Autonomous Region, May 13, 2023. (Xinhua/Sun Fei)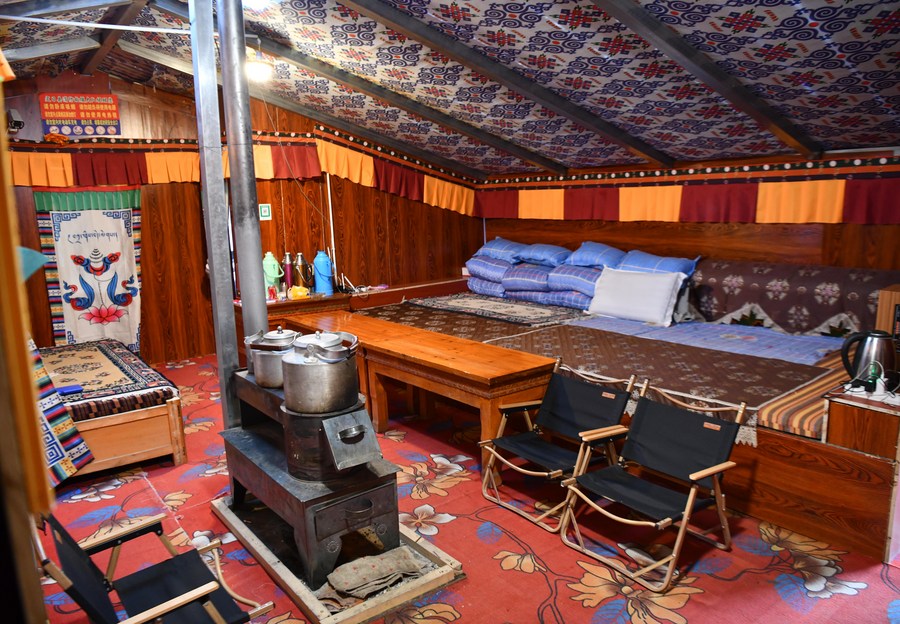 This photo taken on May 13, 2023 shows the interior of a tent hotel at the Mount Qomolangma base camp for tourists in Zhaxizom Township of Tingri County in Xigaze City, southwest China's Tibet Autonomous Region. (Xinhua/Jigme Dorje)