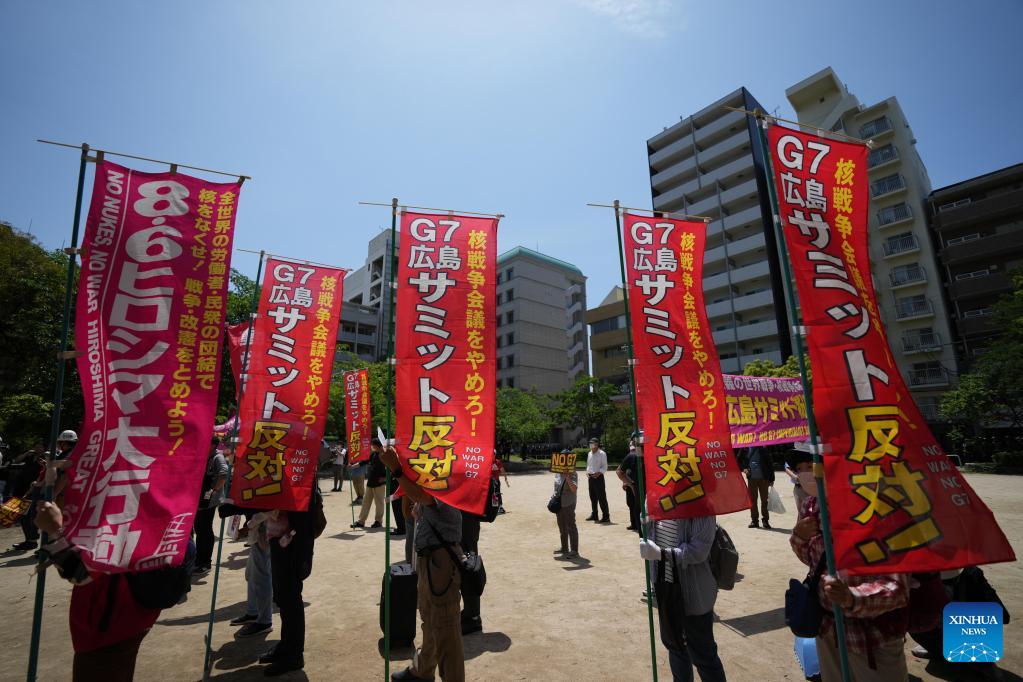 People rally in a protest against the Group of Seven (G7) summit in Hiroshima, Japan, May 21, 2023. (Xinhua/Zhang Xiaoyu)

The Group of Seven (G-7) was formed in the wake of the first oil shock of the 1970s and was the most influential force in the global economy in the ensuing decades. However, as its slice of the world economy shrank, so did its relevance. Even former US president Donald Trump called the G7 an "outdated" group of countries. After failing to act as the leading power in the global economy, the organization has found renewed focus in recent years, transforming itself into a platform from which anti-China rhetoric can be propagated.

Following this year's summit, the seven countries issued a Leaders' Communiqué filled with groundless accusations against China, including so-called "economic coercion", "concerns about human rights" and "build-up of its nuclear arsenal without transparency".

Firstly, the charge of "economic coercion" is without merit. The G7 is falling short in its efforts to persuade developing nations of their value. China is a more stable option than the G7, which lacks economic offerings in trade policies and respect in diplomacy. According to statistics from China's Ministry of Commerce, between 2013 and 2021, two-way investment between China and nations along the Belt and Road Initiative (BRI) routes topped USD 230 billion, with a total volume of trade of goods amounting to nearly USD 11 trillion. China is favored as a trading partner by developing countries because it builds more roads and bridges and gives fewer lectures.

The developing world, led by China, is emerging as the globe's primary engine of growth, while the West lives in a nostalgic fantasy of its former glory and continues to strive to exploit the rest of the world.

According to The Economist, G7 members' share of global GDP in nominal terms peaked at nearly 70% in the late 1980s, but dipped to under 45% in 2021. In purchasing-power parity terms, the BRICS grouping has surpassed the G7's share.

In light of the fact that many G7 members are those that violate human rights, the accusations made by the G7 states that China is guilty of "human rights violations" have been consistently refuted by facts and have been boycotted by most nations in the United Nations.

The Gun Violence Archive, a nonprofit research group that monitors gun violence, has counted more than 200 mass shootings in the US to date this year. Last year, the group counted 647 mass shootings. Of those, 21 involved five or more fatalities.

Canada has been accused of "cultural genocide" after more than 150,000 children from hundreds of indigenous communities across the country were forcibly taken from their parents by the government and sent to what were called residential schools. According to CBS' report, the children were often referred to as savages and forbidden from speaking their languages or practicing their traditions. Many of the children were physically and sexually abused, and thousands of them never made it home.

It is absurd for G7 to accuse China of human rights violations in the absence of clear evidence while ignoring its own wrongdoings.

The G7's condemnation of China for not being honest about its nuclear weapons is even more ludicrous. China is firmly committed to a defensive nuclear strategy. It is the only one of the five nuclear weapon states to guarantee "no first use" and has always maintained only the bare minimum of nuclear capabilities necessary for national security.

As the ancient Chinese philosopher Mengzi once remarked, "A just cause enjoys abundant support, while an unjust cause finds little support." Disrupting the global order with baseless accusations against China, G7 members have also raised eyebrows at home.

According to a New York Times report, no G7 leader could muster the support of a majority. Prime Minister Giorgia Meloni of Italy, elected just last fall, fared best with a 49 percent approval rating, followed by US president Joe Biden with 42 percent, Prime Minister Justin Trudeau of Canada with 39 percent, Chancellor Olaf Scholz of Germany with 34 percent, Prime Minister Rishi Sunak of Britain with 33 percent and Prime Minister Fumio Kishida of Japan with 31 percent. President Emmanuel Macron of France trailed the pack with a dismal 25 percent.

The declining importance of the G7 on global growth is reflected in its leaders' low approval ratings, which also show how fragile the West is in the face of significant political conflicts.

The Foreign Ministry of China's response to the accusations from the G7 has accurately revealed the G7's hypocrisy and double standard.

"Gone are the days when a handful of Western countries can just wilfully meddle in other countries' internal affairs and manipulate global affairs. We urge G7 members to catch up with the trend of the times, focus on addressing the various issues they have at home, stop ganging up to form exclusive blocs, stop containing and bludgeoning other countries, stop creating and stoking bloc confrontation and get back to the right path of dialogue and cooperation."