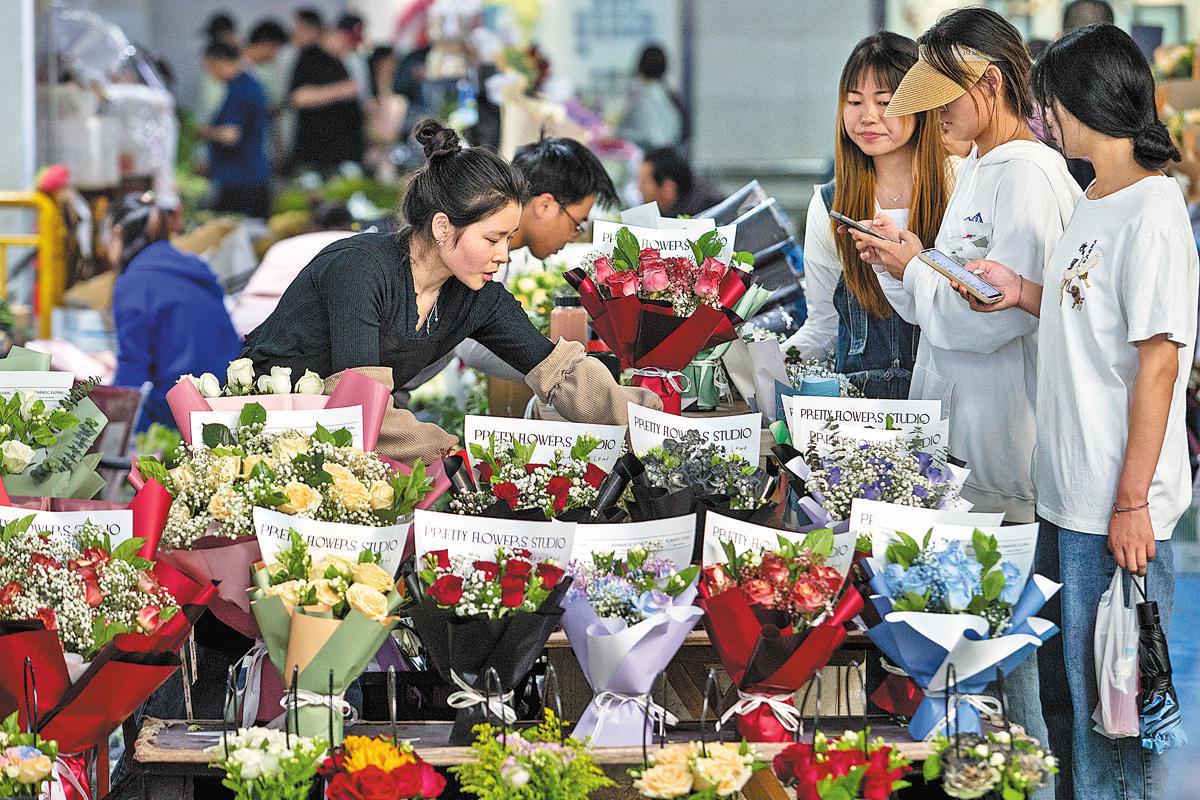 Young women look at flowers on Thursday at a stall in Kunming, Yunnan province, ahead of May 20. [Photo provided to China Daily]

Report: Women get greater support in more fields

China remains one of the safest countries in the world, as it has long been among nations with the lowest crime rates, and the rate of serious violent offenses in the country has been on a continuous decline in recent decades, according to a report.

In the past 20 years, crimes of intentional homicide, robbery and abduction have been constantly dropping across the country. The number of people accused of such crimes decreased by 67.7 percent last year compared with 2003, according to the report issued recently by the Chinese Academy of Social Sciences' Institute of Law.

It revealed that the number of defendants convicted of serious violent crimes decreased to 56,800 in 2021 from 95,700 in 2013.

In addition, offenses involving firearms were down 21 percent year-on-year in 2022, while those involving explosives declined 19 percent, the report said.

"These figures have shown that such crimes in China remain low, indicating that Chinese people's sense of security is at a high level," said Zhang Zhigang, an associate research fellow at the institute who heads the team that compiled the report.

The country has also increased legal protection for women and children, Zhang said.

In March last year, the Ministry of Public Security, the Ministry of Civil Affairs, the National Health Commission and the All-China Women's Federation jointly launched a campaign to fight the crime of abducting and trafficking women and children.

By September, more than 900 such cases were solved and over 1,340 suspects captured, according to the report.

It cited data showing that 717 people were charged with the crime from January to September last year, with 234 others accused of buying the abducted women and children.

To give stronger support for women in more fields, the Standing Committee of the National People's Congress, China's top legislature, adopted in October an amendment to the Law on the Protection of Rights and Interests of Women, the report said. Furthermore, judicial agencies have prioritized a crackdown on the sexual assault of children.

In addition, the report hailed the country's greater efforts in recent years in fighting telecommunications and online fraud as well as corruption. The fight against related crimes will be further strengthened in the next two or three years, according to the report.

More cases concerning money laundering will be handled, as fugitive capture and asset recovery work intensifies, the report said.

Moreover, it said that judicial action against crimes such as spying and theft of State secrets will be enhanced to better guarantee national security, following a revision to the Counter-Espionage Law, which was adopted in April by the NPC Standing Committee and will take effect on July 1.