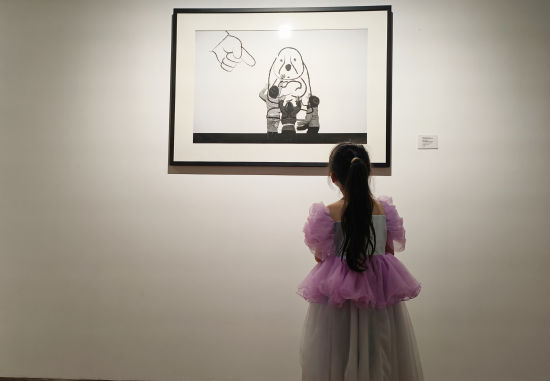 A visitor observes an exhibit.

An art exhibition entitled "Croisements Festival: One Day in the Museum" opened at the Meilun Art Museum in Changsha on May 20, and will last till June 18.

The exhibition was sponsored by the Hunan Fine Arts Publishing House and the Consulate General of France in Wuhan and organized by the Meilun Art Museum. It is one of the important activities of the 17th Croisements Festival.

Hosted by the French Embassy in China, the Croisements Festival aims to present the best of French art to the Chinese audience through a variety of works in pursuit of the spirit of openness and sharing.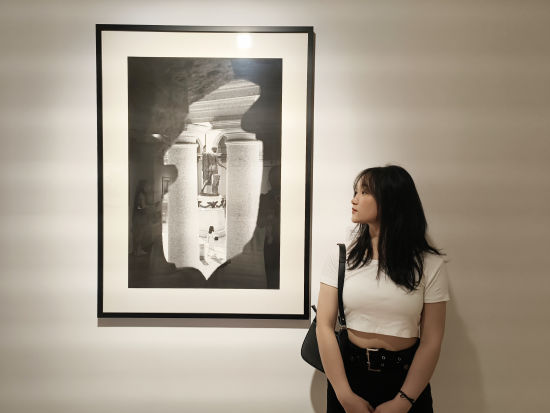 A visitor poses for a photo with an exhibit.

"One Day in the Museum" was first shown at the Moscow Biennale in 2019. Artist Gérard Uféras uses poetic and philosophical images to present his ideas. He regards the museum as a creative space. In this space, visitors are both spectators and a part of the work. There is a poetic artistic atmosphere in the exhibition hall.

Gérard Uféras, born in 1953, graduated from a photography school in Paris. His works focus on architecture, fashion and portrait photography. He is best known for his photographic works of museums, theaters, fashion weeks and other cultural landscapes around the world. With over 30 years of experience in photography, Uféras has published his works in leading international photographic media, such as Télérama, Beaux-Arts, The Independent Magazine and Jardin des modes. His works have been exhibited in museums, galleries and other cultural institutions around the world and have won many awards.

The exhibition will go on a tour to Wuhan later after it was first shown at the Meilun Art Museum. The exhibition provides the Chinese audience with an opportunity to get up close to appreciate the excellent works of international artists. It is of significant cultural value as it further displays the achievements in cultural exchanges and cooperation between China and France and strengthens the exchanges and cooperation between the two countries in the fields of culture and art.