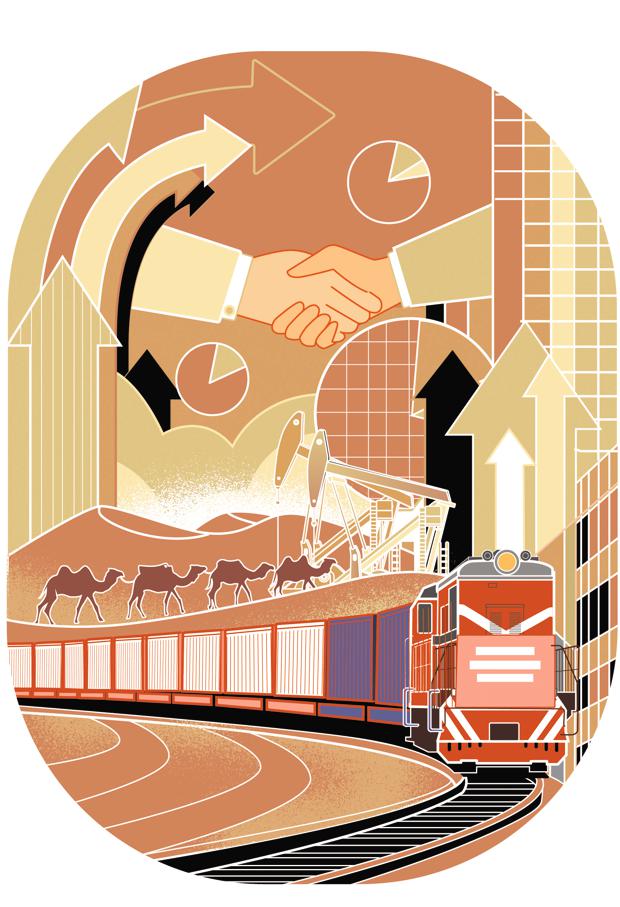 SHI YU/CHINA DAILY

The China-Central Asia Summit in Xi'an, Shaanxi province, which concluded on Friday, laid a solid foundation for long-term cooperation among China and the Central Asian countries of Kazakhstan, Kyrgyzstan, Tajikistan, Turkmenistan and Uzbekistan.

The summit unveiled a comprehensive plan for collaboration, from building infrastructure to expanding trade, from prioritizing high-quality products to strengthening people-to-people exchanges. And China said it is ready to coordinate its national development policies and plans with those of the five Central Asia countries and promote modernization and common prosperity.

Also, President Xi Jinping emphasized that "We will jointly foster a new paradigm of deeply complementary and high-level win-win cooperation." During the summit, Xi said Central Asia was "the center of the Eurasian continent, which is located at the crossroads connecting East and West, North and South", stressing that China intends to build a community with a shared future with Central Asia.

That China accords priority to its special relationship with the five Central Asia countries, which are its close strategic neighbors, is no secret. This fact was evident when Xi proposed the Silk Road Economic Belt in Astana, Kazakhstan, in 2013, and chose Kazakhstan as his first foreign destination after three years of strict COVID-19 prevention and control measures on his way to Uzbekistan to attend the Shanghai Cooperation Organization Summit.

Not surprisingly, security issues were at the center of the discussions at the summit, with President Xi saying: "We must jointly pursue a global security initiative, resolutely oppose external interference in the internal affairs of the countries of the region and attempts to provoke 'color revolutions', maintain zero tolerance for the 'three forces' (extremism, separatism and terrorism), and strive to solve the dilemmas of regional security." He also said the Central Asian states' "sovereignty, security, independence, and territorial integrity" must be protected.

The heads of state of the Central Asian countries were in complete agreement with Xi's statement, with Kazakh President Kassym-Jomart Tokayev saying: "We invariably advocate that Central Asia be a space for creation, and we do not accept the transformation of the region into an arena of geopolitical confrontation."

China has become the largest trading partner of the five Central Asian countries, with their trade volume exceeding $70 billion last year. In comparison, Central Asia's trade with the European Union was about $47.5 billion, with Russia $42 billion and the United States $4.4 billion in 2022. And with the China-Central Asia trade volume in the first quarter of 2023 exceeding $24.8 billion, up 37.3 percent year-on-year, indications are that annual trade will touch another high this year.

President Xi has urged China and the Central Asian countries to increase energy trade, deepen cooperation in the energy sector, especially green energy and the peaceful use of nuclear power. Accordingly, it was announced at the Xi'an summit that the Central Asian countries will increase the supply of crude oil to China through the expanded Atyrau-Kenkiyak and Kenkiyak-Kumkol pipelines. Xi also said that building "Line D" of the China-Central Asia gas pipeline should become a priority for all sides.

More important, Xi emphasized that China will support the building of an international transport corridor across the Caspian Sea and accelerate the construction of modern transport hubs for freight traffic between China and Europe. The transit time for goods from China to Europe through Central Asia and the Caspian Sea has already been reduced from 53 to 19-23 days. The goal now is to reduce it further to 14-18 days by the end of this year.

As Kazakh Prime Minister Alikhan Smailov recently said, " the transit time through the territory of Kazakhstan has been reduced by two times — from 12 to six days, and we are striving to reduce it to five days by the end of the year". This means the efforts to reduce the transit time for goods from China to Europe has been further reduced.

President Xi also suggested that China and the five Central Asian countries create new joint high-tech projects in the fields of finance, agriculture, green and low-carbon development, medical services, healthcare and digital innovation. He said that while China will devise a plan for deepening scientific and technological cooperation with the Central Asia countries, including sharing its experience on eradicating poverty, it will also urge Chinese companies operating in the region to create more jobs. "To bolster our cooperation and Central Asian development, China will provide Central Asian countries with 26 billion yuan ($3.8 billion) of financing support and grants," Xi said.

The participation of the five Central Asian countries' presidents in the Xi'an summit has helped intensify collaboration. The heads of state of the five Central Asian countries decided to develop a comprehensive program for the economic development of Central Asia with an emphasis on strengthening regional trade and increasing exports to China. As for China, it can act as an investment driver facilitating economic cooperation and common development.

It is of fundamental importance that the holding of summits will become regular. The participants agreed to hold the next summit in Kazakhstan in 2025, signaling the beginning of long-term development for the Central Asian countries.