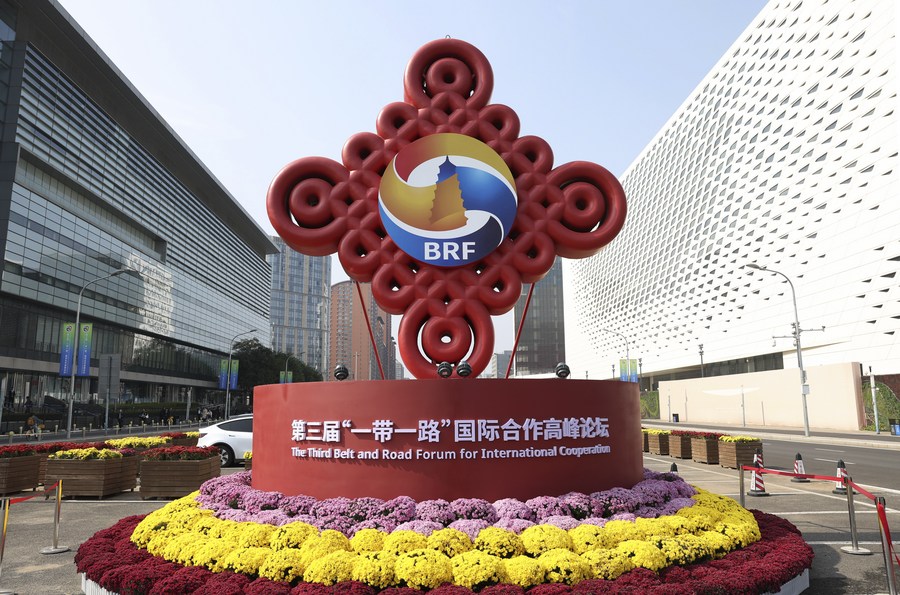 This photo taken on Oct. 17, 2023 shows a decoration for the third Belt and Road Forum for International Cooperation near the China National Convention Center in Beijing, capital of China. (Xinhua/Chen Bin)

BEIJING, Oct. 19 (Xinhua) -- The upturn in the Chinese economy has disappointed China-bashers again, with newly released economic data and a just-concluded forum on Belt and Road cooperation both sending strong and positive messages.

On Wednesday, data from China's National Bureau of Statistics showed an array of indicators pointing to an accelerated recovery, including retail sales, investment, industrial production and high-frequency data such as housing transactions.

China's gross domestic product (GDP) expanded 4.9 percent year on year in Q3, and went up 1.3 percent over Q2. With a 5.2-percent GDP rise in the first nine months, the world's second largest economy has found itself in a position to achieve the year's growth target of around 5 percent.

International financial institutions, including J.P. Morgan, Citibank and ANZ Bank, have recently lifted China's full-year GDP growth forecast due to the growing body of optimistic data.

Wednesday saw another tailwind from the country's newly announced eight major steps to support high-quality Belt and Road cooperation at the third Belt and Road Forum for International Cooperation, an event marking the 10th anniversary of the Belt and Road Initiative (BRI).

These new moves have unveiled a slew of projects, including corridor building, pilot zones for Silk Road e-commerce cooperation, the removal of all restrictions on foreign investment access in the manufacturing sector, the co-building of laboratories and the hosting of a global digital trade expo.

At the CEO Conference held during the forum, agreements worth 97.2 billion U.S. dollars were concluded.

Looking back over the past decade, the Belt and Road cooperation has served as a forceful growth engine for both China and the rest of the world, especially in boosting trade and investment, enhancing infrastructure connectivity and facilitating innovation.

To meet the need for further cooperation, China also pledged to inject an additional 80 billion yuan into the Silk Road Fund, while setting targets for its total trade in goods and services of over 32 trillion U.S. dollars and 5 trillion U.S. dollars, respectively, in the 2024-2028 period

By June 2023, China had signed more than 200 Belt and Road cooperation agreements with more than 150 countries.

At a time when the world economy is struggling to recover, the decoupling or derisking push by China-bashers may create a headwind down the road, but China won't let itself be stopped by that breeze.

The contagious passion displayed at the forum for in-depth and broader Belt and Road cooperation reveals the trend of the times. By following the trend of pursuing shared development and tapping into its own resilience, China will do well, and the world will continue to improve.