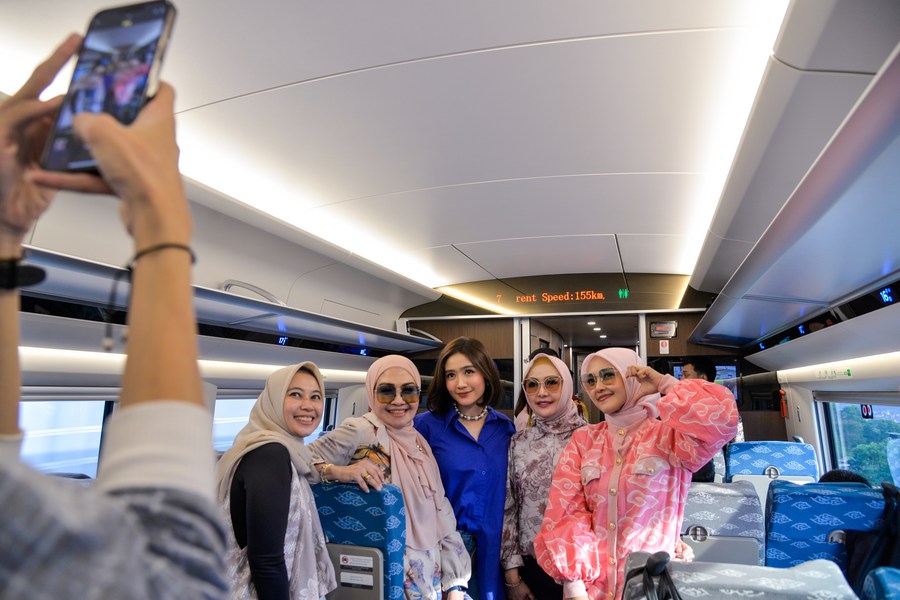 Passengers pose for photos in a carriage of a high-speed electrical multiple unit (EMU) train running on the Jakarta-Bandung High-Speed Railway in Indonesia, Oct. 17, 2023.(Xinhua/Xu Qin)

Ten years on, there is a better understanding of the nature of the Belt and Road Initiative (BRI) -- it is not a tool for expanding geopolitical influence but a platform for cooperation, as the facts have shown.

BEIJING, Oct. 19 (Xinhua) -- Leaders from various countries with differing political systems and beliefs discussed common development and prosperity at this week's Belt and Road Forum for International Cooperation (BRF) in China's capital Beijing.

Ten years on, there is a better understanding of the nature of the Belt and Road Initiative (BRI) -- it is not a tool for expanding geopolitical influence but a platform for cooperation, as the facts have shown. China's solid commitments during the forum have the potential to enable global development and a shared future for humankind.

COOPERATION-ORIENTED

In September 2013, Chinese President Xi Jinping proposed the building of the Silk Road Economic Belt at Kazakhstan's Nazarbayev University to forge closer economic ties, deepen mutual cooperation and broaden the development space for Eurasia.

About one month later in Jakarta, Indonesia, Xi said that China would strengthen maritime cooperation with the Association of Southeast Asian Nations (ASEAN) countries to make good use of the China-ASEAN Maritime Cooperation Fund set up by the Chinese government and build the Maritime Silk Road of the 21st century.

From Eurasia to Southeast Asia, the BRI, comprising the Silk Road Economic Belt and the Maritime Silk Road of the 21st century, seeks development not only for China but across the world. It acknowledges that economic globalization is an irreversible trend and calls for a more inclusive, balanced, and mutually beneficial approach to it.

At the second BRF in 2019, Xi called for efforts to enhance the synergy between the Belt and Road cooperation and the development strategies of national, regional and international governments.

"Through bilateral, tripartite and multilateral cooperation, we need to encourage the full participation of more countries and companies, thus expanding the pie of common interests," he said.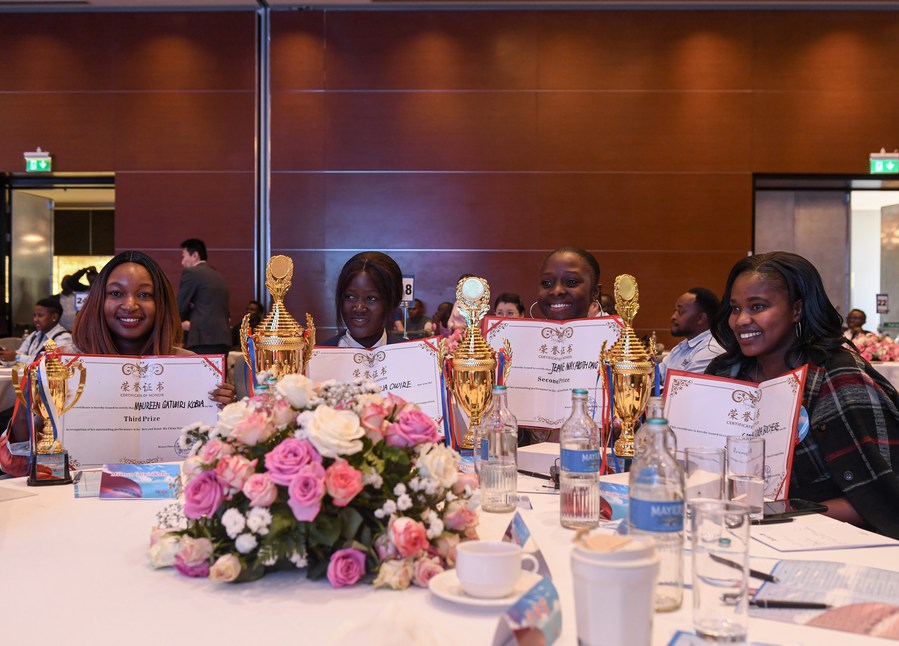 Winners show their certificates and trophies at an award ceremony of the Belt and Road "My Chinese Story" Speech Competition in Nairobi, Kenya, Oct. 13, 2023. (Xinhua/Li Yahui)

China has signed more than 230 BRI cooperation agreements with more than 150 countries and 30 international organizations. These agreements yielded a number of signature projects and many small-scale yet impactful projects, according to a white paper by the Chinese government titled "The Belt and Road Initiative: A Key Pillar of the Global Community of Shared Future."

The BRI "does not induce any conditionalities and promotes win-win cooperation led by extensive consultation, joint contribution and shared benefits," said Shakeel Ahmad Ramay, chief executive officer of the Asian Institute of Eco-civilization Research and Development, an Islamabad-based think tank.

COMMON DEVELOPMENT

China has never attached any political strings to the initiative, said Ramay, adding that China focuses on mutual respect and the understanding of the political, economic, cultural and historical realities of other countries. Furthermore, it seeks economic cooperation and infrastructure upgrades to benefit the public.

Over the past decade, the Belt and Road cooperation has galvanized up to 1 trillion U.S. dollars of investment globally and created more than 3,000 projects and 420,000 jobs for participating countries, facilitating the delivery of an array of national landmarks, livelihood projects and milestones of cooperation.

The BRI projects, such as the Mombasa-Nairobi Standard Gauge Railway, the Jakarta-Bandung High-Speed Railway and the China-Laos Railway, have enhanced local connectivity and improved people's lives, fundamentally eliminating the root causes of instability.

All cooperation projects under the BRI, from railways, roads and reservoirs to agricultural mechanization and laying down optical cables, are crucial to the development of Africa and will help the African Union achieve its Agenda 2063 goals, President of the Republic of the Congo Denis Sassou Nguesso said Wednesday.

By 2030, BRI-related investment could lift 7.6 million people out of extreme poverty and 32 million out of moderate poverty, according to an estimate by the World Bank.

The BRI has become an essential platform for mutually beneficial cooperation and a significant opportunity for countries worldwide to achieve common development, said Chilean President Gabriel Boric on Tuesday.

Humphrey Moshi, a professor of economics at the University of Dar es Salaam in Tanzania, said that the BRI in the past decade has achieved plenty in developing countries and more so in Africa. "It has not only improved connectivity on land, sea and air, but also improved the investment climate in those countries."

"Further, with the improved investment climate, FDI (foreign direct investment) has increased, jobs created and levels of industrialization increased. However, these achievements have been attained because of the uniqueness of the BRI in terms of its high spill-over effect, comprehensiveness, alignment with a country's development vision and plans and inclusiveness," Moshi added.

TOWARD A SHARED FUTURE

In his keynote speech at the opening ceremony of the third BRF on Wednesday, Xi said that what has been achieved in the past 10 years demonstrates that Belt and Road cooperation is on the right side of history. "It represents the advancing of our times, and it is the right path forward," Xi said.

He also announced eight major steps China will take to support high-quality Belt and Road cooperation.

China will work with all parties involved to deepen Belt and Road partnerships of cooperation, usher this cooperation into a new stage of high-quality development, and make relentless efforts to achieve modernization for all countries, Xi said, adding that "the modernization we are pursuing is not for China alone, but for all developing countries through our joint efforts."

"The Belt and Road cooperation was proposed by China, but its benefits and opportunities are for the world to share," Xi said.

This initiative and the eight steps have been warmly welcomed by leaders from various countries.

The BRI provides a critical and effective way to help developing countries achieve sustainable development, said UN Secretary-General Antonio Guterres.

He said that the eight major steps announced by Xi to support high-quality Belt and Road cooperation are entirely in line with the UN's purposes and objectives and are conducive to helping developing countries accelerate their development.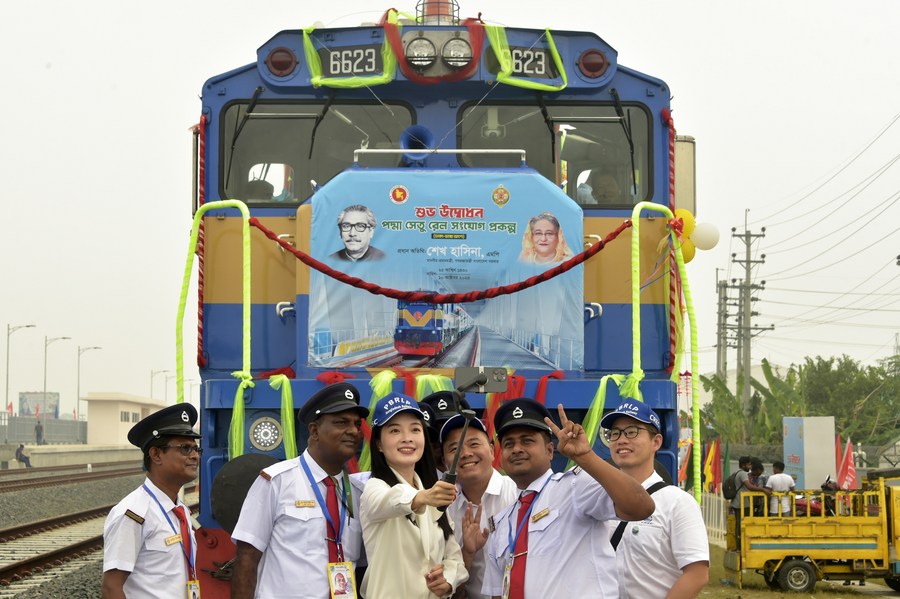 Staff members take selfies in front of a decorated train awaiting inaugural run at the Chinese-built Padma Bridge Rail Link Project (PBRLP) in Munshiganj, Bangladesh, Oct. 10, 2023. (Xinhua)

The steps proposed by Xi to support high-quality Belt and Road cooperation will further help Kenya and Africa achieve industrialization, agricultural modernization and economic integration, said Kenyan President William Ruto.

Argentine President Alberto Fernandez said that the Belt and Road cooperation had created meaningful opportunities for developing countries and played an irreplaceable role in promoting world peace, fairness and sustainable development.

Fernandez said that Argentina will work with China to support multilateralism and strengthen communication and coordination within the G20 and BRICS.

(Xinhua reporters Mao Pengfei and Jonathan Edward in Kuala Lumpur, Misbah Saba Malik and Jiang Chao in Islamabad, Li Xuejun and Jurica Korbler in Zagreb, Hua Hongli in Dar es Salaam, Liu Wanli, Jin Zheng, Li Hualing and Bedah Mengo in Nairobi, Juan Manueal in Buenos Aires, Shooka Shemirani Arbabzadeh in Rio de Janeiro contributed to the story.)