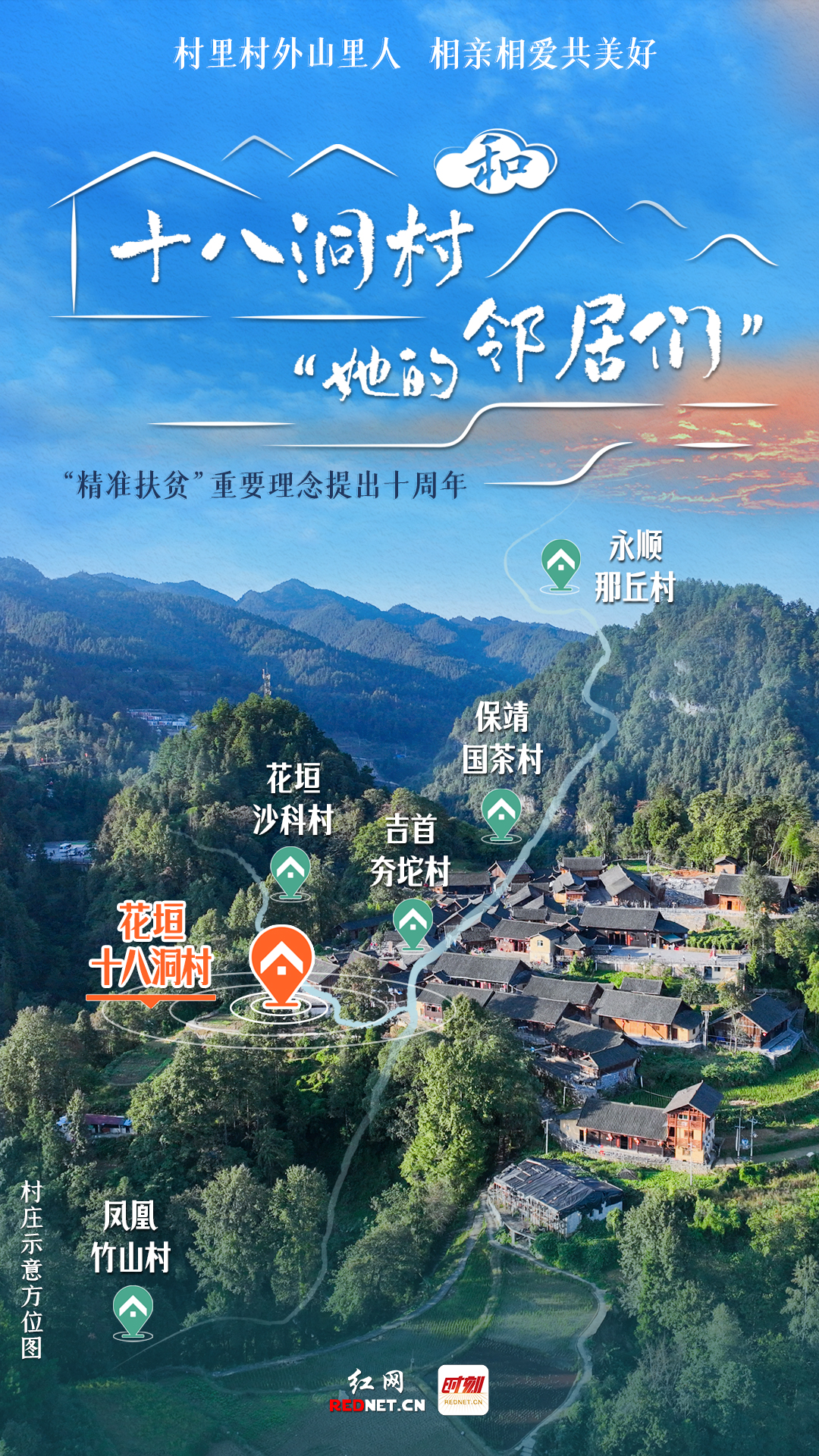 马桑树下等待的人们、吊脚楼旁飘扬的歌声、小背篓里晃悠的乡愁……跳动在文学里、歌声里、想象中隐约悲伤的湘西印象,迎来时代的转向——十年间,一代人携手塑造了一个坚韧、奋发而又互助共享的新湘西。

The people waiting under the coriariasinia tree, the singing besides the stilted building, the nostalgia swaying in the small basket... The vaguely sad impression of Xiangxi, dancing in literature, songs, and imagination, ushers in a turning of the times——A generation has worked together for the past decade to create a resilient, spirited, and mutually supportive new Xiangxi.

"一家好不叫好,大家好才是好。"2023年,在"精准扶贫"重要理念提出十周年之际,我们以十八洞村为原点,向着东南西北不同方向出发,感受村与村间的命运相连,触摸从一个村子泛起的涟漪是如何一圈圈向外传递,延绵至湘西、湖南,直至全国。

"The real happiness lies in the happiness of everyone, not just one family." In 2023, we chose Shibadong Village as the starting point for the 10th anniversary of the important concept of targeted poverty alleviation. We set out towards different directions of north, south, east, and west to feel the connection between villages'destinies, and to experience how the ripples from one village spread outward in circles, extending to Xiangxi, Hunan, and even to the whole country.

我们想打开一扇窗,让你的视线翻越武陵山区,见证山乡的巨变;我们更想牵起一根线,为你勾画连接脱贫攻坚的此岸与乡村振兴的彼岸。

We want to open a window and take you to cross the Wuling Mountains, witnessing the tremendous changes in the deep mountainvillages; we want to draw a line to connect this shore of poverty alleviation and the other shore of rural revitalization for you.

村里村外山里人,相亲相爱共美好。红网时刻新闻倾情呈现——《十八洞村和"她的邻居们"》。

We, as people from villages and beyond, share a bright future and love each other. RedNet Moment launches Shibadong Village and "Her Neighbors".
---
出品人:贺永祥

总策划:肖世锋

执行策划:周逸峰 田卓衡

监制:张广蓉 黎娜 陈彦

编导:钟家英 樊令钰

撰稿:杨怡晴

记者:秦楼 刘璇 陈啸鼎 李赛凤 龚子杰 钟家英 张盟 张艺凡 向力 郭薇灿 杨斌 何青 徐士洁 李艳华

剪辑:欧阳璐 刘明珠 蒋利君 彭浩 钟家英

包装:邓琴

海报文案:宋芳

配音:安泰金

翻译:谭婕倪