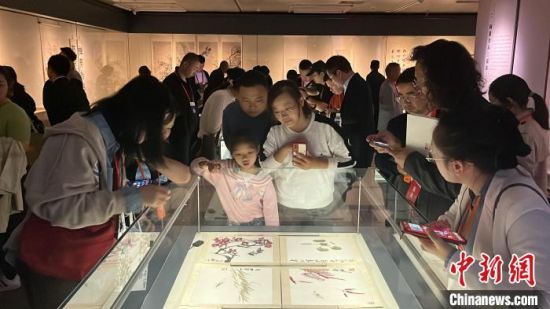 Photo/Zhang Xueying

The Qi Baishi's Original Works Exhibition, part of the sixth China (Xiangtan) Qi Baishi International Culture and Art Festival, kicked off at the Xiangtan Museum in Hunan Province on November 5. A total of 64 sets of original works created by Qi Baishi are on display in memory of the 160th anniversary of Qi's birth.

Qi Baishi was born in 1864 in Xiangtan, Hunan. His original name was Chunzhi. As a renowned artist at home and abroad, Qi Baishi devoted his entire life to artistic creation and excelled in poetry, calligraphy, painting, and seal carving. In 1953, he was honored with the title of the "People's Artist," and in 1963, he was acclaimed as a "World Cultural Celebrity." His profound artistic and aesthetic ideas have become a valuable cultural legacy for future generations.

The exhibition, which features rare collections from six cultural institutions including the Liaoning Provincial Museum, Hunan Museum, Changsha Museum, Hengyang Museum, Qi Baishi Memorial Hall, and Xiangtan Museum, will run until February 25, 2024. It is divided into three parts, showcasing a total of 64 classic works, including paintings, calligraphy, and seals. The exhibition enables visitors to learn about Qi Baishi's artistic journey from a comprehensive and multi-perspective presentation.

A digital exhibition of Qi Baishi's artworks, curated by the Beijing Fine Art Academy, made a debut during the event, showcasing research results made by the academy and the art circle over the past three decades.