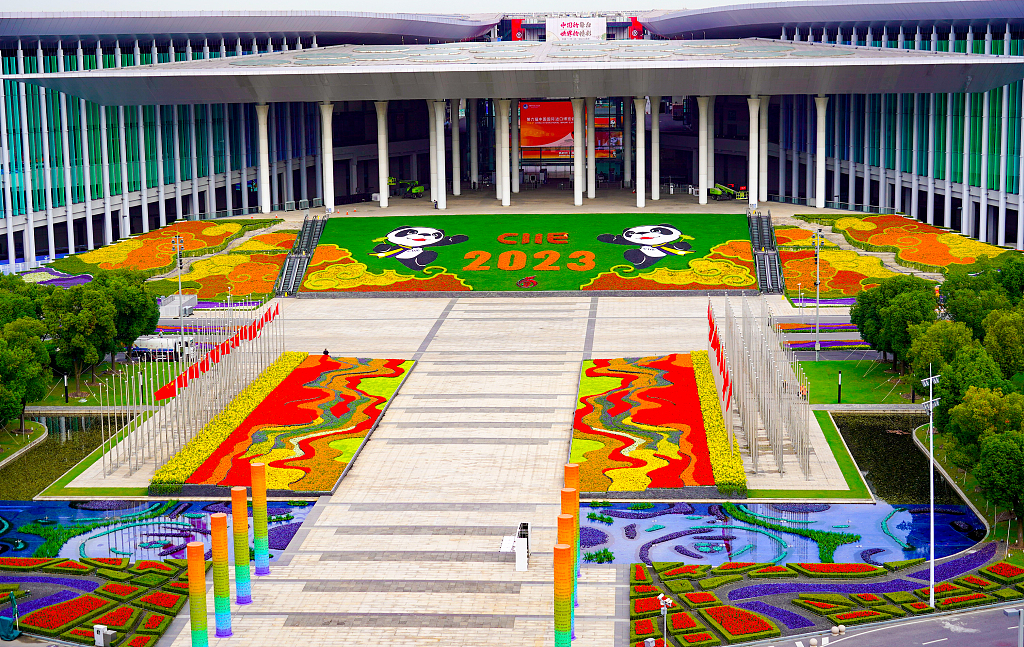 This photo taken on Oct 29, 2023 shows the south square of the National Exhibition and Convention Center (Shanghai), the main venue for the 6th China International Import Expo, in Shanghai. [Photo/VCG]

The expanding spillover effects of the China International Import Expo will help the country's centrally administered State-owned enterprises better cooperate with foreign firms in areas such as technological cooperation and global supply chain development, injecting vitality into the nation's economic growth, said government officials on Monday.

Speaking at a sub-forum during the ongoing sixth CIIE, Gou Ping, vice-chairman of the State-owned Assets Supervision and Administration Commission of the State Council, the country's Cabinet, said that with China creating more favorable conditions to advance high-standard opening-up, the annual CIIE has emerged as a pivotal driving force for central SOEs to engage with global partners and secure the stability of supply chains.

"China's central SOEs are willing to harness both technological supply and demand, and reach tangible tech breakthroughs to further enhance the efficiency and level of international innovation cooperation, thus jointly addressing global challenges," Gou said.

He said the government will provide guidance to central SOEs to fully utilize global innovation resources, collectively fostering a more open, inclusive and vibrant innovation ecosystem. This approach aims to fully unlock innovation potential and drive development momentum in the next phase.

Central SOEs — including China Petroleum & Chemical Corp, China Energy Investment Corp, COFCO Group and State Development and Investment Corp (SDIC) — have already signed purchase and cooperation deals with foreign enterprises such as QatarEnergy, Saudi Aramco, Kuwait Petroleum, Vitol Group, Dow Chemical and Cargill during this year's CIIE. They have remained the main force facilitating the signing of business deals with overseas partners.

For instance, SDIC signed procurement intent agreements worth almost $1.06 billion with 18 countries and regions, covering critical areas such as textile raw materials, grains, oil and minerals in Shanghai on Monday.

Chinese conglomerate Sinochem Holdings Corp Ltd also signed in excess of $13.5 billion in procurement deals with over 30 clients from more than 10 countries, including Argentina, Ethiopia, France, Saudi Arabia, the United States and Japan during the ongoing CIIE.

These agreements cover various fields such as crude and refined oil, foodstuffs and agricultural products, chemicals, manufacturing equipment and trade in services.

Syngenta Group, Adisseo, Elkem and KraussMaffei — four of Sinochem's overseas subsidiaries — also showcased their latest products, technologies and services in sustainable agriculture, animal nutrition, chemical materials and intelligent equipment during the expo. They signed multiple supply agreements with expected total sales exceeding $1.9 billion during the event.

"Through the CIIE platform, we can further understand the needs of users and continue to conduct innovative activities, as well as provide high-quality products, services and solutions for the Chinese market," said Li Yong, CEO of KraussMaffei.

To build a better environment for global innovation cooperation, Guo Tingting, vice-minister of commerce, said China will take a more proactive role in integrating into the global innovation network. It will advance the development of pilot zones for Silk Road e-commerce cooperation and leverage the CIIE platform to accelerate the transformation and commercialization of more innovative achievements.