双语丨大爱无疆 湖南援塞医生被点赞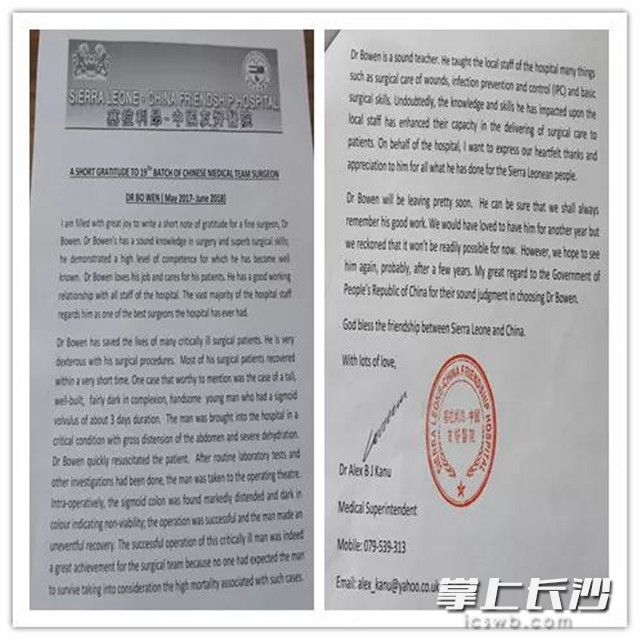 "His outstanding ability has made him a well-known person here," Kanu said in the letter.
  "他是医院有史以来最好的外科医生之一,感谢中国政府能派遣他来到我们医院。"3月20日,一封来自万里之外的塞拉利昂中塞友好医院院长卡努所写的感谢信,被湖南省卫计委转送到了湖南省人民医院。
  "He is a good Chinese doctor who devoted himself to his work. We really appreciate it that the Chinese government can send him, an excellent surgeon, to our hospital," said a letter written by Dr Alex Kanu, the dean of Sierra Leone-China Friendship Hospital, that was put on the desk of the Health and Family Planning Commission of Hunan Province Wednesday.
  而被他点赞的"good Chinese doctor",是来自湖南省人民医院的普外科专家、急诊二科副主任,也是中国(湖南)第19批援助塞拉利昂医疗队队员之一的熊邦文。
  The good Chinese doctor is Xiong Bangwen a Chinese doctor who won respect and admiration in Sierra Leone for his extraordinary medical skills and dedication during his deployment in the African country.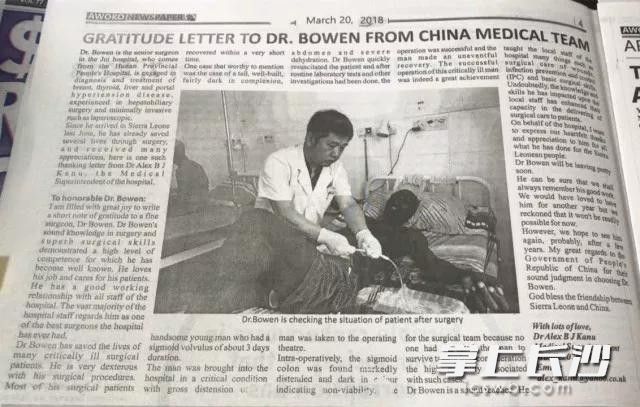 Xiong, a surgeon from the People's Hospital of Hunan Province, arrived in Sierra Leone with 19 other doctors in May 2017 to provide medical aid to the disease-ravaged country. Based at the Sierra Leone-China Friendship Hospital in Freetown, capital of Sierra Leone, Xiong's daily routine there is packed with surgeries due to a shortage of staff members.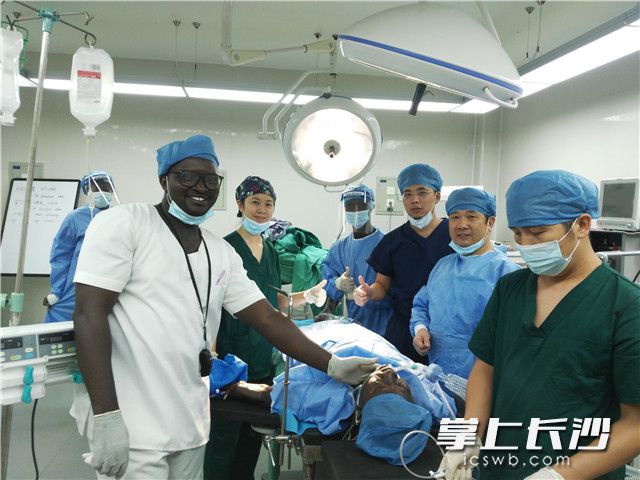 On March 10, for example, a 35-year-old man who had suffered from acute abdominal pain for three days and had fallen into a clouded mental state was sent to the hospital. As the hospital was unequipped with modern medical facilities, such as a type B ultrasound scanner and CT scanner, a diagnosis couldn't be made.
  危急时刻,熊邦文结合自己多年的临床经验,判断患者可能是乙状结肠扭转,必须马上手术。否则,患者将有生命危险。
  Based on the limited availability of sophisticated medical equipment, Xiong used his rich clinical experience to diagnose a volvulus sigmoid colon.
  术中,发现患者乙状结肠扭转并坏死,随后,他果断而谨慎地为其进行了坏死结肠切除术。经过4小时的救治,熊邦文及其团队成功挽救了这名男子的生命。
  After four hours, Xiong and his team managed to save the critically ill patient in the first sigmoid colon torsion necrosis operation performed in Sierra Leone. More>>
---
  Hunan medical team members to Sierra Leone are Lei Fengs
  湖南援非医疗队员个个是活雷锋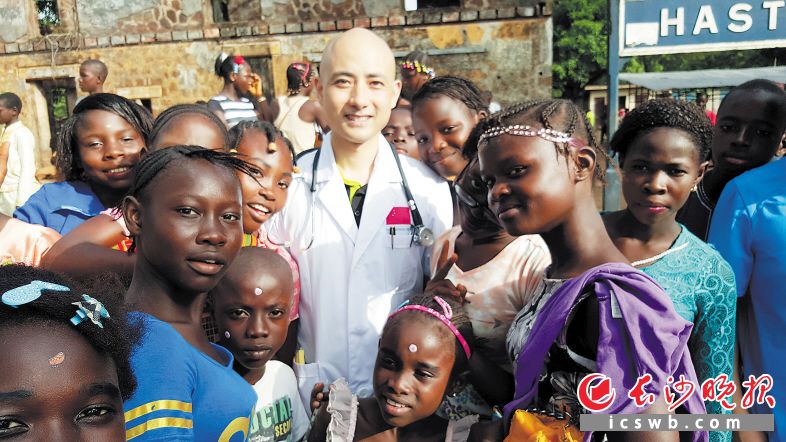 On March 18, the list of "Changsha Haoren·Lei Feng"Prize (meaning Honorable Models of Changsha city alike Lei Feng) winners was released for the first season of 2018. Liu Yurong, a physician and team member of the 19th batch of Chinese aid medical team in Sierra Leone and the deputy chief physician of Liuyang People's Hospital won the dedication award.
  记者连线刘宇时,是塞拉利昂当地时间3月16日凌晨3时,他正在值夜班,听到被评为"长沙好人,身边雷锋",他激动地对记者说:"这份珍贵的荣誉,属于我们湖南所有援非医疗队员,他们个个是活雷锋!"
  Liu Yushi said to the reporter through online interview at 3 am local time in Sierra Leone while he was on duty, March 16. He said that this honor belongs to all medical workers from Hunan to Sierra Leone. All of them are Lei Feng!" More>>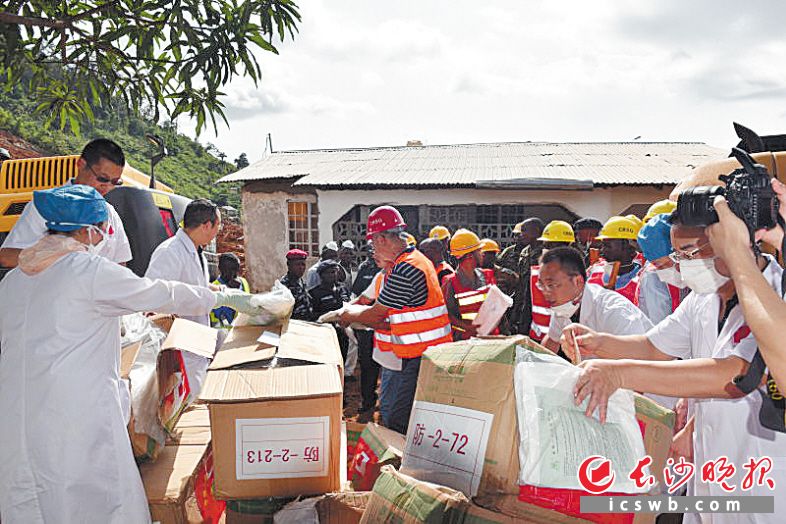 The medical team not only provided medical aid, but acted as a bridge that built a stronger friendship between the two countries. More>>