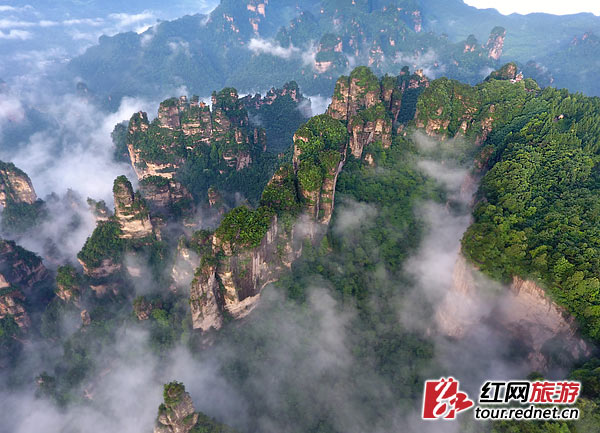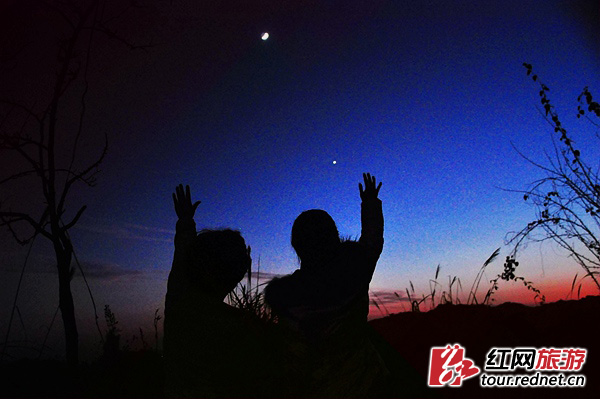 在世界上任何别的地方,你都看不到这样的山:它们像石笋一般,林林总总地散落于沟沟壑壑,或款款而行,或切切私语,或怒发冲冠……似乎只要有微风吹来,它们会像冰凌遇火一样绝尘而倒。

You can not see such mountains in any other place of the world. There are more than 3,000 narrow sandstone pillars and peaks, many over 200 m high. Between the peaks lie ravines and gorges with streams, pools and waterfalls, some 40 caves, and two large natural bridges.

  地址:张家界市武陵源区武陵源风景名胜区

Where is it: Wulingyuan Scenic Area,located in Zhangjiajie City, western Hunan Province

  夏游玩法:晨拍日出云海、午可观花溯溪。白天赏景,与猴子为伴,晚上住在山里,让星辰伴你入眠。

What to do : Watching the sunrise, smelling the flowers ,river tracing, enjoying the scenery and watching monkeys, staying overnights, etc.

  如何前往:长沙出发→长张高速→张慈线→阳龙公路→黄龙路→武陵路,从长沙出发,约3.5小时车程。外地游客可直接抵达张家界荷花机场,乘区间车前往。

How to get there: It takes 3.5 hours for traveling from Changsha, the provincial capital, on superhighway to reach this place. Changsha City → Changsha-Zhangjiajie Expressway → Zhangci Road → Yanglong Road → Huanglong Road → Wuling Road. Tourists can also take direct flights to Zhangjiajie Lotus Airport and later taking car there.

联游推荐:宝峰湖、黄龙洞、天门山

Recommended spots nearby: Baofeng Lake, Huanglong Cave, Tianmenshan Mountain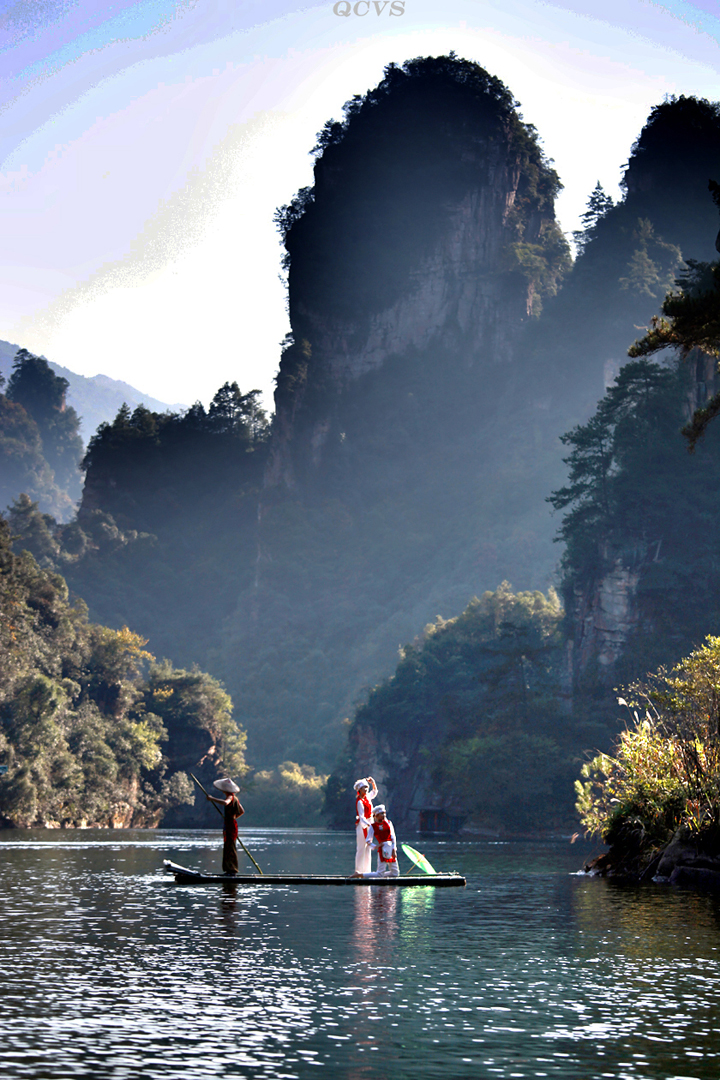 Baofeng Lake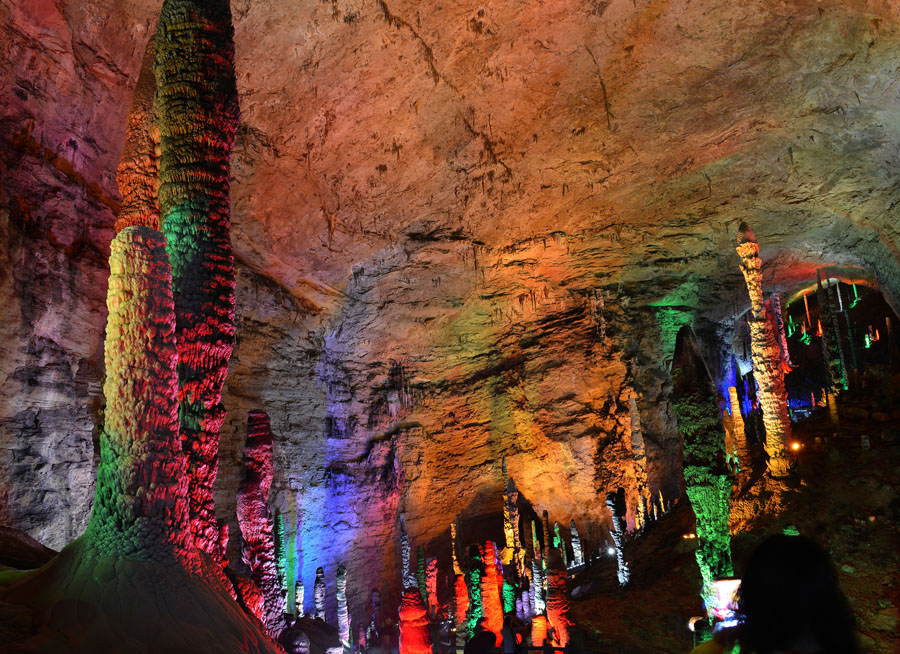 Huanglong Cave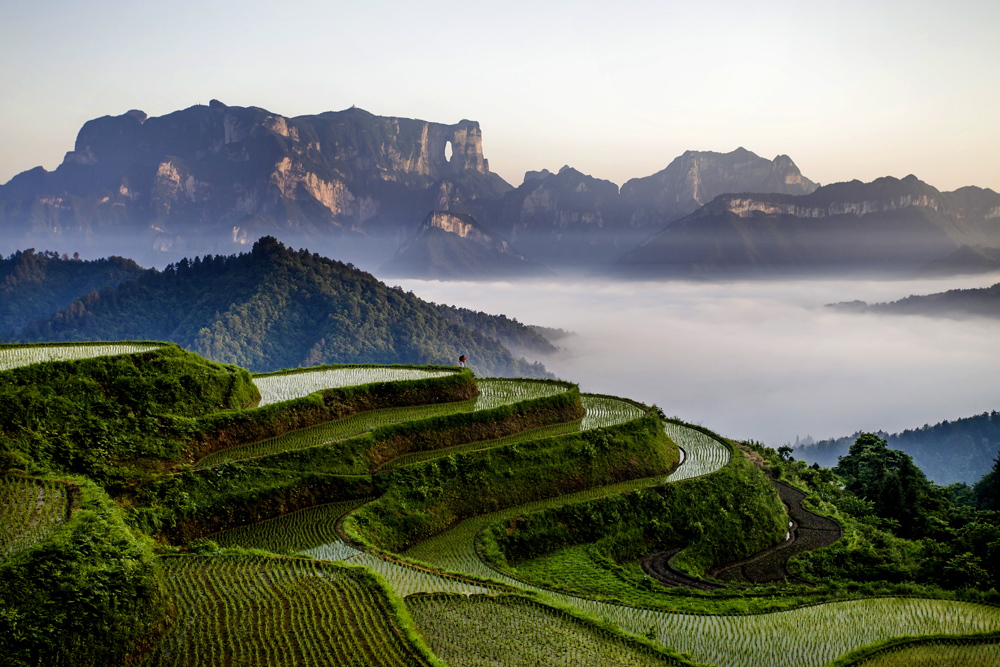 Tianmenshan Mountain, Source: Photo.rednet.cn




[Beautiful Hunan in Summer] Qianlong Lake, Changsha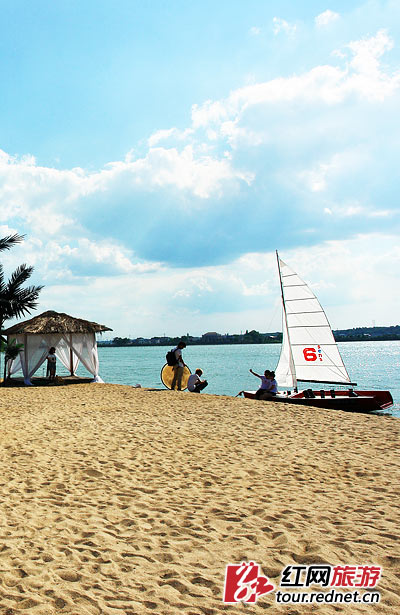 蓝天、白云、水清、沙幼,水鸟翩飞、水边小屋,很有几分南国海滩的情调。如果不是湖中还有岛,我会以为自己看到了海。就让我在这片阳光下眯缝着,对自己撒个谎吧。

  Blue sky, white clouds, clear water and sand beaches of Qianlong Lake make it the view as sea shore's, if one does not notices that it is a lake with an islet.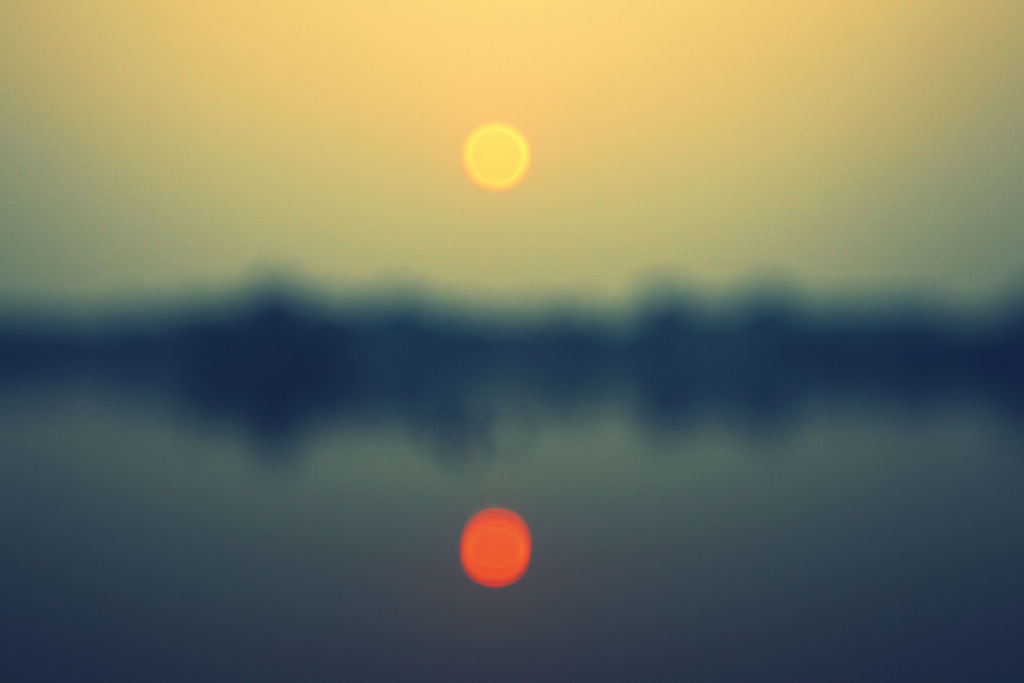 整个景区面积非常大,可以摘蔬菜、游湖、垂钓、住宿,还能去体育馆、汗蒸馆出出汗;夏季,薰衣草正要盛开,也是葡萄和红心火龙果成熟的时候。

  The whole area of Qianlong Lake Eco-tourism Resort is large, you may pick vegetables, go sailing and fishing, and stay leisurely for the accommodation with gymnasium, spa and sauna. Summer is the right season of lavender blooming, grapes and dragon fruit ripening.

  地址:长沙市望城区

  Where is Qianlong Lake : Wangcheng District, Changsha City

  夏游玩法:自拍、吹风、采摘、垂钓、坐摩托艇、打水上高尔夫、住湖边帐篷小屋

  What to do : sight seeing, picking fruits and vegetables , fishing, taking motorboat, water skiing, camping.

  如何前往:长沙市区→岳麓大道→雷锋大道→雷锋北大道→千龙湖大道→X070,距离长沙市政府约40分钟车程。

  How to get there? : Changsha City → Yuelu Avenue → Lei Feng Avenue → Lei Feng North Road → Qianlong Lake Avenue → X070 Road. It takes about 40 minutes from Changsha Municipal Government to there by driving a car.

  联游推荐:铜官窑、靖港古镇、乔口渔都

  Recommended spots nearby: Tongguan kiln, Jinggang Town, Qiaokou Fishing Town

[Cool Hunan in Summer] Via Ferrata in Donghuzhai
  飞拉达,是意大利文(Via Ferrata,意为岩壁探险或铁道式攀登)的音译,英文则为Ironroad,指的是在山面上建设,由铁扶手横梯、固定缆索、岩石塞、踏脚垫等构成的爬山径道,让不会攀岩攀登者也能在岩壁上自由穿梭。
  Via Ferrata is Italian for "iron road".The modern via ferrata is a steel cable that runs along the route and is periodically fixed to the rock, which prevents climbers from falling. Additional climbing aids are also used, such as iron rungs, steps, ladders, and bridges.
  东浒寨风景区,位于赣、湘、鄂三省交界的修水县征村乡潭坑村境内,总占地面积约14400亩,投资达2亿余元。景区交通便利,距大广高速出入口20公里。东浒寨因附近有两座山如钟似鼓而得名。寨内森林丰茂、飞瀑流泉,落差30多米的石窟瀑布,仿佛让人置身于水帘洞府之中,恍若隔世;崖壁上丰富多彩的植被和丛林里茂密的荆棘灌木宛如一条绚丽多彩的披肩。
  Donghuzhai Scenic Area, located in Tankeng Village of Xiushui County at the junction of Jiangxi, Hunan, Hubei Provinces, covers the total area of about 14,400 acres and 20 km away from Daqing-Guangzhou expressway. It is famed with waterfalls, grotto, and cliffs with rich vegetation and jungle.
[Beautiful Hunan in Summer] Paiya Mountain, Jingzhou County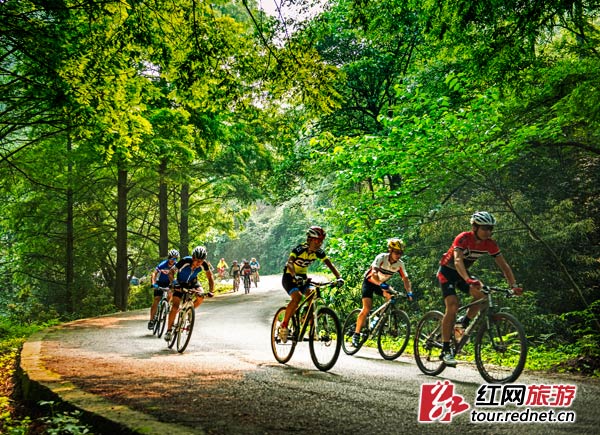 Paiya Mountain (排牙山), a state-owned forest,was upgraded as a national forest park by the end of 2015. It still retains its most simple scenery as a 10 million-acre virgin forest, with pear tree flowers in spring and cool woods of metasequoia in summer.
Address: Jingzhou Miao and Dong autonomous County in Huaihua, Hunan Province
What to do?: Camping or Bike-riding
How to get there: Changsha → Changsha-Shaoshan-Loudi Expressway→ Erenhot–Guangzhou Expresswa → Shanghai-Kunming Expressway → Baotou-Maoming expressway → Jingzhou Ring Road → S222 Road. The total trip will cost 5.5 hours by automobile driving starting from Changsha; 2 hours starting from Huaihua South High-speed Rail Station; 1.5 hours starting from Guizhou Liping Airport; 18 minutes starting from Jingzhou County.
More places to go nearby:
In addition to Paiya Mountain, you may also go to Disun Miao Village (地笋苗寨) and Yanjiao Dong Village(岩脚侗寨)a few days for experiencing Miao's and Dong's culture specially their drink oil tea and Miao folk songs.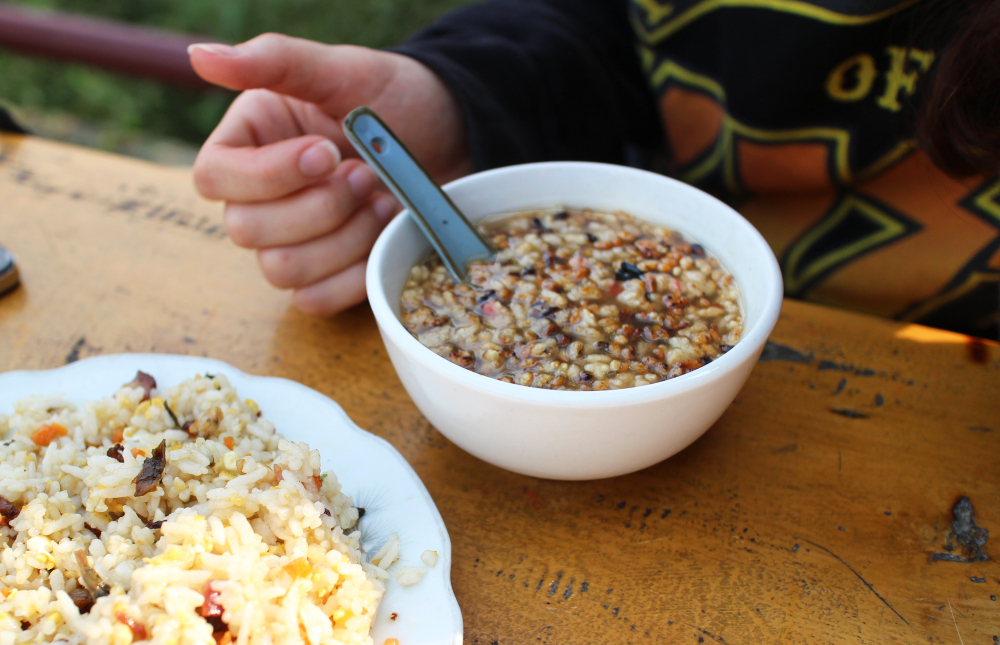 Oil tea
Disun Miao Village (地笋苗寨), located within Sanqiu Township (三锹乡), southwest of Huaihua City, Hunan Province is a birthplace of Geteng (歌鼟), the first intangible cultural heritage with ethnic minority features.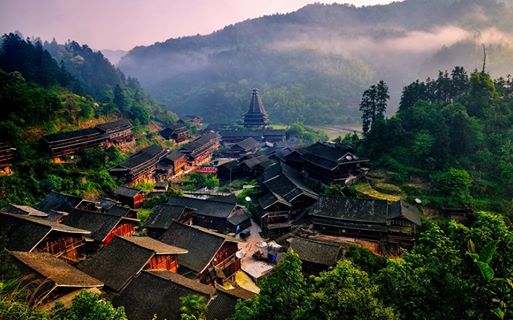 Disun Miao Village
Yanjiao Dong Village (岩脚侗寨), the 4A national scenic area, is located in Zhaiya Township, Jinzhou County, southwest Hunan Province. There are 1,420 Dong people in the village. With over 1,200 years history, Yanjiao Dong Village is praised as "Girls Country along Silk Road" hidden in mountainous of West Hunan Province.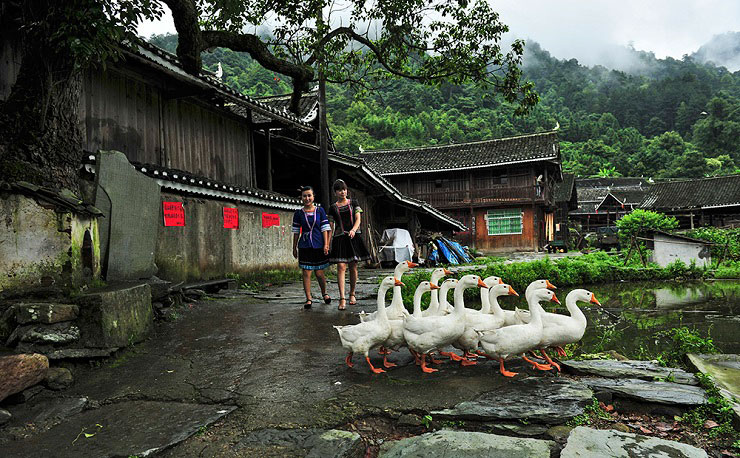 Yanjiao Dong Village