The State Council Information Office will hold a special press conference for Hunan to celebrate the 70th anniversary of the founding of the P.R.C with the theme of "The New March: New Hunan for the Rise of Central China", in Beijing, on July 25. Du Jiahao, secretary of the Hunan CPC Committee and director of the Standing Committee of Hunan Provincial People's Congress, Xu Dazhe, deputy secretary of the Hunan CPC Committee and governor of Hunan province, will brief introduce related issues and answer questions.
Due to people's hard work and perseverance in the past70 years, Hunan's economic and social development has brilliant achievements. Hunan's economic aggregate has risen sharply; the industrial structure has been continuously optimized; the infrastructure has been upgraded; people's living has been dramatically improved. Hunan is full of vitality. In addition to the press conference, the exhibition for Hunan Province's development achievements will be held on the site of the conference.
The exhibition is divided into two parts: a photo exhibition and an exhibition of the intangible cultural heritages. The photo exhibition is divided into four sections for showing Hunan's innovations, opening for the rise, cultural highland, and the livability for people's happiness. It shows the achievements of Hunan's vigorous implementation of strategies for innovations and leading promotion for the opening and the rise, as well as the high-quality developments on Hunan's cultural and living standard promotions for people. Xiang embroidery, porcelain, tea, and silver ornaments will be exhibited for Hunan's intangible cultural heritages.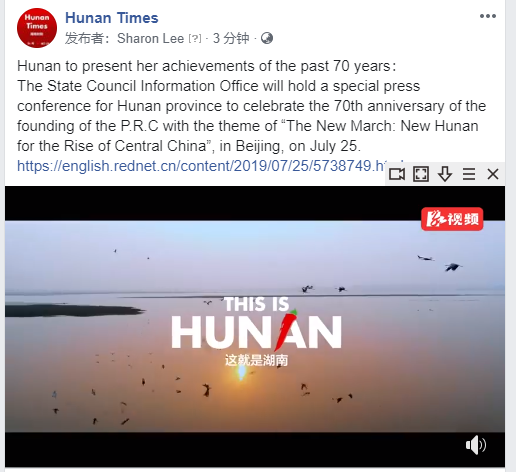 Facebook link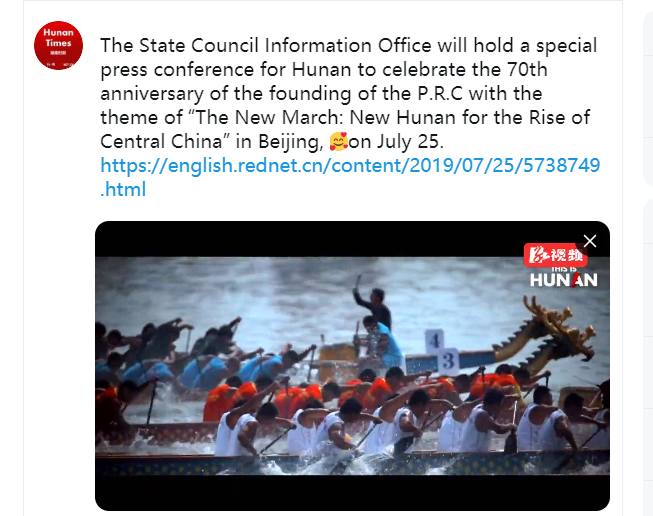 Twitter link
Link:7月25日,开放的湖南给你"好看"
Hunan to present her achievements of the past 70 years
70年·湖湘巨变|精准发力战贫困 攻坚克难奔小康
70 Years of Great Changes | Targeted poverty alleviation