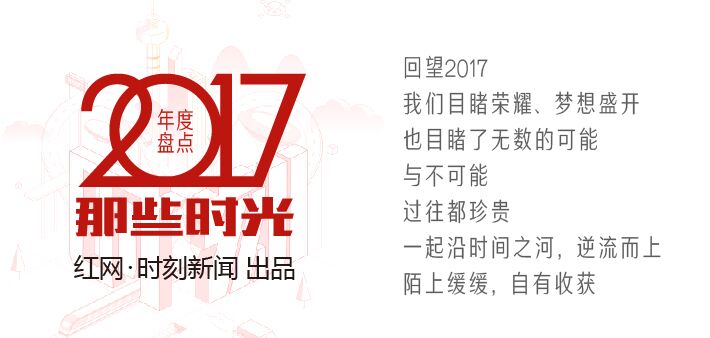 年度盘点|2017那些时光 • 湖南水陆空开放通道日益畅通 在家门口"买卖全球"
  Title: Accelerated Development of Hunan Opening-up Platforms 2017 to Facilitate Global Deal in Hunan
  编者按:在 "创新引领开放崛起"战略指引下,湖南大力实施开放崛起行动,正在由"内陆大省"加速向"开放强省"迈进。2017年湖南开放风劲,扬帆起航:长沙临空经济示范区成功获批,黄花综保区封关运行,湘欧快线双向常态化运行,国际航空货运专机正式开通,城陵矶港繁忙依旧,今年以来集装箱吞吐量同比增长超六成,通江达海联通世界,湖南拥抱世界的水陆空通道日益畅通,开放崛起基础不断夯实。
  [Editor's Notes] Under the strategy of "Innovation Leads to Open and Rise", Hunan province has accelerated the outward-looking development and the construction of opening-up platforms. In 2017, Hunan has advanced the development of opening-up transit channels by air, land and water, such as the approval of Changsha Airport Economic Demonstration Zone, completion and operation of Huanghua Comprehensive Bonded Zone, the regular two-way operation of Xiang Ou Express, the opening of international all-cargo scheduled airline, the year-on-year growth of over 60% container throughput at Yueyang Chenglingji Port, etc.

  "完善开放平台。积极申报湖南自由贸易试验区。发挥综合保税区、保税物流中心的作用,加快水果、肉类、药品等指定口岸申报建设,推动长沙、张家界航空口岸,以及岳阳城陵矶水运口岸等一类口岸拓展功能。拓展国际航班航线、湘欧快线、港澳直通车,建设长沙区域性国际航空枢纽,把长沙建成中国腹地直通国际的开放大通道,把岳阳建成大宗货物国际运输交通枢纽和我省通江达海的开放门户。"
  ——《2017年湖南省政府工作报告》(2017/01/14)
  As stated in 2017 Work Report of Hunan Provincial Government on Jan. 14, 2017, "Perfection of opening-up platforms: To positively declare Hunan Pilot Free Trade Zone; to display roles of comprehensive bonded zones and bonded logistics centers; to accelerate declaration and construction of designated ports such as fruits, meat, drugs, etc.; to advance extended functions of first-class ports such as Changsha and Zhangjiajie aviation ports, Yueyang Chenglingji water transport ports, etc.; to expand international flight routes, Xiang Ou Express, Hong Kong-Macao Through Train; to construct Changsha regional international aviation hubs and to build Changsha into a major international opening-up channel; to build Yueyang into an international mass goods transport hub and Hunan's major water transport opening-up door."
  "大力支持开放型经济发展……积极筹措资金支持打通湖南水陆空对外通道,加快发展国际航空客货运,支持开通国际货运班列,支持提升内河国际水运功能。"
  ——湖南省财政厅相关负责人答记者问(2017/10/12)
  According to the press conference of Department of Finance of Hunan Province on Oct. 12, 2017, "Hunan substantially supports the development of outward-looking economy…actively collects funds to get through opening-up channels by water, land and air, accelerates the development of international aviation passenger and cargo transport, international freight trains and inland water transport. "
  开放程度:目前湖南开放平台数量全国第八,中西部第一,外投资更是连续七年居中部第一。Read More >>
  So far, the number of Hunan opening-up platforms ranks top 8 and top 1 respectively across China and in the Midwest China. Hunan outward investment has ranked top 1 in the Central China for consecutive seven years.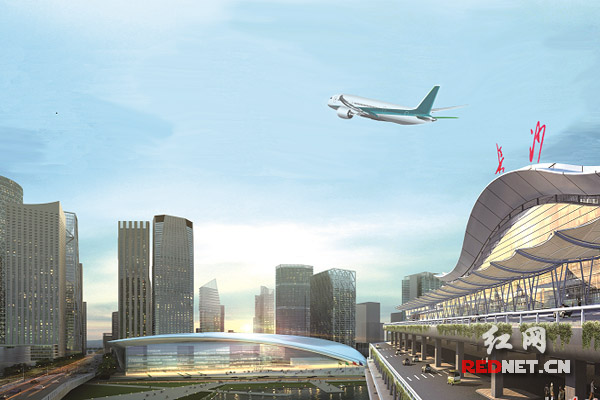 Established in May 2017, Changsha Airport Economic Demonstration Zone has become the respective seventh and first national-level airport economic demonstration zone across China and Central China. As the new dominant field of Changsha outward-looking economy, it will foster Changsha into a new 'Atlanta' in China.(The photo shows design sketch of Changsha Airport Economic Demonstration Zone.)
  黄花综合保税区(Huanghua Comprehensive Bonded Zone):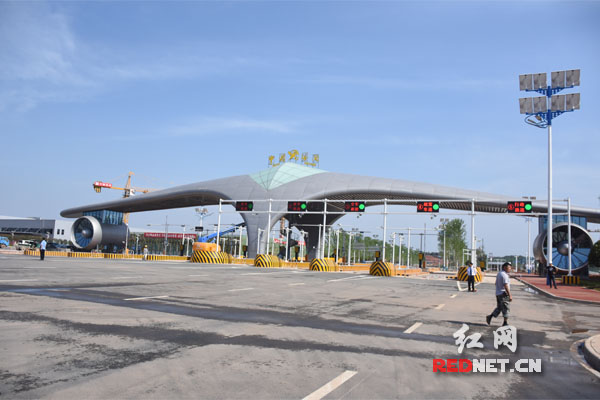 In Jun. 2017, Huanghua Comprehensive Bonded Zone passed acceptance and started running. It aims to realize the total import-export volume of 1,000 million dollars in 2017 to facilitate global deal in Hunan.(The photo shows the gate designed in the shape of aircraft wings that implies open rising Hunan.)
  长沙航空口岸(Changsha Aviation Port):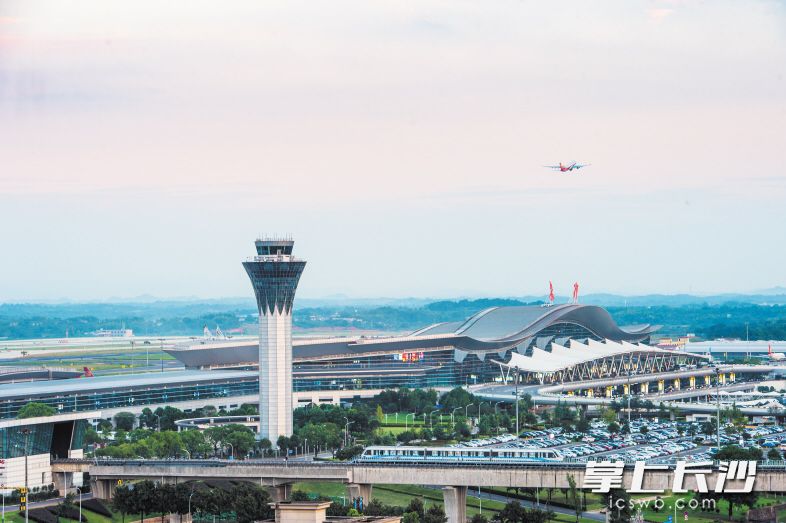 As of Oct. 2017, Changsha had opened 29 regular international routes and 8 irregular international routes, and direct flights to 15 countries (regions) in Asia, Europe, Africa, North America and Oceania, as well as two cross-border e-commerce direct purchase routes to Amsterdam and Sydney, and one cross-border e-commerce direct logistic route to Hong Kong and Macao. Changsha is expected to open two international freight routes at the end of 2017.(The photo shows Changsha Huanghua International Airport.)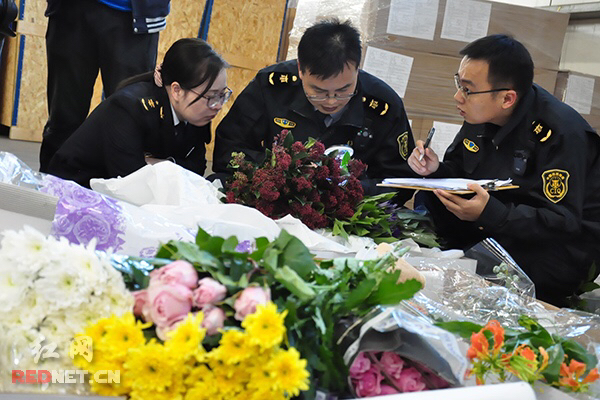 At 07:25 Nov. 1, 2017, the number of 3939 fresh flowers plucked from the Netherlands arrived at Changsha Huanghua International Airport. This is the first time for imported fresh flowers at Hunan airport.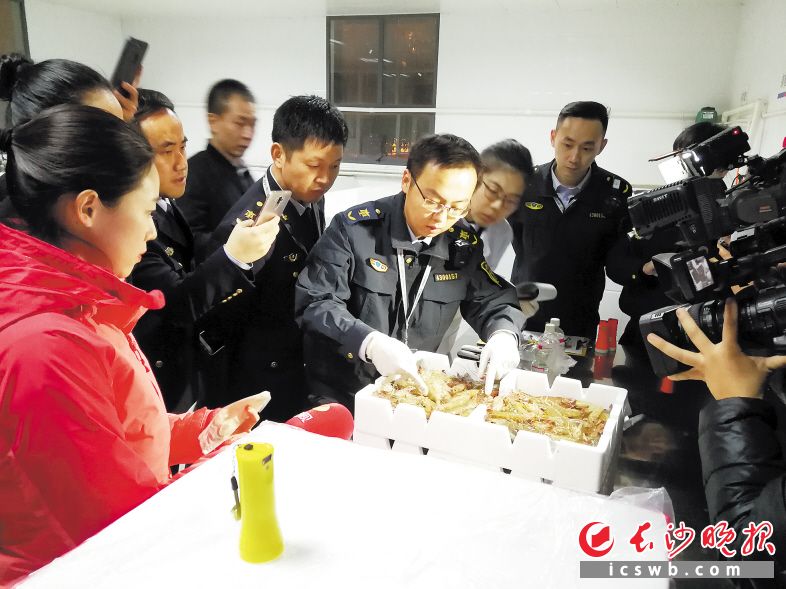 At 21:48 Dec. 2, 2017, after three-hour flight from Ho Chi Minh City, Vietnam, Hunan's first import cargo chartered plane arrived at Changsha Huanghua International Airport, carrying 2.6 tons of fresh aquatic products. Changsha-Ho Chi Minh international all-cargo scheduled airline is Hunan's first international all-cargo scheduled airline opened so far.
  张家界航空口岸(Zhangjiajie Aviation Port):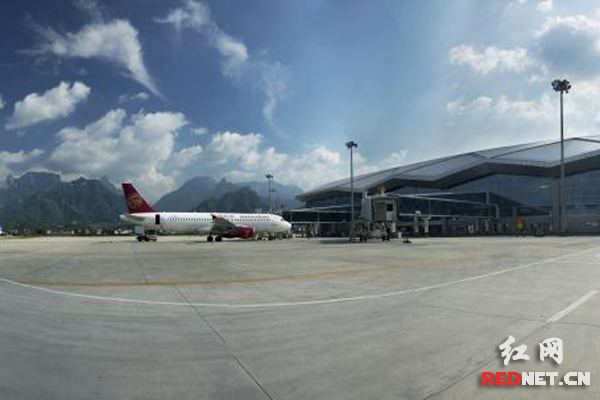 As of Oct. 2017, Zhangjiajie aviation port has opened three regional routes to Hong Kong, Macao and Taiwan, as well as 17 international routes to Bangkok (Thailand), Jakarta (Indonesia), Pusan (Republic of Korea), etc. (The photo shows Zhangjiajie Hehua International Airport.)

——连通"一带一路"的金色高速
  The Golden Expressway to Link "the Belt and Road"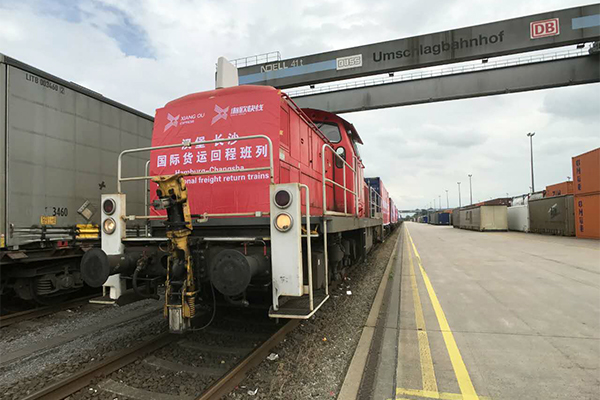 Xiang Ou Express has started regular two-way operation since Aug. 8, 2017, when a freight train loaded with 1,100 tons of goods arrived at the Changsha Xianing Station. Xiang Ou Express has formed an international logistics network covering Europe, Central Asia, the Middle East and the ASEAN, which will boost Hunan's open rising development and participation in the "Belt and Road" initiative.(Photo/Wen Yuhui)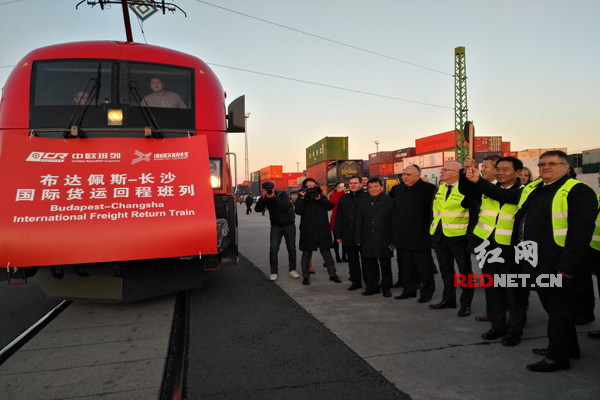 The Xiang Ou Express Budapest-Changsha return freight train carrying Central European cargo containers to Changsha, China, was launched in the afternoon of Nov. 27, 2017 at Hungarian time. The train carried 41 containers of red wine, beer, cereals, milk powder and hardware accessories made in Hungary and its neighboring countries.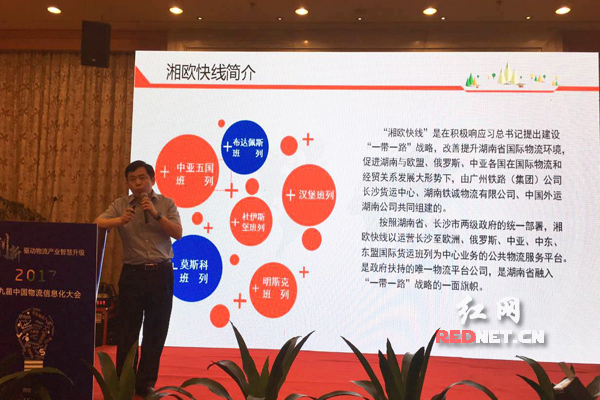 According to Changsha customs statistics, in the first ten months of 2017, Xiang Ou Express exported 71,600 tons of goods, amounted to 463 million dollars, with respective year-on-year growth of 2.1 times and 1.1 times. Xiang Ou Express totally transported 480,000 tons of import-export goods, amounted to over 1,250 million dollars, leading ahead among China-Europe express freight trains. Xiang Ou Express mainly exports tea, clothes, shoes and hats, electromechanical goods, ceramics, food, steel, etc., and imports red wine, milk powder, rolled steel, hardware fitting, etc.(The photo shows on the 9th China Logistics Information Conference Jun. 16, 2017, deputy general manager Zhou Dongwen of Hunan Xiang Ou Express Co., Ltd. introducing Xiang Ou Express.)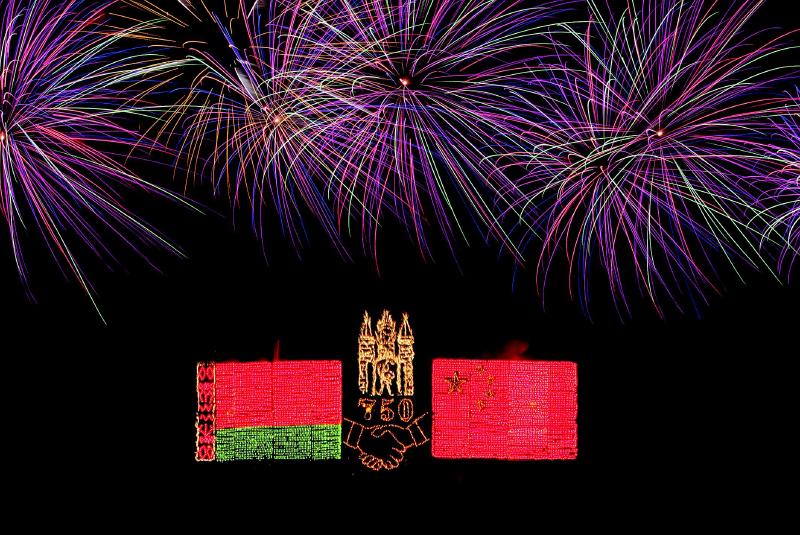 For three-year opening-up of Xiang Ou Express, Hunan specialties have been accelerated the export pace. In May 2017, Xiang Ou Express attempted to transport fireworks and firecrackers for the first time that arrived in the Republic of Belarus for about 15 days. At the 750th founding anniversary of Mogilev July 1, 2017, Liuyang fireworks shined brightly. (Photo/Liuyang Daily)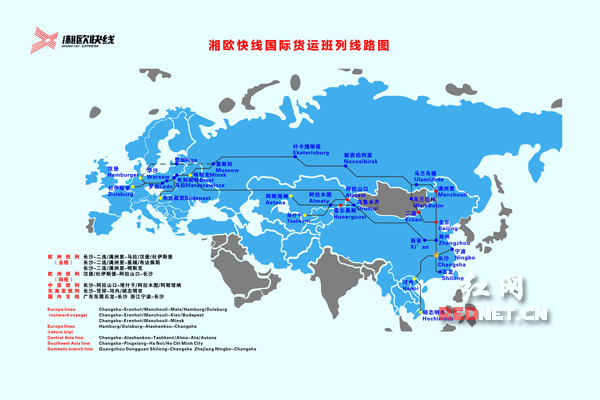 There are now six Xiang Ou express lines from Changsha to Hamburg, Warsaw, Moscow, Tashkent, Minsk and Budapest. They also link 10 countries including Germany, Ukraine, Russia, Hungary, Latvia, etc. and 13 major cities along the lines. Changsha-Vietnam and Changsha-Iran freight trains are to be opened by plan. (The photo shows the line diagram of Xiang Ou Express international freight trains.)

  "十三五"期间,湖南省将加快岳阳港现代化主港口建设步伐,围绕"一百万标箱、两亿吨大港"目标,将岳阳港打造成长江沿线枢纽港、上海港重要的喂给港、湖南省内河水运中转枢纽港;推动长株潭港口群一体化建设,统筹推进常德港、益阳港、永州港、衡阳港等地区重要港口建设。
  ——湖南省交通运输"十三五"发展规划
  According to the 13th Five-year Plan of Hunan Transport, during 2016-2020, Hunan province will accelerate the construction of Yueyang Port to be the hub port along the Yangtze River, the major feeder port of Shanghai Port, and the hub port of Hunan inland water transport transfer. Hunan province will also advance integrated construction of Changsha Port, Zhuzhou Port and Xiangtan Port, as well as major regional ports of Changde Port, Yiyang Port, Yongzhou Port, Hengyang Port, etc.
  湖南城陵矶新港区(Hunan Chenglingji New Port Area):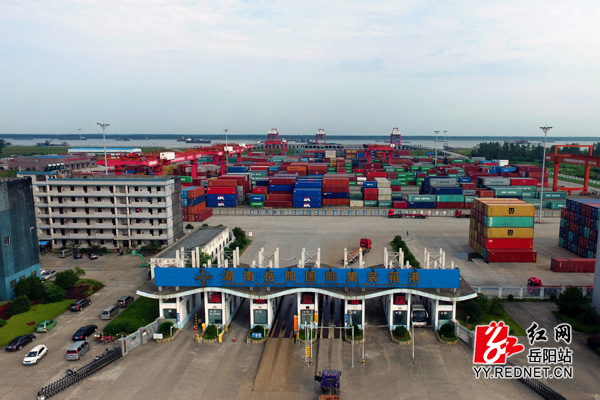 Hailed as "New Pudong" of Hunan, Chenglingji New Port Area has established Chenglingji Comprehensive Bonded Zone, and approved to be Tax Rebate Port of Departure, designated port for imported meat, automobile, grains and solid waste. During Jan.-Oct. 2017, Chenglingji Port had achieved container throughput of 358,200 TEU, with a year-on-year growth of 63.2%%. The growth ranks first among Yangtze inland ports and the container throughput exceeds that of Jiujiang Port and Yichang Port. Yueyang Chenglingji Port Zone phase II project (with the total investment of 1,180 million yuan) has been under construction, expected to be completed in the late 2018. At that time, the total throughput capacity will achieve 800,000 TEU. (The photo shows the Newport Pier of Hunan Chenglingji New Port Area.)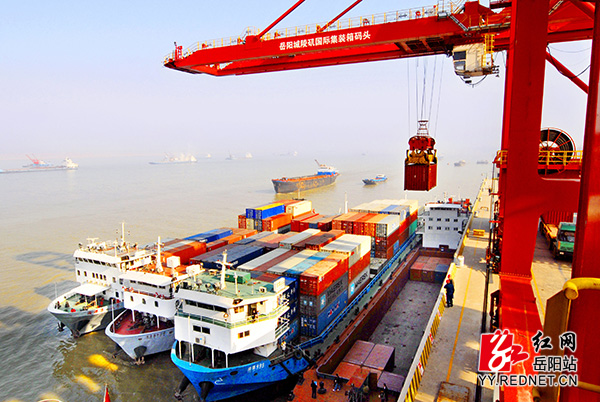 Chenglingji Port has realized regular direct navigation among Hunan, Hong Kong and Macao, as well as regular operation of Yueyang-ASEAN and Yueyang-Australia sea relay routes to smoothly link "21st-Century Maritime Silk Road". Now Chenglingji Port plans to open relay routes from Yueyang to Republic of Korea, Japan, Taiwan (China), etc.(The photo shows Yueyang Chenglingji International Container Pier.)
  文字编译:张焕勤 来源:红网、长沙晚报、湖南日报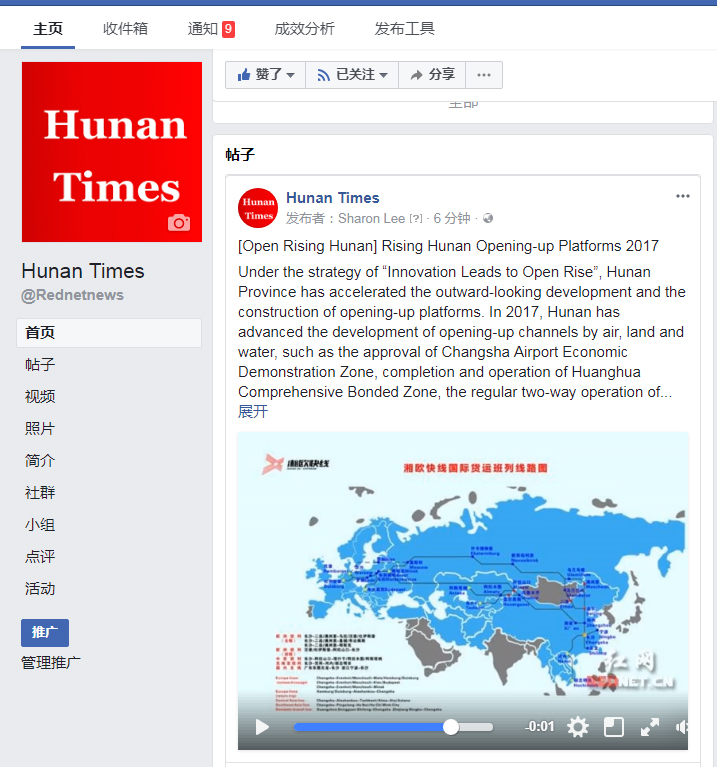 脸书主页 Link: Facebook page