湖南省第三届"最美少数民族特色村镇"评选活动正在进行。近日,红网记者跟随活动评选考察体验组深入少数民族地区,用镜头记录特色村镇的田园风采和民俗魅力,陆续推出《湖南少数民族特色村镇》系列报道,充分展示了这些村镇的生产美、生活美、环境美、人文美、山水美。

本次活动由由湖南省民族团结进步行动组委会主办,省人大民侨外委、省发改委、省民宗委、省财政厅、省农委、省文化厅、省住建厅、省扶贫办、省旅游局、红网承办,各市州相关单位协办。经网络推荐投票,组委会审查确定20个村镇为下一阶段候选村镇。

The 3rd campaign of "Most Beautiful Villages of Minority Groups' in Hunan" was held in Changsha, which was organized by Hunan Provincial Action Committee for National Unity and Progress, Overseas committee of Hunan People's Congress, etc with Rednet. Rednet published a series of reports for showing the unique charm of each of these villages of minority groups' with their development on new rural construction and featured industry development and rural tourism, with their beautiful environment, cultural heritage and landscape.
Laojiazhai Village: new Miao cultural tourist attraction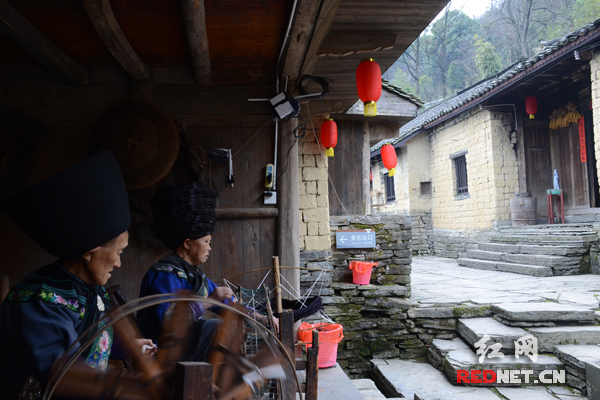 湖南省凤凰县山江镇老家寨村,是三江苗寨的一部分,是湘西州、凤凰县两级旅游部门开发乡村旅游,精心打造的古苗寨开发样板。
As part of Sanjiang Miao village in Fenghuang County, Laojiazhai Village is the ancient Miao village tourism model developed by tourism departments at the level of Xiangxi Autonomous Prefecture and Fenghuang County.

Datuan Village: tourists live and eat with local Dong people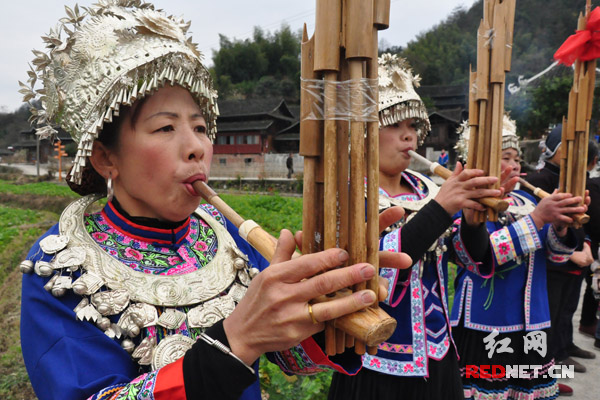 从邵阳市绥宁县向西南方行驶30余公里就来到了乐安铺苗族侗族乡大团村。侗族村民占大团村总人口的95%,全村352栋传统民族木屋保存完好。大团村的建筑是侗族地区常见的干栏式木楼,目前有侗族特色清代鼓楼2座、萨坛2座、款坪2个、古井2口、风雨桥2座、寨门2处、石板古道2条,可谓处处好事成双。
Driving over 30 km to the southwest from Suining County, Shaoyang, Hunan, we arrive at Datuan Village, Miao and Dong township. Dong villagers occupy 95% of the toal population of Datuan Village; 352 tradtional ethnic wooden houses in pile dwelling style are well-preserved in the village. Besides, there are 2 drum towers of the Qing Dynasty with characteristics of the Dong Minority, 2 Satan for offering sacrifices to gods or ancestors, 2 Kuan Ping, 2 anceint wells, 2 old bridges, 2 gates, 2 ancient flagstone paths, etc.
Wanping Town: rich Tujia ethic culture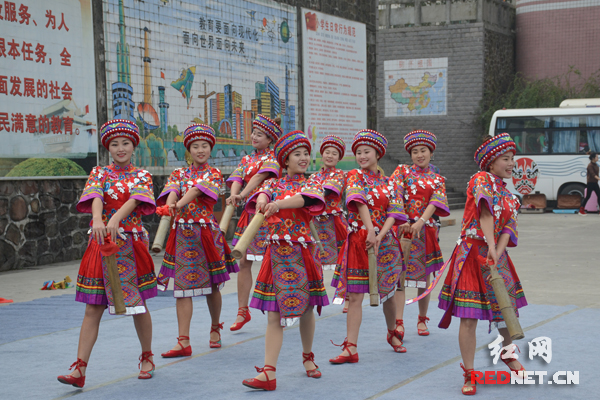 Daliuzi is Tujia-style percussion music, ensemble of gongs,cymbals, suona horn etc.
Wanping town has abundant original secondary forest; 40,000 mu fir forest becomes the good place for outdoor leisure and sports development.
Pushi Town: consummate craftsmanship
【湖南少数民族特色村镇】浦市镇:历尽沧桑依然繁华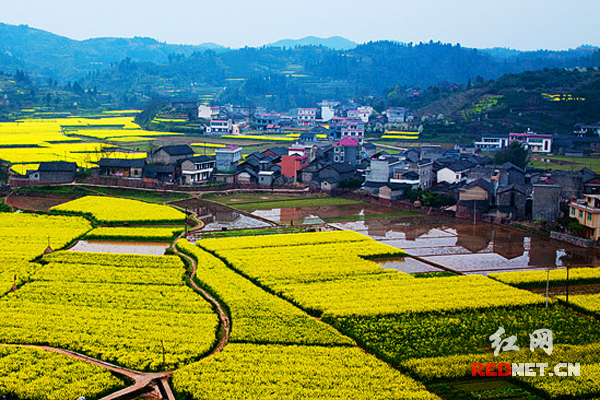 Pushi town wins good reputation as"Little Nanjing","Sleepless Harbor","Great Pass","Beautiful Border Town", etc.
 浦市,湘西边陲一个安静祥和的小镇,至今,浦市境内仍保存着25处各级文物保护单位、3条古商贸街、20多条古巷弄以及历史建筑和特色民居170多栋。
Pushi town in the border of Western Hunan, has preserved 25 sites for culture relic protection, 3 ancient streets for commerce and trade, over 20 ancient alleys and lanes, over 170 historical buildings and characteristic dwellings.

Baoyao Village: born beauty of Yao culture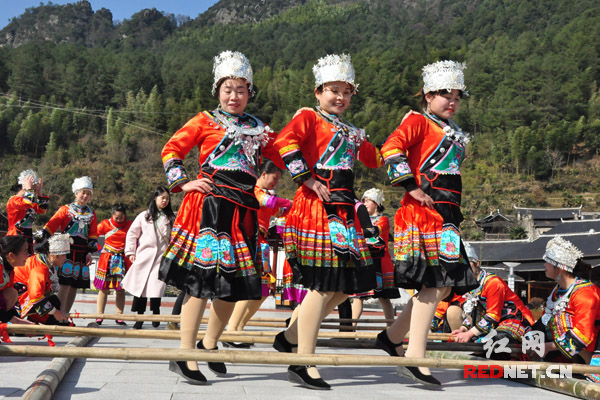 Bamboo pole dance is created by Baoyao villagers inspired from daily life.
 湖南邵阳洞口县罗溪瑶族乡宝瑶村位于罗溪国家森林公园境内,村域总面积约9.63平方公里,瑶族人口占85%。宝瑶村最先闻名于在此穿过的湘黔古道。
Located in Luoxi National Forest Park, ethic Yao township, Dongkou County, Shaoyang, Hunan, Baoyao Village covers an area of about 9.63 square kilometers, populated by 85% Yao people. Baoyao Village used to be well-known as a courier station for travelling merchants' rest on ancient Hunan-Guizhou path.
Hengling Village: poetic Dong tribe village
  横岭侗寨坐落于湖南省通道县西南18公里的坪坦河畔,背靠青山,三面环水,属于典型的依山傍水型侗寨。
Hengling Village, a Dong tribe village located at Pingtan riverside, 18 km away from the southwest of Tongdao County, Hunan. Hengling Village is a such typical village of the Dong nationality, back against green mountains and surrounded on three sides by water.
Shanyangchong Village: Tujia folk custom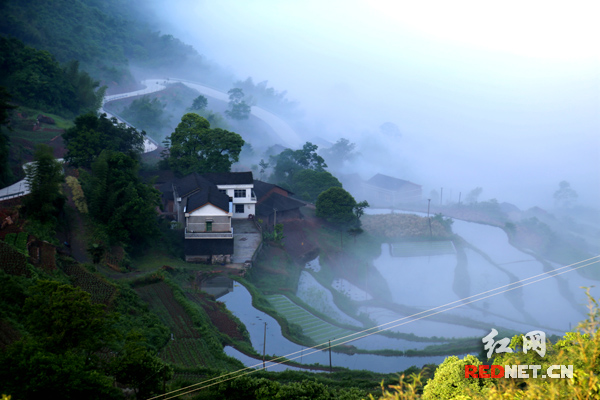 Shanyangchong Village in mist
湖南常德石门县三圣乡山羊冲村少数民族特色村寨全村27平方公里,人口近3700人,土家族人口占91.7%,走在森林覆盖率高达84.9%的山羊冲,仿佛置身于画卷之中。
Shanyangchong Village, a 91.7% Tujia people based minority tribe village in Shansheng Town, Shimen County, Changde, Hunan, covers an area of 27 square kilometers and forest coverage rate of 84.9%, populated by 3,700 residents.
Miaoziyuan Village: thousand-year Miao tribe village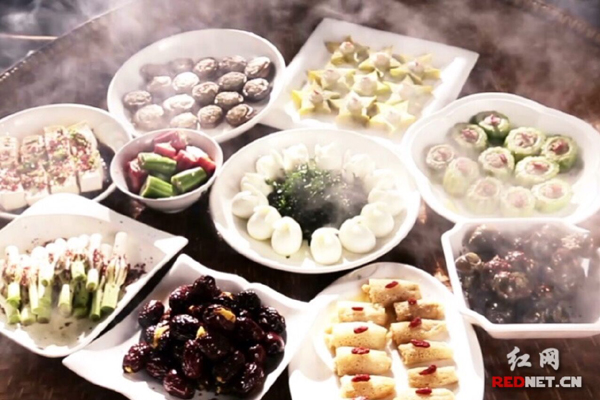 Eighteen stuff mixed dishes of Miao cuisine
黄龙山下的千年瑶寨——庙子源村,瑶族人口站98%,是一个以瑶族为主的少数民族聚居村寨。这里是潇水的发源地,湘江源头,水系丰富。
Located at the foot of Huanglong Mountain, Miaoziyuan Village is a 98% Miao people based minority tribe village. With a thousand-year history, Miaoziyuan Village is the headstream of Xiang River.
Jungongzui Village: affluent industrial village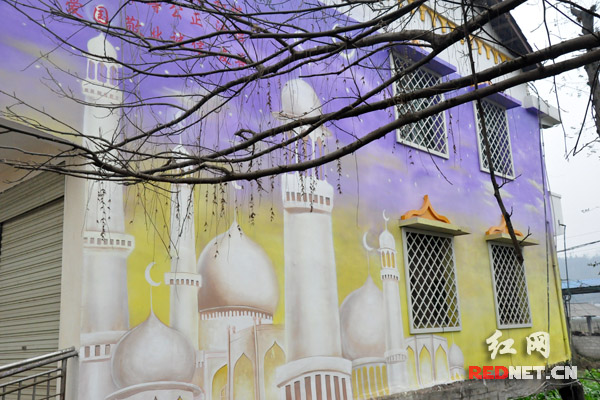 In Jungongzui Village, quite a few villagers have Islam style drawings in colorful meaning on the side of their houses.
 军功嘴村辖3个村民小组,1300余人几乎都是回族人,是湖南益阳典型的回族村落。军功嘴村人的富裕来自于产业发展得好,如果说鲊埠回族乡是中国南方细木工板生产基地的中心,那么军功嘴村则是这个中心的心脏。目前,园内有3家省、市级龙头企业和2个湖南省名牌产品,已实现工业产值近8亿元,军功嘴村也因此被人们称作工业村、富裕村、绿色村和安康村。
Jungongzui Village is a typical Hui tribe village in Yiyang, Hunan, where more than 1,300 villagers are almost Hui people. The affluent village has a flourishing core-board manufacturing industry, known as the heart of core-board production base in South China. At present, the village owns three provincial and municipal level leading enterprises and two kinds of Hunan famous-brand products, realizing the industrial output value of nearly 800 million yuan. Thus Jundongzui Village is praised for its prosperous industry, green affluence and well-being.
Taiyangping Village: the most sunny village of China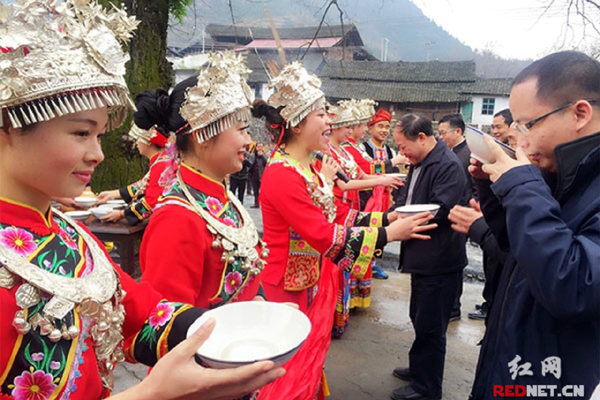 Yankoushan women pull up a red ribbon and prepare Lanmen Wine. The interview team drink the wine before entering the village.
Yankoushan is quiet but not dreary. Villagers preserve and inherit folk traditional culture of Miao people, such as dragon lantern, flower lantern, Yang Opera, etc. On every festival, Yankoushan villagers would spontaneously perform speciality dance of Miao people.

Yankoushan Village: Miao folks for over a thousand year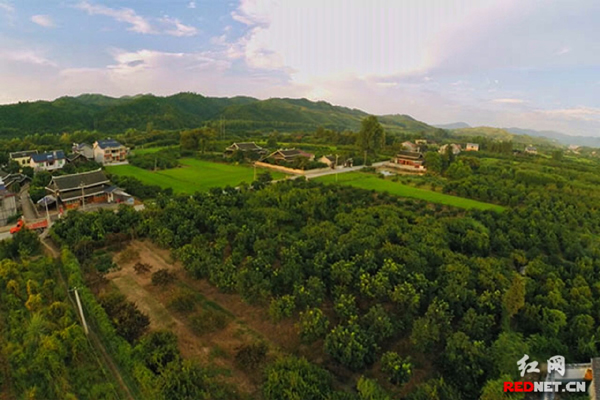 Overlooking Taiyangping Village, every household has vast stretches of orchards such as juicy peaches, pears, oranges, raspberries, etc.
太阳坪村位于湖南省靖州县太阳坪乡最东部,最先迎来日出,"太阳岛"因此而得名,现被誉为"中国最阳光的乡村"。信步太阳坪村田间垄头,简直就如同步入一片世外桃源。
Located at the the farthest east of Taiyangping town, Jingzhou County, Hunan Province, Taiyangping Village is hailed as "the most sunny village of China" for it welcomes the sunrise the earliest.

Shanggantang Village: long-standing history
【湖南少数民族特色村镇】上甘棠村:青石楼阁依旧 历史沉淀了千年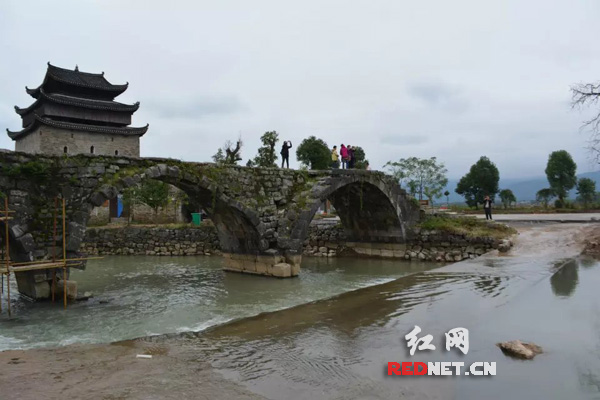 Bu Ying Bridge over Xie Mu River of Shanggantang Village is the best preserved stone bridge with the longest history of more than 1,000 years.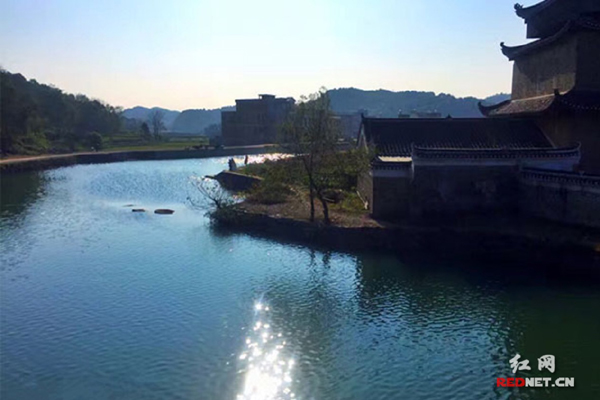 The whole Shanggantang Village is surrounded by Xie Mu River in front of it. The village has seven fortresses characterized by a fan-shaped distribution around the ancient Xie Mu County.

Tianjing Village: distinctive intangible cultural heritage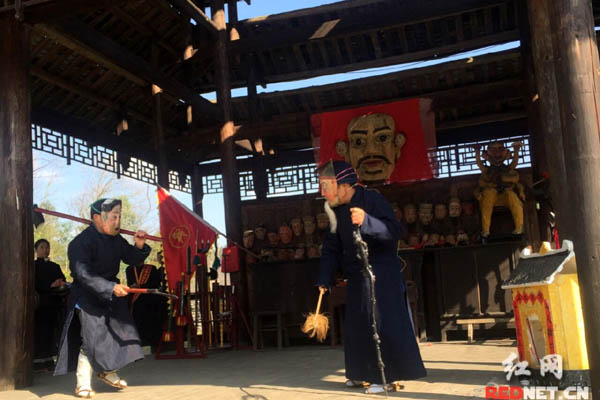 天井寨隶属湖南省新晃侗族自治县贡溪镇四路村,距离新晃县城60公里。
Rednet (Huaihua): Tianjing Village is under the jurisdiction of Silu Village, Gongxi Town, Xinhuang Dong Automous County, Hunan, 60 km away from Xinhuang County.
Guitang Town: Unique Charm of Three Provinces's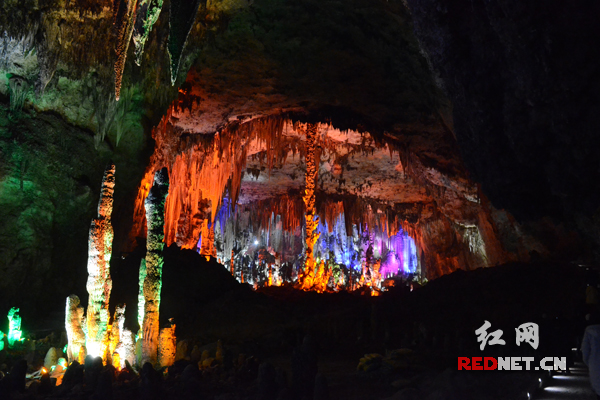 湖南省龙山县西南的桂塘镇北与湖北省来凤县百福司镇、漫水乡接壤,西与重庆市酉阳县大溪镇、可大乡比邻,素有"一脚踏三省"之称。桂塘以山地和丘陵地貌为主,境内溪流纵横,水田密布,阡陌交错,土壤肥沃,灌溉便利,是水稻的重要产区。
Guitang Town is known as the place in Longshan County of Hunan, near Chongqing City of Sichuan Province and Laifeng County of Hubei Province. In the southwest of Hunan province, Guitang Town has mountainous and hills, streams, paddy fields and rich soil and irrigation facilities; therefore, it is an important rice producing area.

Shazhou Village: A place of three colors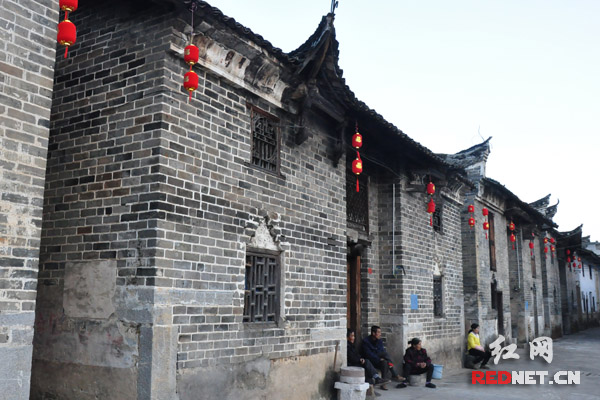 沙洲,湖南汝城县西大门。80多年前,一支红军队伍曾在这里驻足,在此谱写出一部军民鱼水情深的历史。
Shazhou Village is the west gate of Rucheng County in Hunan Province. Eighty years ago,a team of Red Army stayed here with a moving story of"half-quilt"as the representation of the army and the people as close to each other as fish and water.

Quanyu Village: Beautiful Village of Red Tourism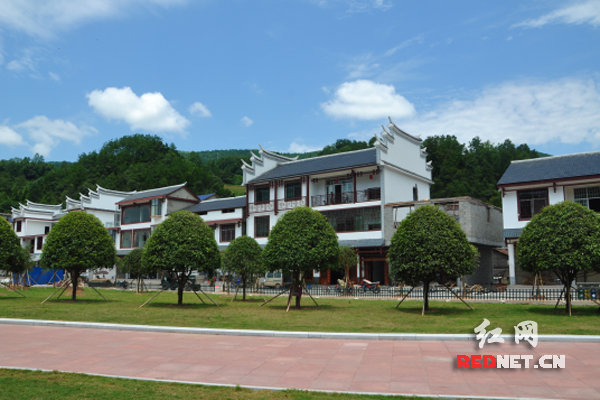 张家界市洪家关白族乡泉峪村座落在桑鹤公路11.5至17公里沿线东西,北与桥自湾交界,南起贺龙桥,北高南低,依山而居,是洪家关白族乡政府所在地。
Quanyu Village of Bai ethnic groups in Hongjiaguan of Zhangjiajie City locates 11.5 to 17 kilometer along Sanghe highway, from the North to Qiaozi Bay to the South of Helong Bridge, where County Government of Bai ethnic groups is there.
Jiuxi Village: a place of fortune and an imaginary world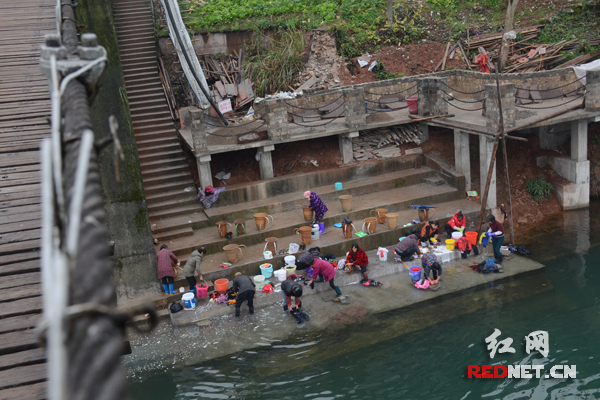 "九溪在慈利西北九十里,以喝堡等八溪会索溪"故名,明朝工部尚书周叙在诗词中有赞美九溪"三楚古来多福地,九溪应即是仙源"的绝句,充分展示了九溪宜居宜游的优良环境。
Jiuxi, means nine brooks, is 90 miles northwest of Cili County surrounded by clear brooks. It was named after Zhou Xu, a senior official of Ming Dynasty, in his quatrains as "Jiuxi is a place of fortune and an imaginary world" which expresses the beautiful scenic of Jiuxi.

Mixi village: paradise of Tujia and Miao ethnic minority groups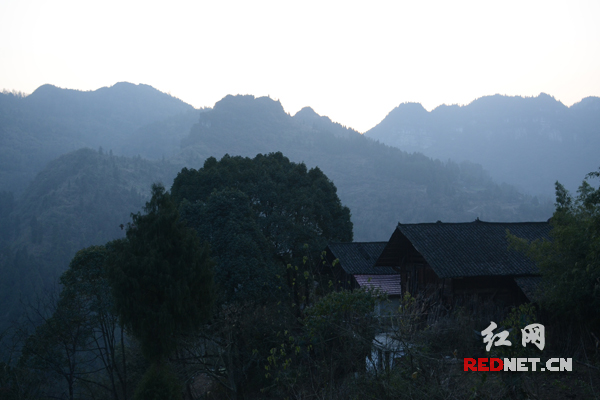 吊脚楼是米溪村常见的一种民居建筑,一般依山而建,成群分布。 Stilts are commen residential buildings by the mountains in Mixi Village.
在武陵山脉伸向酉水的群山万壑中,有一条支流叫白溪河,白溪河上游是保靖段的长潭河、绿绿河。在飘渺的云雾下三溪交会,形成幽深的峡谷叫"仙人崖",这里坐落着一处宛若世外桃源般的自然村落——米溪村。
Mixi village is a paradise-like village in the streching part of Wuling Mountains towards Youshui among tributary of Changtan River and Lvlv River by the upstream of Baixi River. It is a place in the valley of wispy clouds.
Huangjiabang Village: Yao-style drum-beating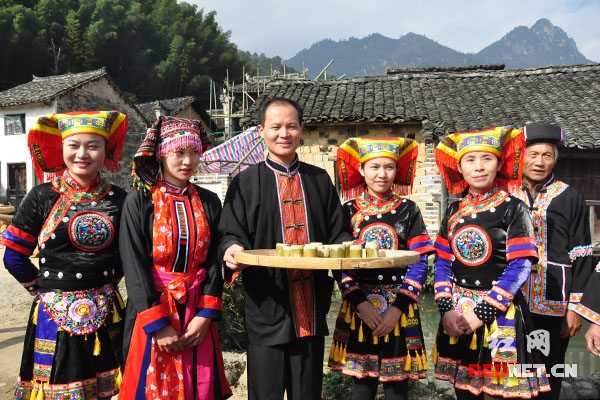 Huangjiabang Village is the typical Yao people populated place.
  黄家塝村依山傍水,传承着数千年的瑶族文化,是郴州宜章县莽山瑶族乡最大的行政村,也是宜章县最大的瑶族村寨。黄家塝村瑶民属八排瑶,与汉人及其他瑶民杂居,形成独具一格的民俗风情,其中赛鼓尤其闻名,也被列入了郴州市非物质文化遗产保护名录。
Huangjiabang Village near the mountain and by the river, has inherited thousands of years of the Yao culture. As the largest administrative village with the most Yao people of Yizhang County, Chenzhou, Huangjiabang Village forms its unique folk customs, especially drum-beating included into Chenzhou Intangible Cultural Heritage Protection List.